Discussion Starter
•
#1
•
As one of the few knuckleheads selected to test headlights in their JK, I was granted permission to test out Truck-Lites latest and greatest LED headlight.
In the past I have run the Gen I Truck-Lite LEDs, and well, they sucked. So I was curious to see what the change from forward facing LEDs to just two LEDs reflected would do, so far, I'm pretty impressed.
First I'll just comment on the aesthetics of the lights, I know that's not part of the comparison, but it is something that I look at when I see my Jeep. When I think "Wrangler", I think big round headlights, slotted grill, 2 doors :the finger: and square red/white tail lights. Yes, that's stupid, but I do like the more traditional look of my rig. As well as the HID projectors look, I still prefer a reflector housing on a Wrangler, it just looks natural. These look very similar to stock lights from a distance, just "smoked". They look darker due to the LED bar that runs through the middle of the housing, as you can see here.
The other concern I've heard is the low beam only illuminates half of the housing, which is a bit weird...but it does get the job done. Doesn't seem to bother me, because they're cool LED headlights!
So for my lame, "I like the look of headlights" review, these seem to fit the bill for me. They offer a pretty traditional look, with a very good output.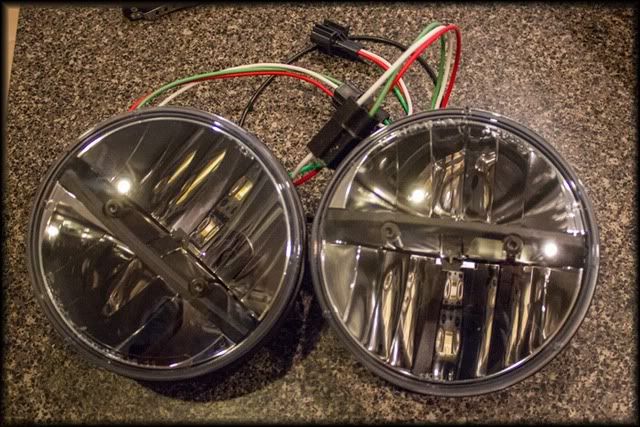 The initial install was very straight forward, I've had my headlights in and out a few times, it was plug and play. There is an O-ring that goes over the lens to tighten up the fit of the stock retaining bezel, no complaints. The harness was a plug-n-play, no complaints. It's a rare occasion, but something did go together on my Jeep without having extra parts or having to dive back in to sort out a problem.
I adjusted the headlights and set out for a few nights/early morning sets of driving and have been pretty impressed with these lights. Over stock, anything is better, but these shine through very nicely. It's a pretty white light that is very easy on the eyes and picks up reflective signs, cars, animal eyes, etc very well. That is something that a halogen isn't any good at.
The road pattern is wide, bright in front of the rig and stretches out nicely. Naturally I have a big stinger shadow in my pattern, but overall they hit the road nice. Much better than the GenI LEDs and stockers I've run. The high beams seem to aim a little high, I'm sure some fine tuning of the setup or perhaps my ass end is squatting enough to make that difference, and I bet that could be ironed out pretty quickly.



Same exposure settings on the camera, as you can see. Pretty drastic results.
Overall the light output is pretty great with these lights. I haven't had a chance to use them in heavy rain, fog, snow, etc, so I cannot comment on how the LED does in those conditions. I also have no idea what these lights retail for, so I can't say if it's "worth the money" or not.
I like 'em. :beer: