Discussion Starter
·
#1
·
UPDATE: Black box video info and Install videos!!!

Visit my Youtube Channel where I'll have up coming videos of in cab winch controls and more! -http://www.youtube.com/user/HyperwirePerformance?feature=watch

Black Box Jk Wrangler Install Part 1 - YouTube Install part 1

Black Box Jk Wrangler Install Part 1 - YouTube Install Part 2

JK Owners over view of Black Box - YouTube Product info for 2012'
2012's Install
12' Wrangler Black Box Install - YouTube
This is "The Black Box" It is a small in size but packs a huge punch! Inside is 5 relays that can power anything up to 35 amps. I design this system to help people wire up extra accessories like lights, CB, Air compressors without worrying if they installed it correctly. One of the awesome things about this system is that you can use the the stock OEM wiring harness to trigger the relay on/off!!! Like all systems on the market there is a little wiring you will have to do but the instructions make it a breeze!!
Price for these are $215 shipped 07-11 and $235 Shipped for 2012 shipped (bracket included). Also if you have more than 5 accessories I can wire it to accept as mean as you need!!
If you need to use your OEM switches to turn on lights (fog light switch to turn on another pair of lights with your fog lights, my system can do this as well. I need to know during purchasing though!)
Here is a custom kit that I've made for another member on the board. He has Cb, seat warmers (pass and driver), Compressor, LED lights, KC lights, Back Up Camera, Washer Pump.
Benefits for using this system are:

ITS CHEAPER than anything on the market, but still built incredibly tough!
Can use the OEM harness to trigger the relays on/off. It is the only Wiring Harness that can do this on the market!
It comes ready to install!
Can be place anywhere in the jeep if not using it on a JK, or if the customer wants to place the box else where.
It is expandable, It has 10 power fused slots, 5 of which are used for relays. So there are 5 extra slots to tap in to power for (like using a CB or for power to another relay)
Small in size. It is little bigger than a Iphone. 3.39 Inches by 4.44 Inches.
It can handle 80 amps current VS the competition only being able to handle 50 amps. That could be extra lights used to help in a emergency while on the trials
Most Importantly everything is fused. Main feed line, The Relays, Trigger wires.
Very Water Resistant so if you go through the mud or water hole you will not have to worry about damaging the box or components inside or around it.
Install is Incredibly easy. It took me 1.5 hour to install in a friends Jeep

Here is a what you get

The Black Box
8 Gauge wire that is fused with 80amp fuse
Brackets for install
12 feet of trigger wire (this wire is what connects to your toggle/rocker switch)
10 Feet of power wire. There are 3 12gauge wire for items that take most amps. Like air compressor. There are 2 14guage

Everything needed to install the kit just add power and ground from you accessory and GO!
Finally Installed!!!
Before and after
ht
[B]Notice the amount take up on the wire loom as well as the "rats" next on the battery terminals.[/B]
tp://img.photobucket.com/albums/v512/Djstorm100/Jeep%20Wiring%20Harness/DSCN0486-Copy.jpg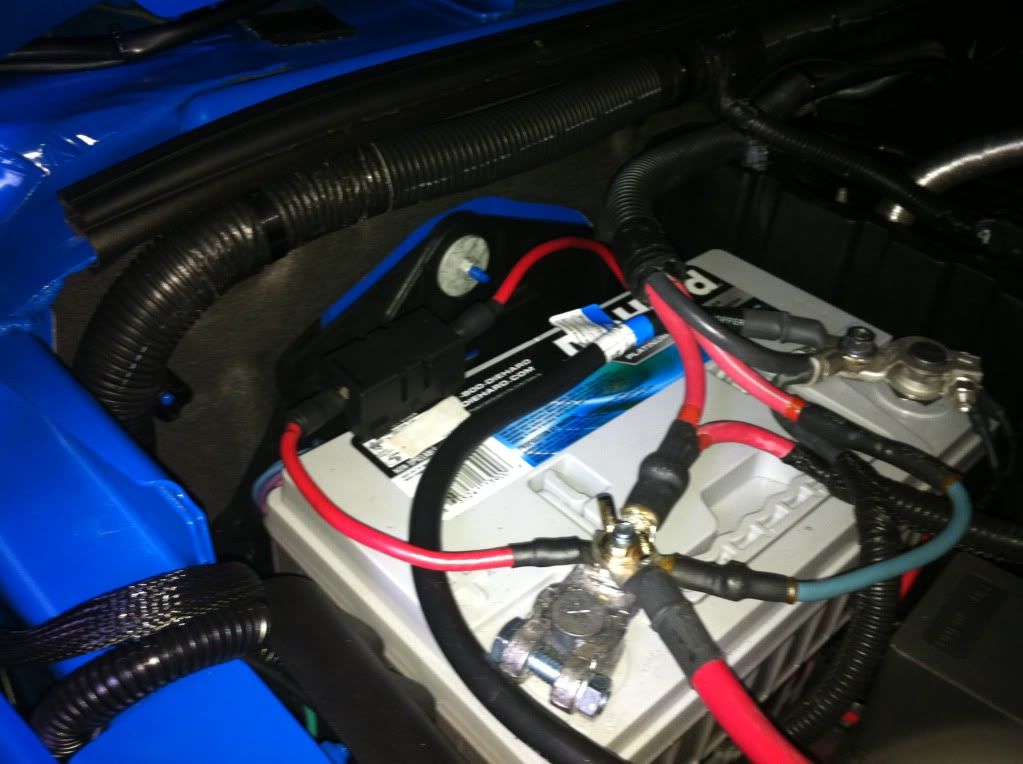 I can also add in weatherpack connections
If you ever had to take off a light, bumper, any extra accessory you can simply un-clip the connection versus having to cut and then later reconnect everything.
These are the switches I sell, they are fully sealed! $11.50.
Also sell relay connectors as well $7
I have 5 ready to be shipped!!
Price for these are $220 shipped. Also if you have more than 5 accessories I can wire it to accept as mean as you need!!