Here is a simple DIY fog light upgrade that anyone of us can do with a few hours of work using Ford Fusion Foglights retrofitted into our Jk factory fogs.
I was inspired by these 2 threads. I suggest reading both of them. Their solution is easier than what I did but I feel it mounts the fog light too deep into the front bumper. You can make up your own mind with what works best for you.
Easy HID Projector Fog Retrofit
Fusion Foglight retrofit... sorta - Ford Expedition Forum
Tools Required
Dremel tool with grinding disc and pointed grinding tip
Power Drill with hole saw attachment
Large step drill
Hacksaw
Step 1
Remove fog lights from Jk. I won't post pictures of this but. You have to remove the grill and the winch/bumper cover to access the lights
Step 2
Disassemble fog light from its housing. This is accomplished by first removing the adjustment screw/spring/threaded insert. Keep all these pieces you will need them later. Next pry open one side of the housing with a screw driver or your fingers. It's tight but it will come apart.
Step 3
Disassemble and modify the Ford fusion fog. Remove fog from factory mount, remove adjusting screw and grommet. You can throw them away. Next your going to cut the tabs off the Fusion Fog lights.
Sorry Bad pic
Step 4
Drill hole in Jk fog lens cover. This is an optional step. I am currently not using the covers on my fogs. I like the way it looks and keep in mind these Fusion fog lights are sealed/self contained units meant to be exposed to the elements. Again it's your preference on what you want to do.
Step 5
Use your hacksaw to cut the lens off your fog light. Cut right on the edge where the lens meets the housing. You can see a cut one in this pic
Step 6
Now your going to make the hole in the rear of the fog bigger. Go slow and test fit the fusion fog into the hole.
Step 7
Using your dremel cut a slot into the fog. Try to make it as straight as possible otherwise your beam will not be level. Use the fog light mold as a guide. Follow the notch.
Step 8
Cut notches in the sides of your jk fog light. Let the fusion unit guide your cuts. You want the fusion to seat all the way into your Jk fog.
I lost some of my pictures this is it assembled but you get the Idea.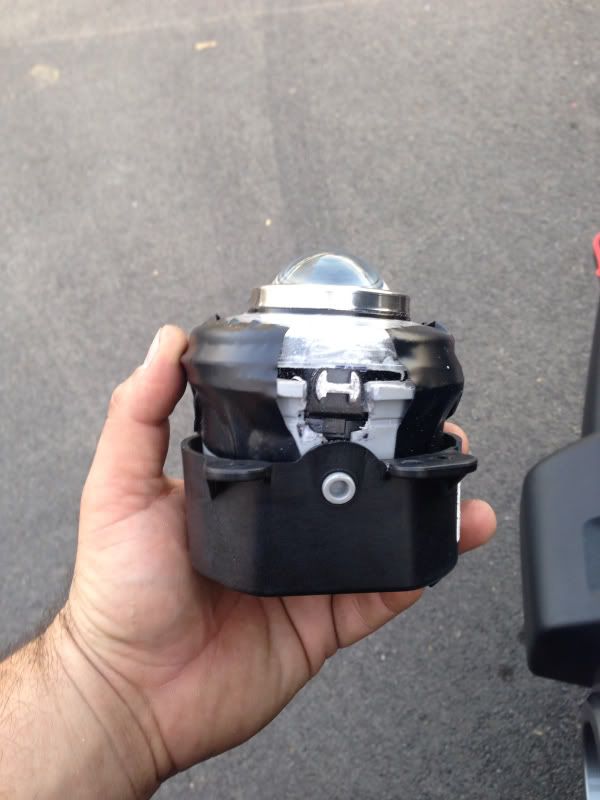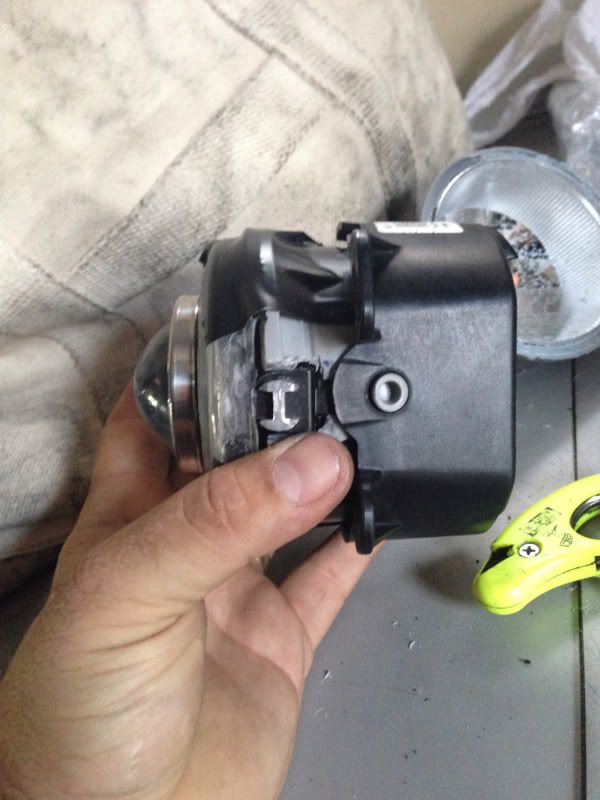 Step 9
Make relief cuts to your Jk mounts. Black part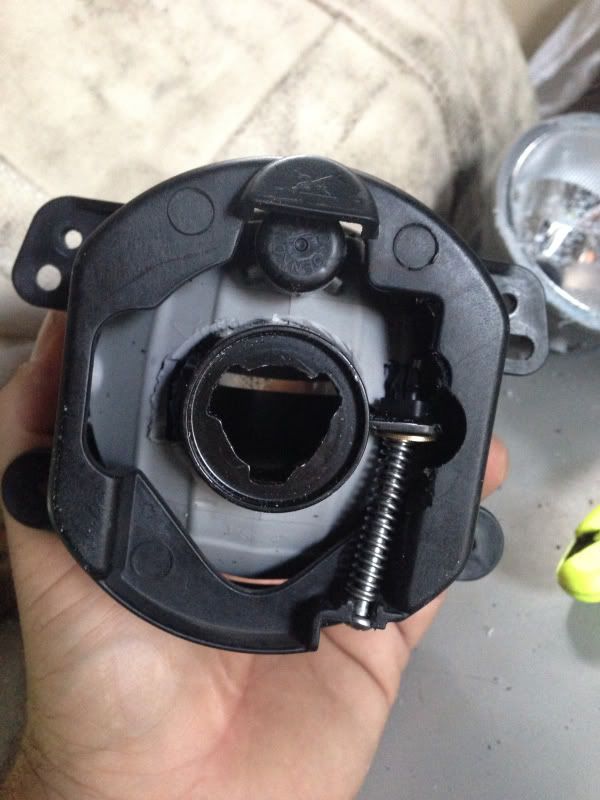 Stock one for reference you can see what's missing
Step 10
Install your adjustment screw/spring/grommet your going to add a small washer to the screw and reverse the jk grommet .
You can see in this pic what it looks like close up.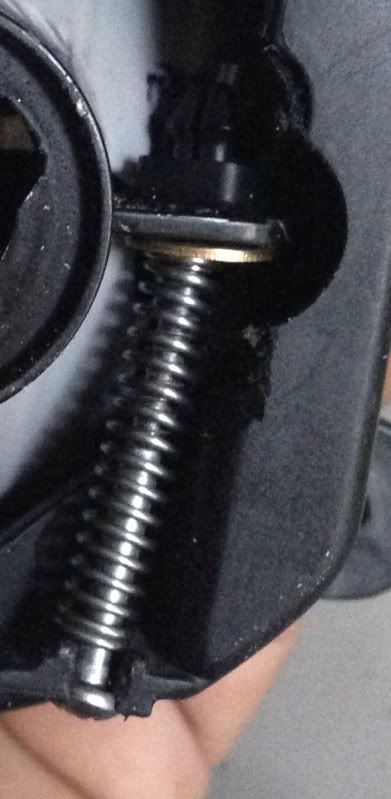 Step 11
I've never completed step 11. This is where you use jb weld(putty type) and permanently mate the fusion fog to the jk housing and mount your lens covers. I wanted to test the fogs out for a few days before I did this. That was 3 months ago. I'll get to it one of these days. I think it looks good with out the lenses but I may change my mind and install them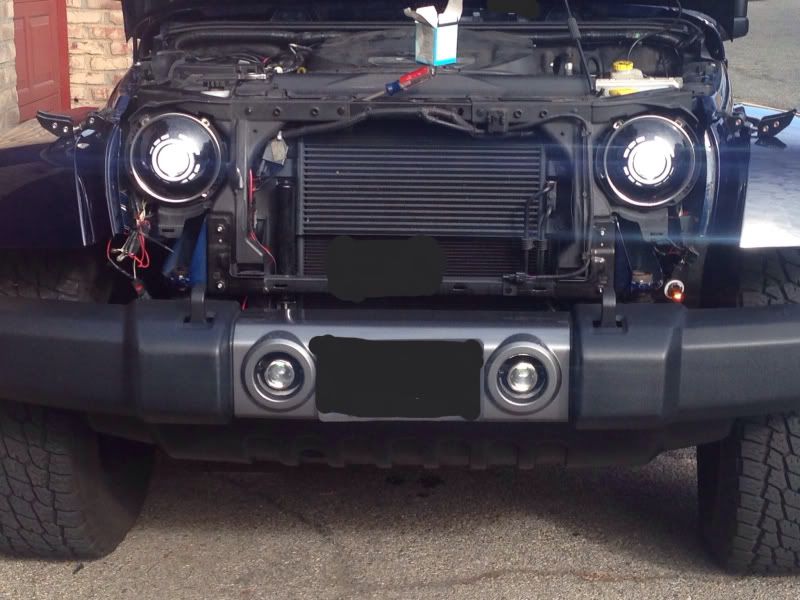 All in all it's a simple mod that works and adds a nice amount of usable light.
I already have a hid projector setup on my headlights and these complement them extremely well.
My current setup is:
New OEM 2006-2012 Fusion Fog Lights $89
H11 DDM tuning 55watt Hid kit $50
eBay H11 single beam wire harness $6.99
and an eBay 5202 to H11 Pigtail $15.99 ( this goes from the factory psx24 jk socket to the hid wire harness. I did not want to cut my factory wires in case I ever want to go back to stock)
Links for parts
New Oem Fusion fogs member Jp7 on Hidplanet.com best price I could find. He's been supplying them to people for a while now
http://www.hidplanet.com/forums/showthread.php?50185-FS-Brand-new-OEM-(not-replicas)-Projector-Fusion-Fogs-for-HID
eBay Hid wire harness
HID Conversion Kit Single Beam Wire Relay Harness | eBay
Ebay 5202 to h11wire
5202 to H11 Pigtail Sockets Wires for Subaru BRZ Scion Fr s Fog Lamps Conversion | eBay