Discussion Starter
•
#1
•
Rugged Ridge Hood Lift Kit Write-Up
2007-2016 Jeep JK Wranglers
Sku:
11252.51
Price:
$74.99 on average
Product Description
Eliminate the factory prop rod with a pair of gas charged hood lifts. This kit includes all the brackets and gas shocks needed to clean up the under hood appearance of your rig. The kit is functional as the hood prop rod, so the factory rod will no longer be in the way while working underneath the hood of your Wrangler.
About Rugged Ridge
Rugged Ridge develops and sells Jeep parts accessories for the growing Jeep and off road enthusiast market. Rugged Ridge is a division of Omix-ADA, the market-leader for replacement and restoration Jeep parts. With this know-how and experience the Rugged Ridge pedigree is well established in the Jeep market and with the Jeep enthusiast. Realizing that there was a need for new Jeep accessories, the Rugged Ridge brand was established in 2005 to fill that need. Rugged Ridge has designed and manufactured over 3,000 products for the Jeep market and continues to develop hundreds of additional Jeep accessories each year. Many of the recent developed Jeep accessories are patented, like the Jeep floor liners, Jeep snorkel and Jeep XHD modular bumpers. Count on Rugged Ridge to provide you with true and proven Jeep parts and accessories.
Rugged Ridge Warranty Information
Limited 5-Year Warranty
Subject to the terms, exclusions and limitations herein and with respect only to products first sold in the United States, Omix-ADA warrants to the initial retail purchaser ("purchaser") only that when installed and used on purchaser's vehicle according to supplied product installation instructions and/or warnings, purchaser's Omix-ADA product shall be free of defects in material and workmanship for five (5) years.
Detailed warranty information can be found at
Rugged Ridge 11252.51 Hood Lift Kit, 07-15 Jeep Wrangler (JK)
My thoughts
I have now owned three different hood lift kits and I'm happy to say this is the best designed setup yet! Unlike Rugged Ridge's kit, others will dent parts of Jeep, drilling involved, and some even make hood sit crooked! The Rugged Ridge Hood Lift Kit is all bolt on and they took time to make sure this was the best kit on the market. I would recommend this to anyone looking for a hood lift.
Install Time & Install Rating
20-45 minutes
Very simple install minus the bracket on hood side. It can be a little tricky but still easy enough for pretty much anyone to do.
What comes in kit
(2) Lower Mounting Brackets
(2) Upper Mounting Brackets
(2) Nut Plates
(2) Threaded Ball Stud
(2) Nyloc Nut
(2) M6 x 18 Bolt
(2) M6 Nyloc Nut
(4) M6 Washer
(4) M5 x 16 Bolt
(4) M5 Washer
(2) Struts
(2) Rubber Gasket
Tools needed
¼ Ratchet Wrench
8mm Socket
10mm Socket
13mm Socket
10mm Wrench
13mm Wrench
Side Snips
Cold Beverage
Rugged Ridge Hood Lift Kit Install Guide
Step 1
Open Hood
• If you are new to Jeep, there is no hood pop lever in Jeep.
• At front of hood open latches on each side then pull center lever under hood to open.
• Once hood is lifted, use factory hood prop and place into hood prop insert in hood.
Note: I have Rugged Ridge hood latches but open pretty much the same way.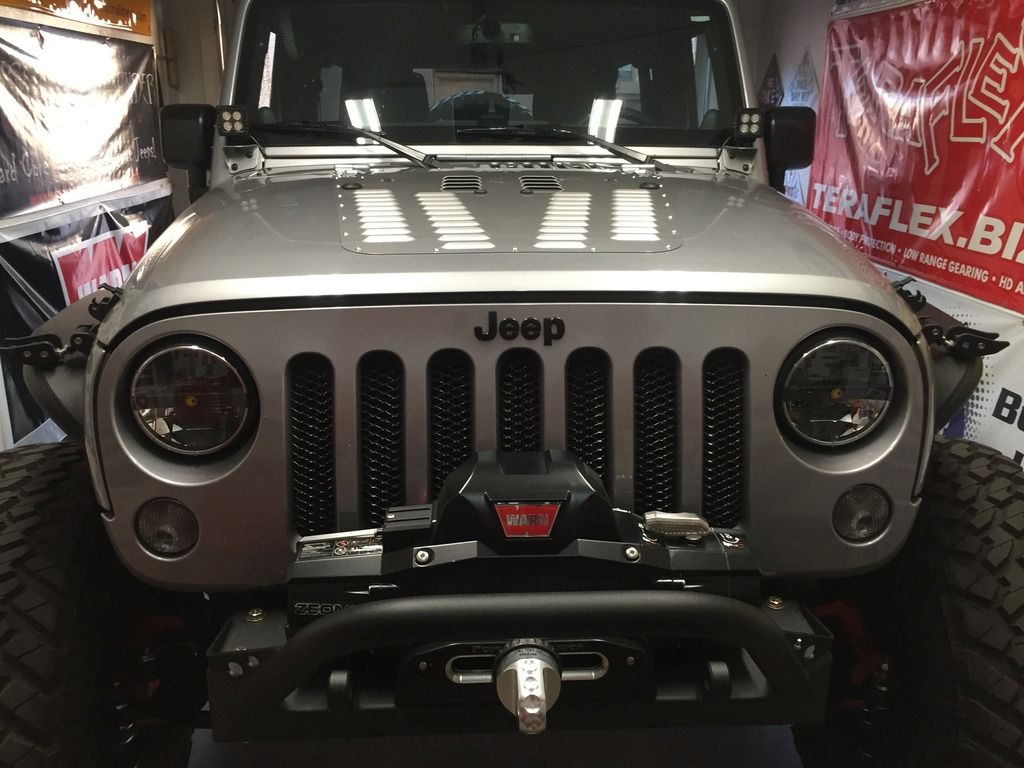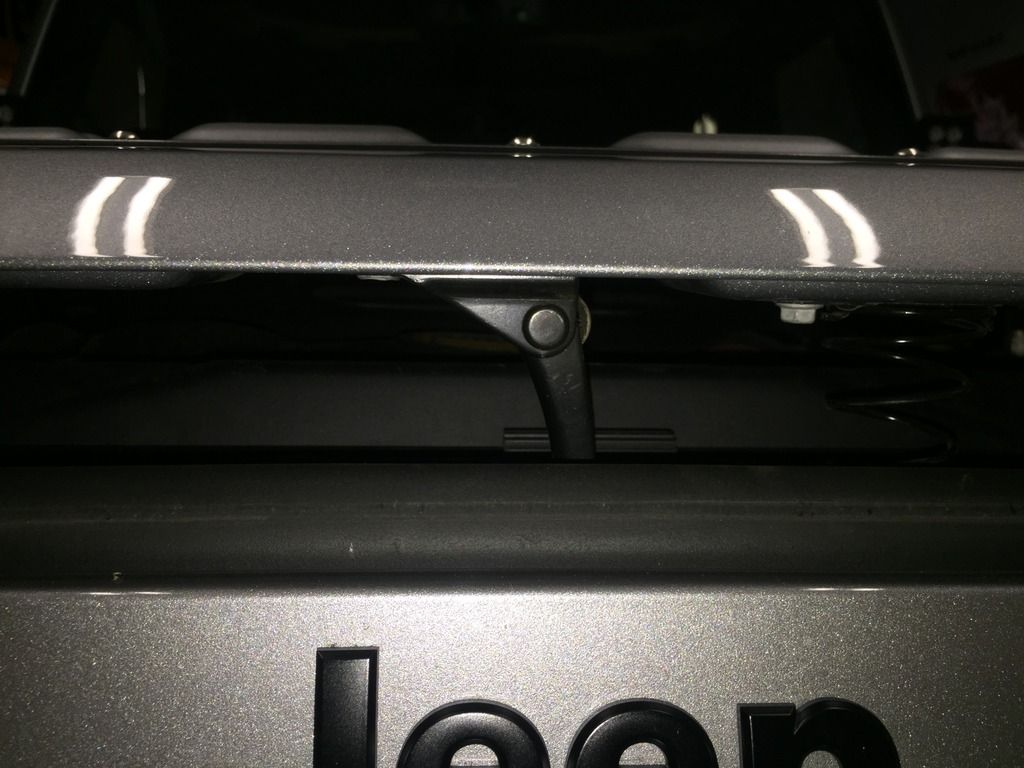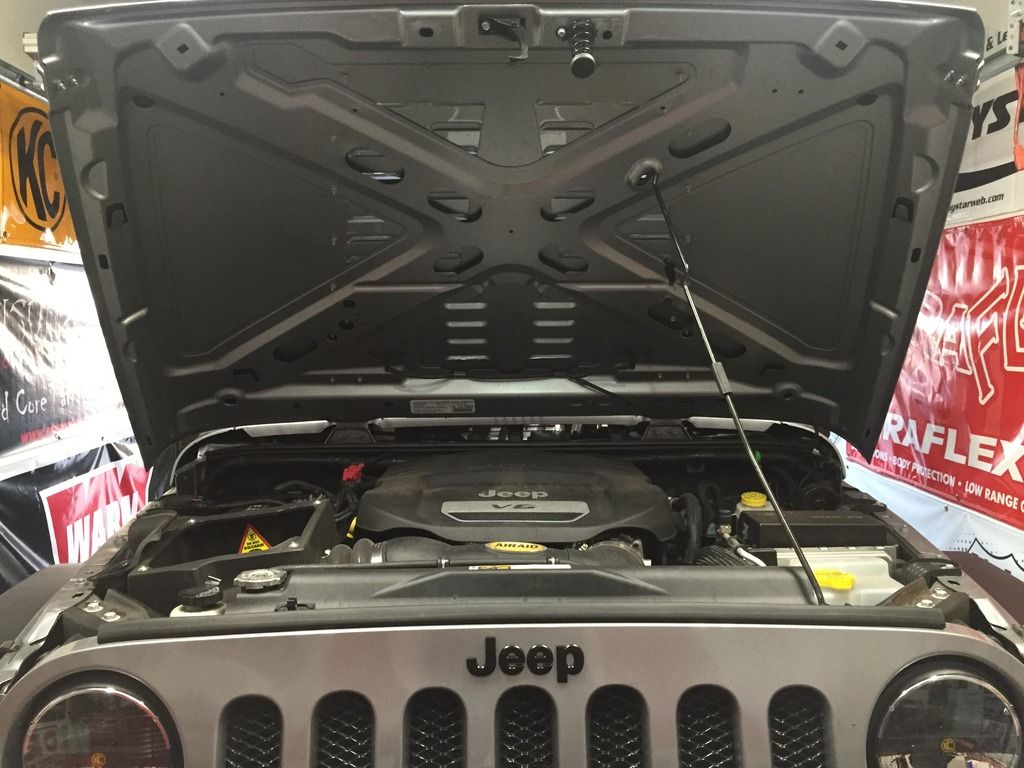 Step 2
Install Lower Mounting Bracket & Threaded Ball Stud
(Passenger Side)
• Remove the 10mm bolt closest to fire wall on body of Jeep.
• Loosely attach lower mounting bracket with same bolt you just removed.
• The bracket needs to go behind body sheet metal, not in front of.
• Insert M6 bolt with M6 washer through existing body hole and bracket. Then place another M6 and M6 nyloc nut on bolt end.
• Tighten down the 10mm body bracket now and then the M6 bolt part of bracket.
• Now that bracket is tightened down, install the threaded ball stud and nyloc nut. (Ball stud needs to be on engine side of bracket.)
• Use ¼ ratchet, 10mm wrench and 10mm socket for bolt on body and bracket.
• Use ¼ ratchet, 13mm socket, and 13mm wrench for ball stud and nut.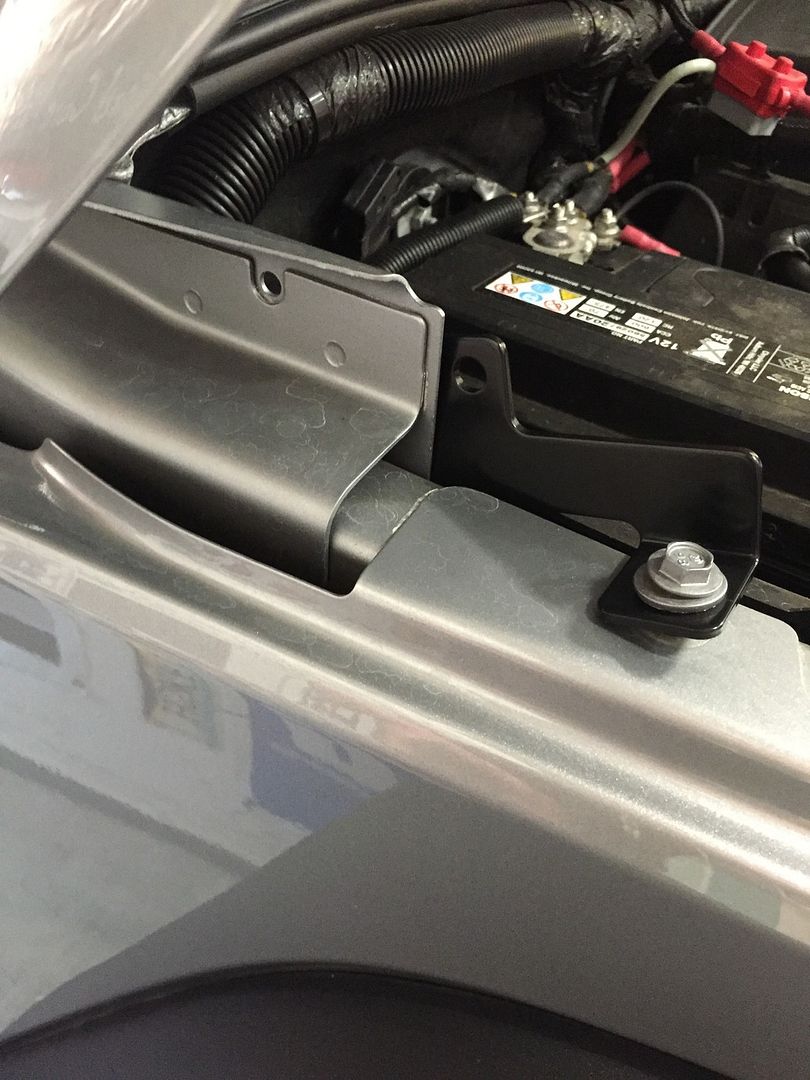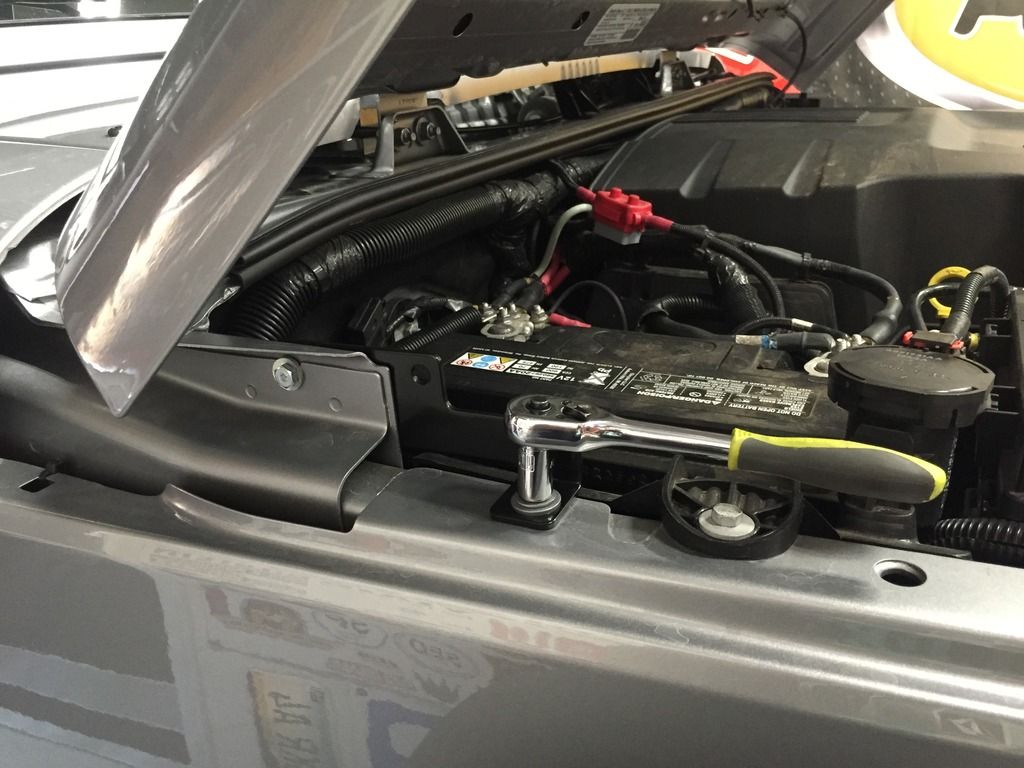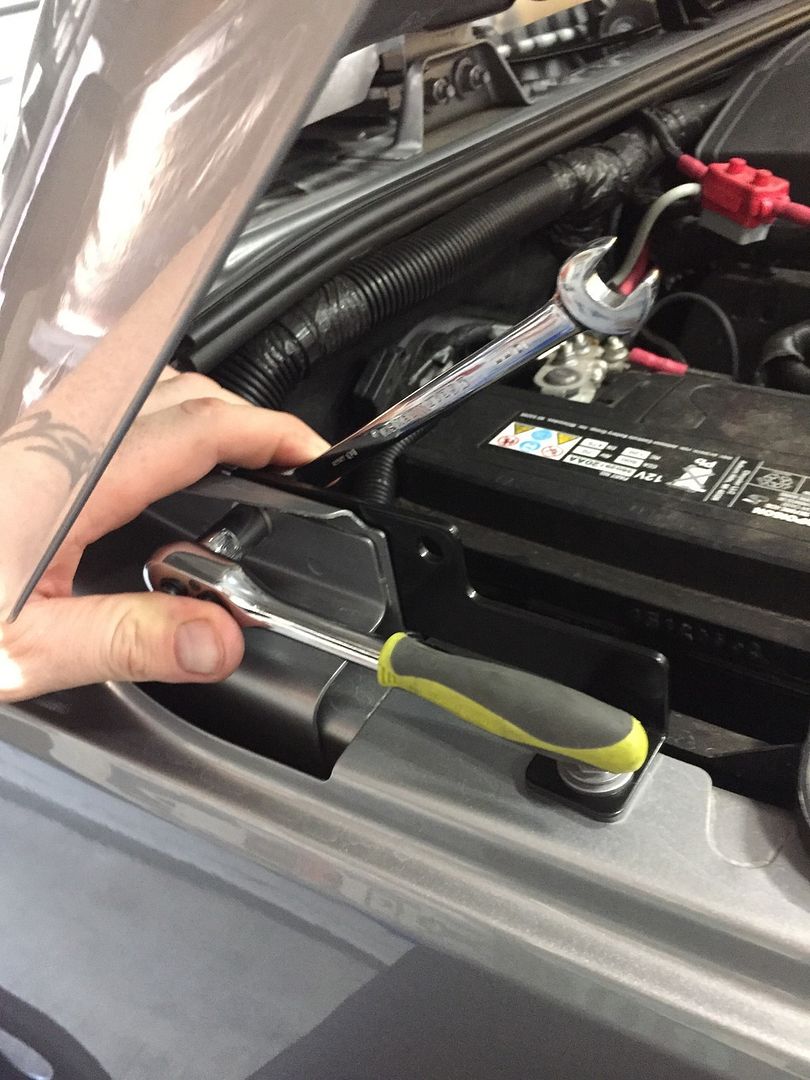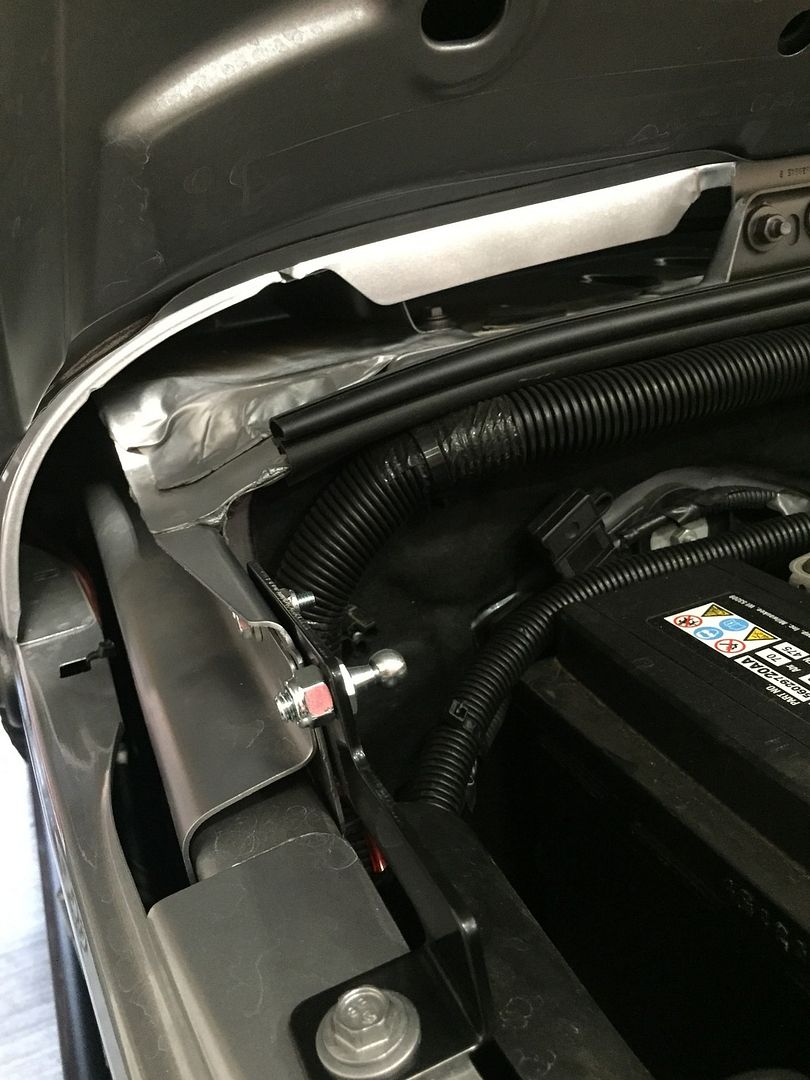 Step 3
Install Upper Mounting Bracket
• Remove the backing tape from the rubber gasket and attach to upper mounting bracket.
• Install one M5 bolt into nut plate and screw in until right before bolt goes through plate. Have another M5 bolt with washer through mounting bracket ready.
• Slide the nut plate into factory hole in hood. Hold in place while you screw in other bolt and bracket. Once other bolt with washer is screwed in, remove the bolt you were using to hold plate in and run through bracket with washer.
• Tighten both bolts down with ¼ ratchet and 8mm socket. Tighten until snug, don't overtighten.
• Note: Rugged Ridge I installed part of upper bracket is a little different than Rugged Ridge's Instructions.
• This is the only part of install that can be tricky.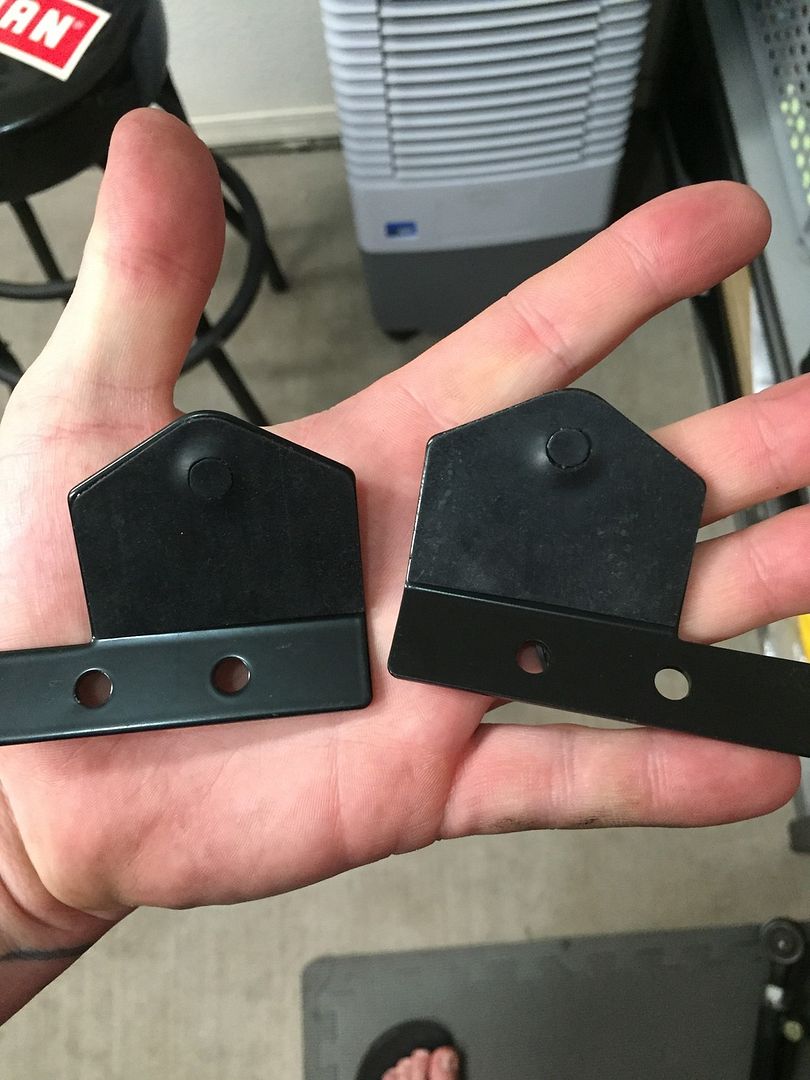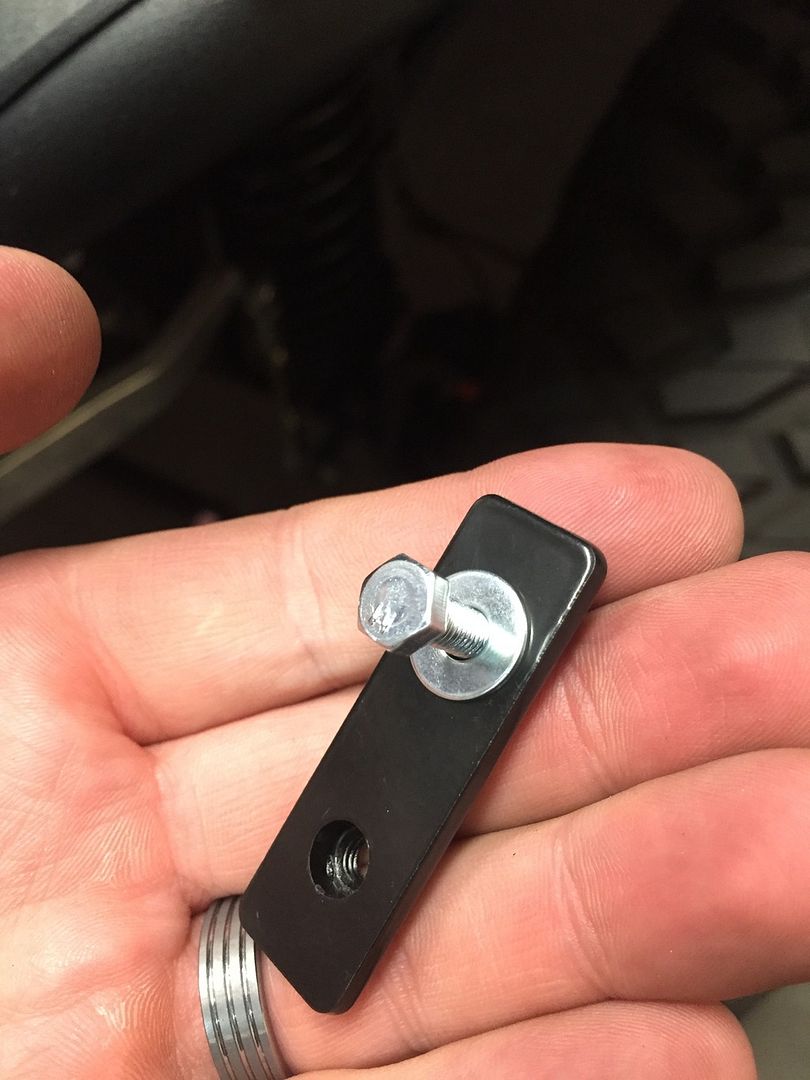 •
Don't use washer, just bolt.
(I didn't take correct photo for passenger side.)
• Here is Rugged Ridge's Instructions.