Discussion Starter
•
#1
•
Rugged Ridge Engine & Transmission Skid Plate (07-11) Jeep Wrangler JK
SKU: 18003.50
MSRP: 351.99
Online Sites: $255.00 +
If you are looking to install the 12-14 Rugged Ridge Engine & Transmission Skid Plate
SKU: 18003.51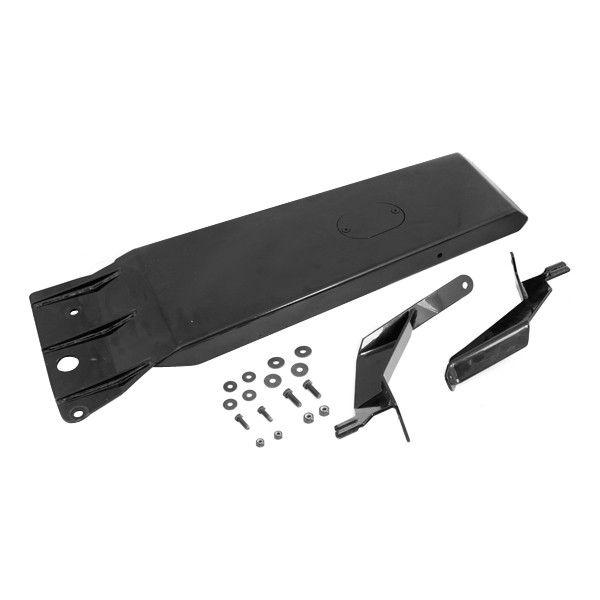 Description
Constructed of durable 3/16" thick powdercoated steel with a rust resistant E-Coating. This Skid Plate is designed to take whatever the trail throws at you! The skid also has access to the engine oil drain plug. To access just use a 3/15 allen wrench to loosen and turn 180 degrees or you can remove completely.
Rugged Ridge Skid Plate Line
Need that ultimate rugged protection for your Jeep? Find that your current defense is not nearly enough to withstand harsh trail rides? Engineered to protect the most vulnerable areas of a Jeep's underside, the Rugged Ridge Skid Plates shield eight major exposed mechanical components: steering, differentials, transfer case, engine, transmission, suspension arms, air conditioning and muffler. With a simple bolt-on installation, Rugged Ridge Skid Plates are an easy way to help prevent expensive damage from off-road obstacles. Each one is constructed of heavy-duty steel and comes standard with both a durable black powder coat and rust-resistant E-coating. The frame mount design utilizes existing factory bolt holes and incorporates special gussets and fully-welded brackets, making them tough enough to withstand anything on the trail.
Limited 5-Year Warranty
Subject to the terms, exclusions and limitations herein and with respect only to products first sold in the United States, Omix-ADA warrants to the initial retail purchaser ("purchaser") only that when installed and used on purchaser's vehicle according to supplied product installation instructions and/or warnings, purchaser's Omix-ADA product shall be free of defects in material and workmanship for five (5) years.
My Thoughts
I received the Rugged Ridge Engine & Transmission Skid Plate earlier last week. The skid came in a well packaged box and everything was wrapped in protective material to guarantee a non-damaged delivery. Once I opened the box, I found that all the supplied hardware and install instructions were there to make for an easy install. The actual skid is very well made and has a very nice quality powdercoat covering. The Rugged Ridge Engine & Transmission Skid covers a larger diameter of the underbody than the factory skid which helps for maximum protection. The install time on website says "3 + hours" but it took a buddy and I about an hour. I would also like to note that after I read that I had to mess with the engine mount bolts I was a little hesitant of even installing this skid. However, after getting into that part of the install, it wasn't a hassle at all and I'm glad that I decided to keep it. I would HIGHLY RECOMMEND this skid for anyone that is looking to add underbody protection that covers and protects more than the OEM skids.
Install Time
1-2 hours
Supplied Hardware
Skid Plate
Left Support Bracket
Right Support Bracket
M10x30 Hex Bolts (4)
M10 Nylock Nuts (4)
M10 Flat Washers (8)
Tools Needed
Protective Glasses
Torque Wrench
Ratchet
18mm Socket
18mm Wrench
17mm Wrench
16mm Wrench
3/16 Allen Wrench
Drill
7/16" Drill Bit
Floor Jack
Wooden Block
Paint Pen/Silver Marker
NOTE
If your vehicle is equipped with a factory transfer case skid plate the bolts that attach it to the cross member will need to be removed. The other bolts will need to be loosened so that the skid plate can be lowered if already installed. If using with the Rugged Ridge Transfer Case Skid Plate you will remove the two outer bolts on the skid plate and leave the center bolt tight. The engine skid plate installs on top of the transfer case skid plate.
Install Guide
Step 1
Remove the factory skid engine skid plate using 18mm socket (if equipped) The factory/OEM skid will attach on both driver/passenger side of frame and the tongue part on cross member. Do not discard hardware as you will be re-using later in the install.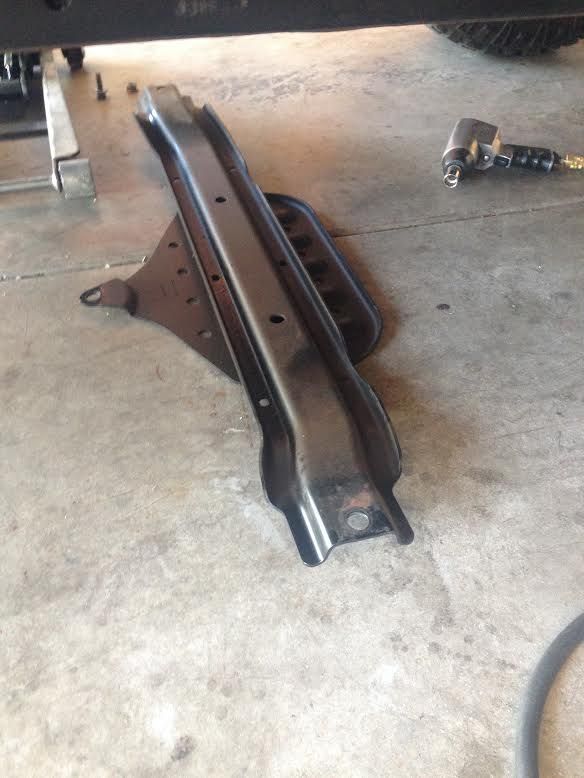 Step 2
Loosen the main engine bolt nuts on both driver/passenger side using 18mm socket until the nut is close to end of threads of bolts.
DO NOT TAKE THE NUT OFF!
You may need to use rubber mallet to move the bolt towards rear of Jeep.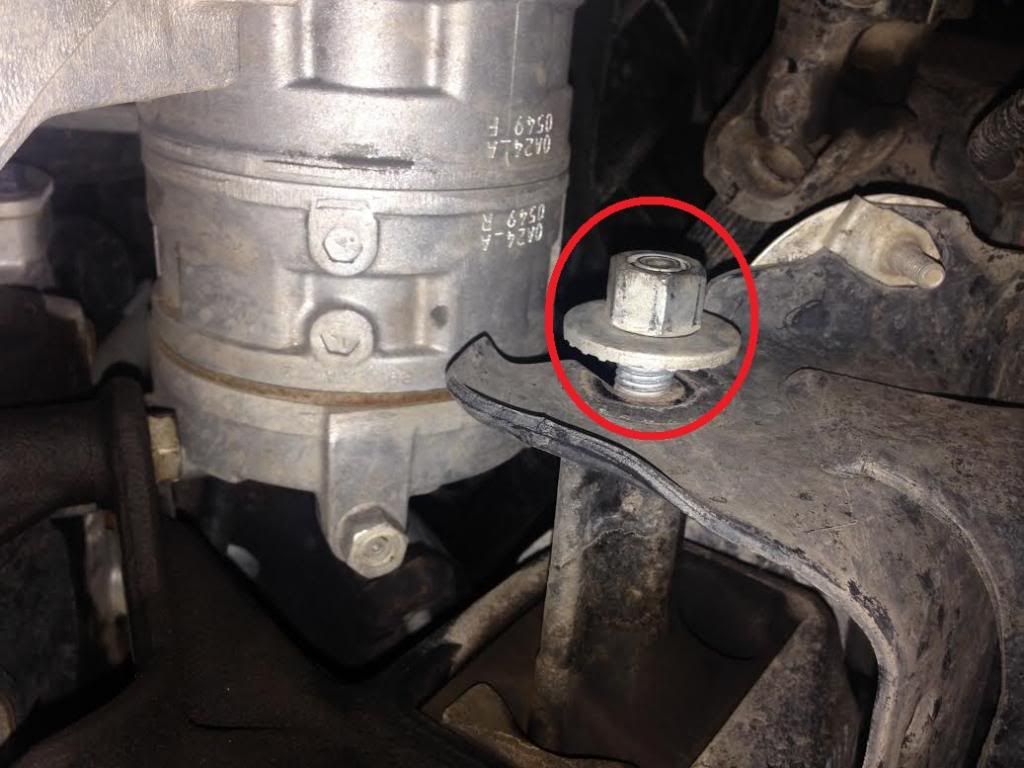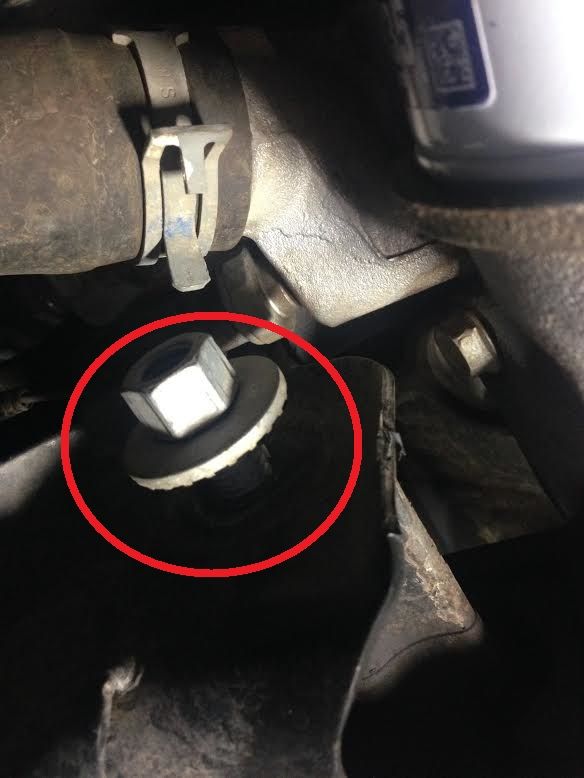 Step 3
Insert (1) M10x30mm hex bolt and washer through the engine frame bracket hole closest to rear of Jeep on driver side.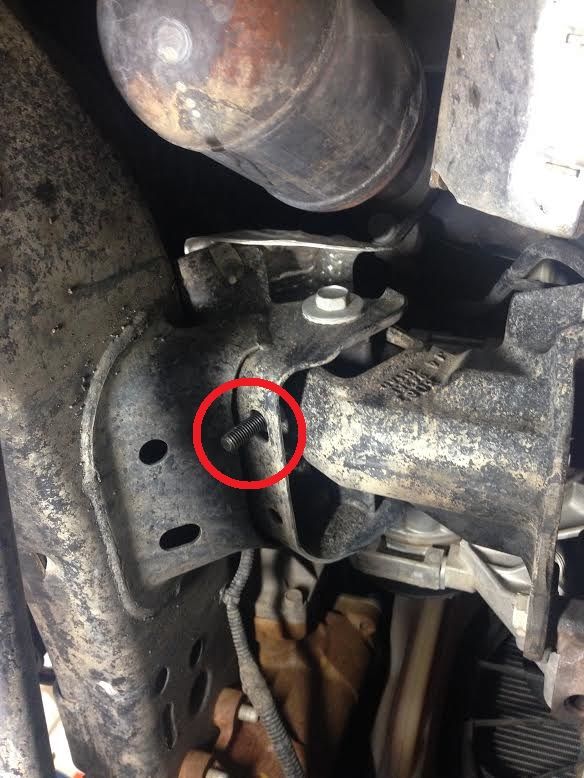 Step 4
Grab the floor jack and block of wood and gently raise the engine by pressing up on oil pan so that you can slide the (1) M10x30mm hex bolt and washer on passenger side. You will notice the driver side hole is more oval than a circle unlike the passenger side where it is a circle hole. By gently lifting the motor, that will give you just enough room to slide the hardware into hole closest to rear of Jeep.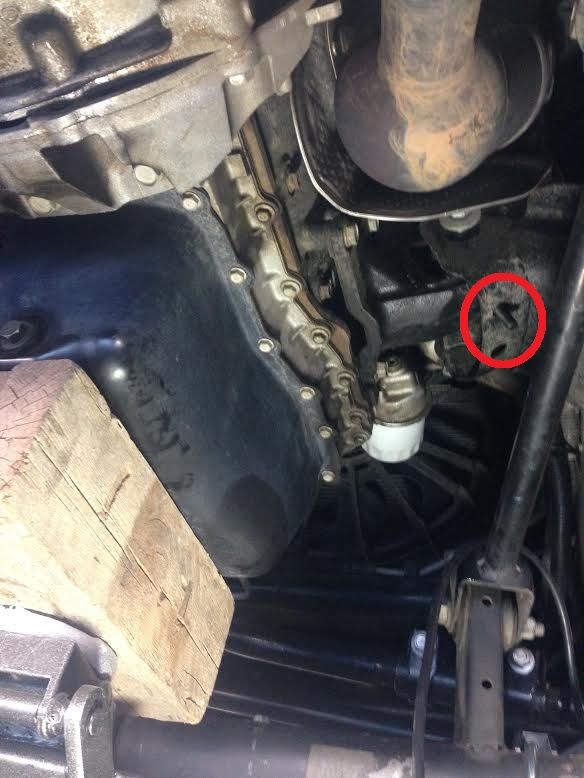 Step 5 & 6
Install driver side support bracket onto the engine frame mount. The notched part (U shaped) will slide in between the loosened bolt that is sticking out and mount, and the bolt that you slid through on Step 3 will go through hole at bottom of bracket. Once you have in place, screw down a few threads to keep upper bracket in place and add a washer and nylock nut to the lower bolt.
Repeat on passenger side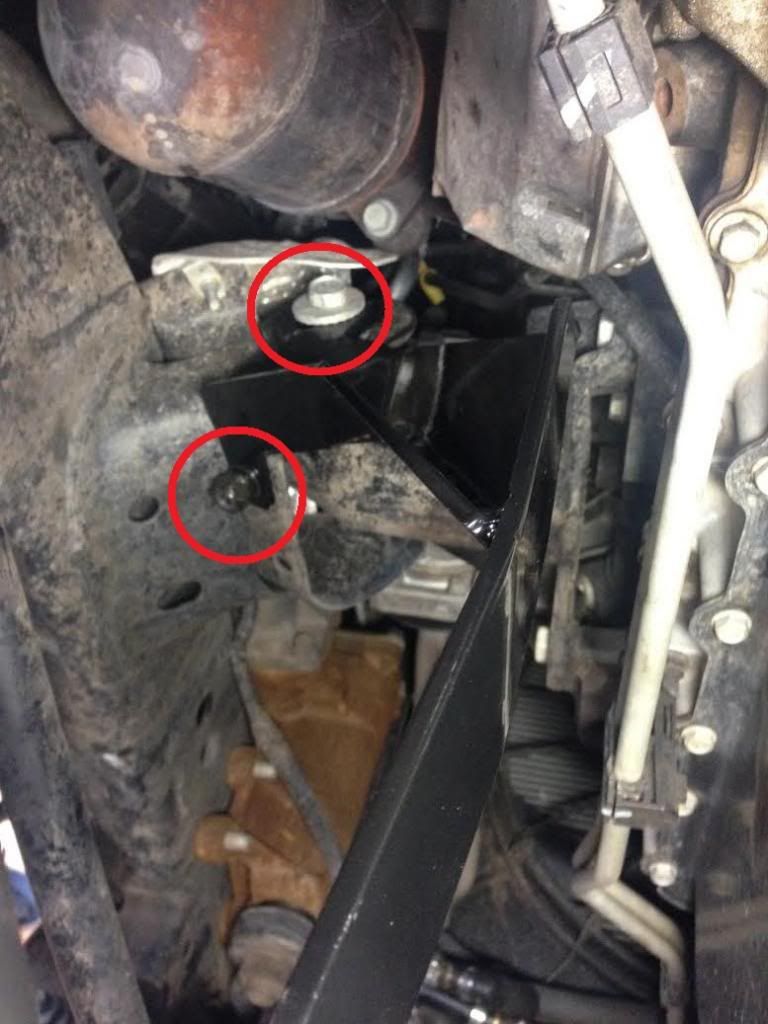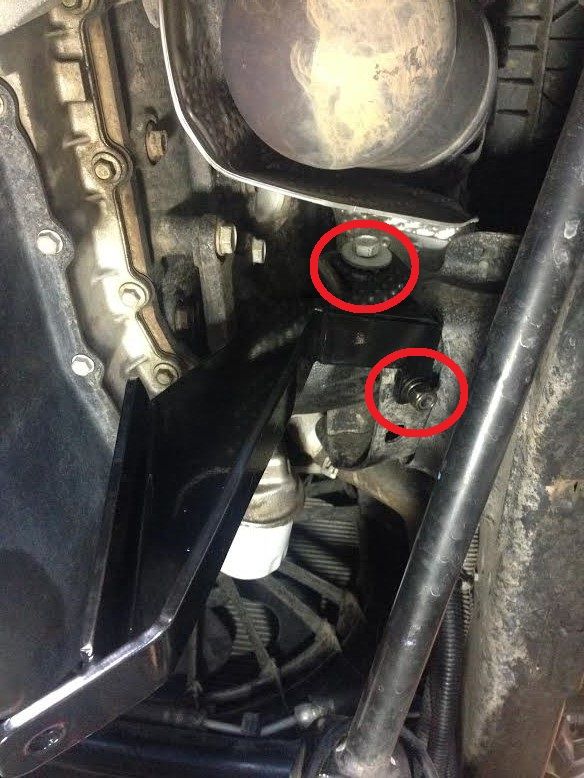 Step 7
Install the Rugged Ridge Engine & Transmission Skid Plate to the cross member using your factory hardware or the hardware that came with your Rugged Ridge Transfer Case Skid Plate. Only screw down a few turns, do not tighten.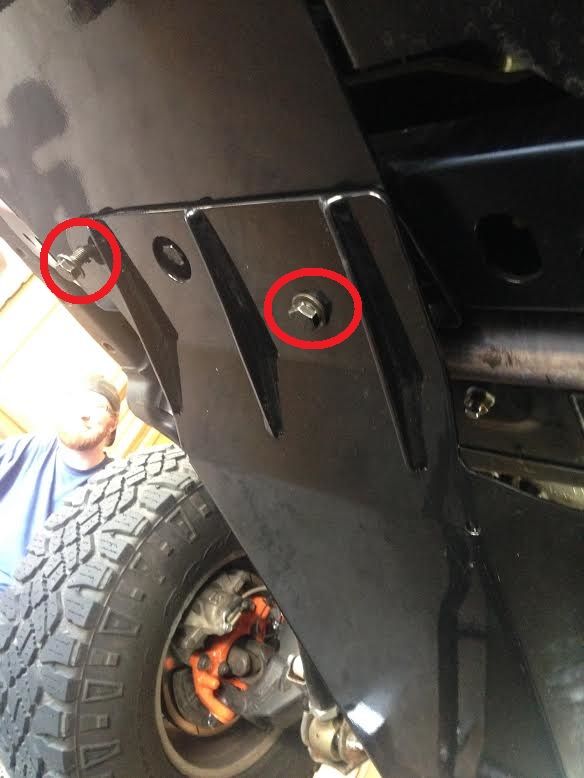 Step 8
Using (1) M10x30mm hex bolt, (2) flat washers, and a nylock nut, attach the support bracket to the driver side skid plate. Only screw in a few turns, do not fully tighten.
Step 9
Line up the passenger side bracket to the Rugged Ridge Engine & Transmission Skid Plate. Grab a silver marker or paint pen and make a mark on the inner part of skid where the M10X30mm hex bolt will go through.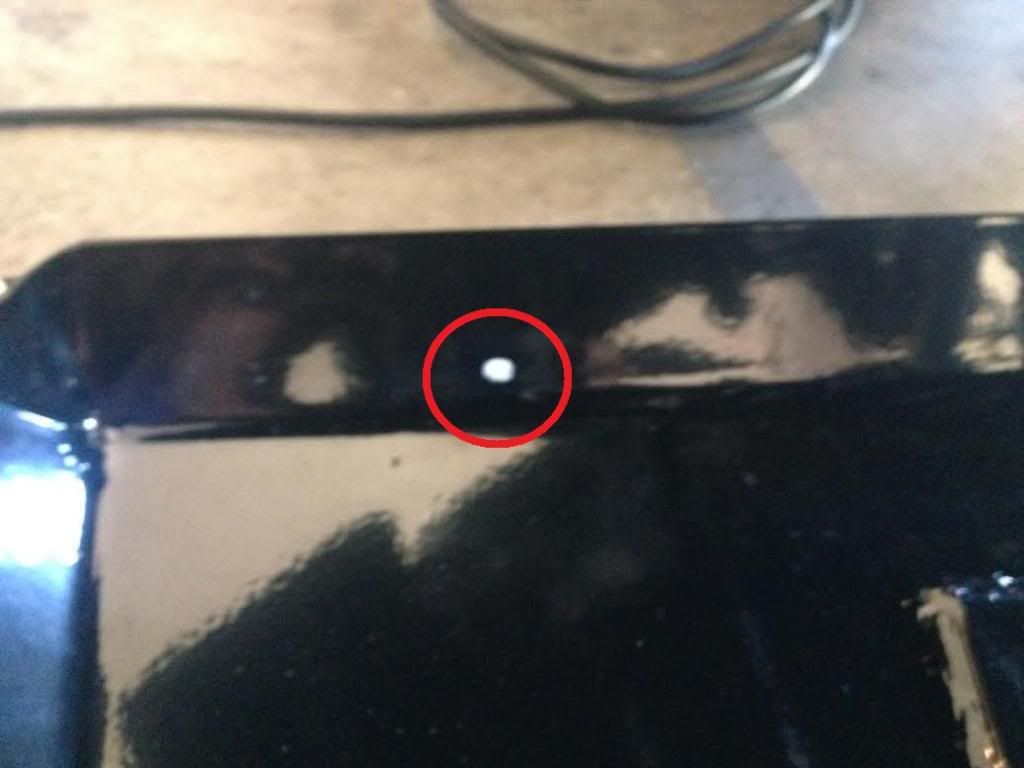 Step 10
Remove the M10x30mm hex nut, washers, and nylock nut from driver side bracket so the front part of skid plate drops down again. Now use drill and the 7/16" drill bit and drill a hole where you made the mark on the inner skid from Step 8.