Discussion Starter
•
#1
•
Rugged Ridge Dash Multi-Mount Phone Kit Write-Up
SKU:
#13551.16
Price:
$34.99
Description
With this Dash Multi Mount Phone kit from Rugged Ridge, you can take your smartphone along for the ride! The custom fitted cradle holds your smartphone securely during trail rides. With your hands safely on the steering wheel, now you have an attachment point for convenient access to your phone, Go Pro, or POV Camera, so you won't miss a moment of trail action. This system mounts to the dash recess of the JK Wrangler with no drilling required. Will accept up to 3.6-inch wide phones.
Limited 5-Year Warranty
Subject to the terms, exclusions and limitations herein and with respect only to products first sold in the United States, Omix-ADA warrants to the initial retail purchaser ("purchaser") only that when installed and used on purchaser's vehicle according to supplied product installation instructions and/or warnings, purchaser's Omix-ADA product shall be free of defects in material and workmanship for five (5) years.
About Rugged Ridge
Rugged Ridge develops and sells Jeep parts accessories for the growing Jeep and off road enthusiast market. Rugged Ridge is a division of Omix-ADA, the market-leader for replacement and restoration Jeep parts. With this know-how and experience the Rugged Ridge pedigree is well established in the Jeep market and with the Jeep enthusiast. Realizing that there was a need for new Jeep accessories, the Rugged Ridge brand was established in 2005 to fill that need. Rugged Ridge has designed and manufactured over 3,000 products for the Jeep market and continues to develop hundreds of additional Jeep accessories each year. Many of the recent developed Jeep accessories are patented, like the Jeep floor liners, Jeep snorkel and Jeep XHD modular bumpers. Count on Rugged Ridge to provide you with true and proven Jeep parts and accessories.
My Thoughts
I was looking for something where I could mount my phone for GPS or for taking video without using window suction devices and came across this kit on one the major Jeep aftermarket sites, so I decided to purchase. Once received, it was exactly what I was looking for. The kit fits perfectly in the upper dash tray and the install couldn't be any easier. I would highly recommend this to someone that is looking for a dash piece to hold phone, GPS, or camera, but still have room to place other stuff in storage area.
Install Time & Difficulty
5 minutes-Simple
What comes in the kit
• Accessory Mount Base
• Rubber Tray
• Universal Ball Mount
• Cap Piece
• Phone Mount
• Instruction Guide
Tools Required
¼ Ratchet
7mm Deep Socket
Install Guide
Step 1
Remove the OEM rubber tray from upper dashboard storage area.
• Just pulls right now
Step 2
Remove the one black 7mm screw.
• Use your ¼ ratchet and 7mm socket to remove.
• Keep aside. You will be reusing for final installation of new kit.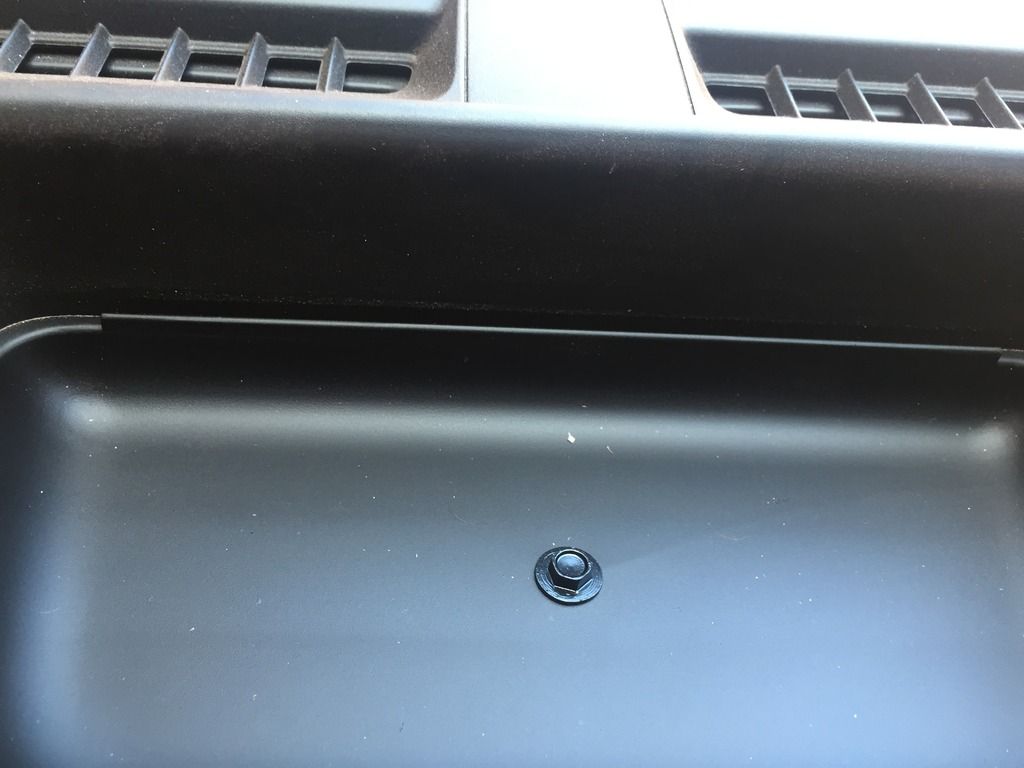 Step 3
Install your new accessory mount base and tray.
• The hook on the arms of accessory mount will attach to the dash board vents behind the storage area closest to windshield. (You will attach the back side by vents FIRST, for everything to fit correct.)
• Reinstall the 7mm black screw from prior step using your ¼ ratchet and 7mm socket. (DO NOT OVER TIGHTEN)
• Once black screw is tightened down, and place new Rugged Ridge rubber tray in storage area.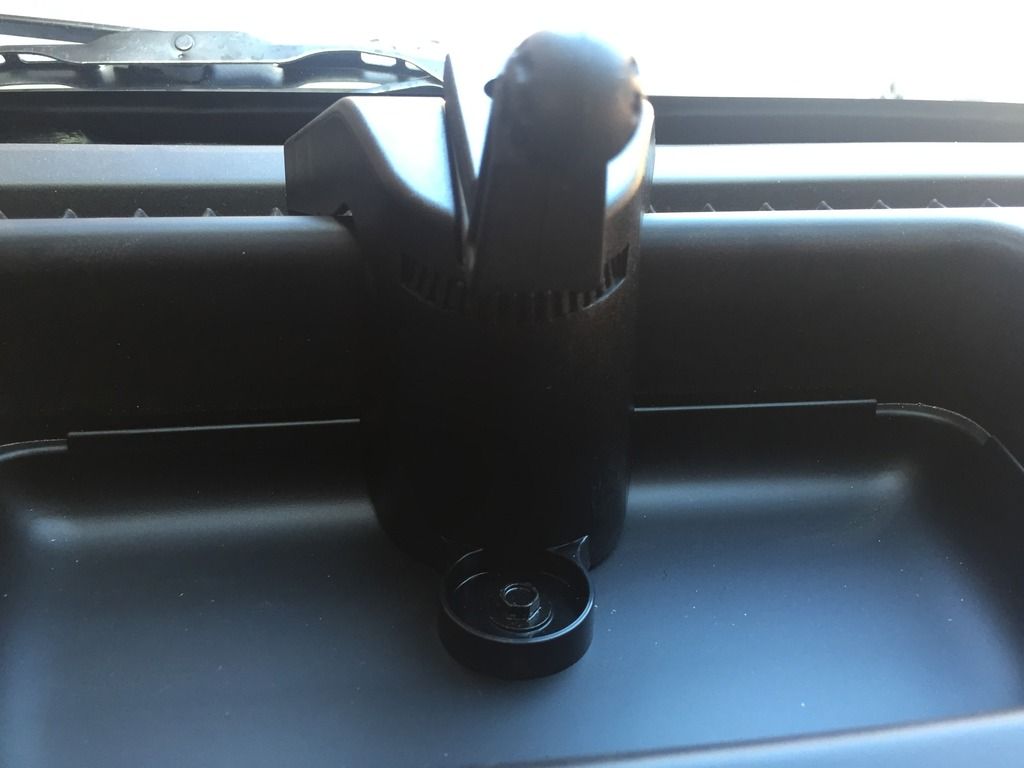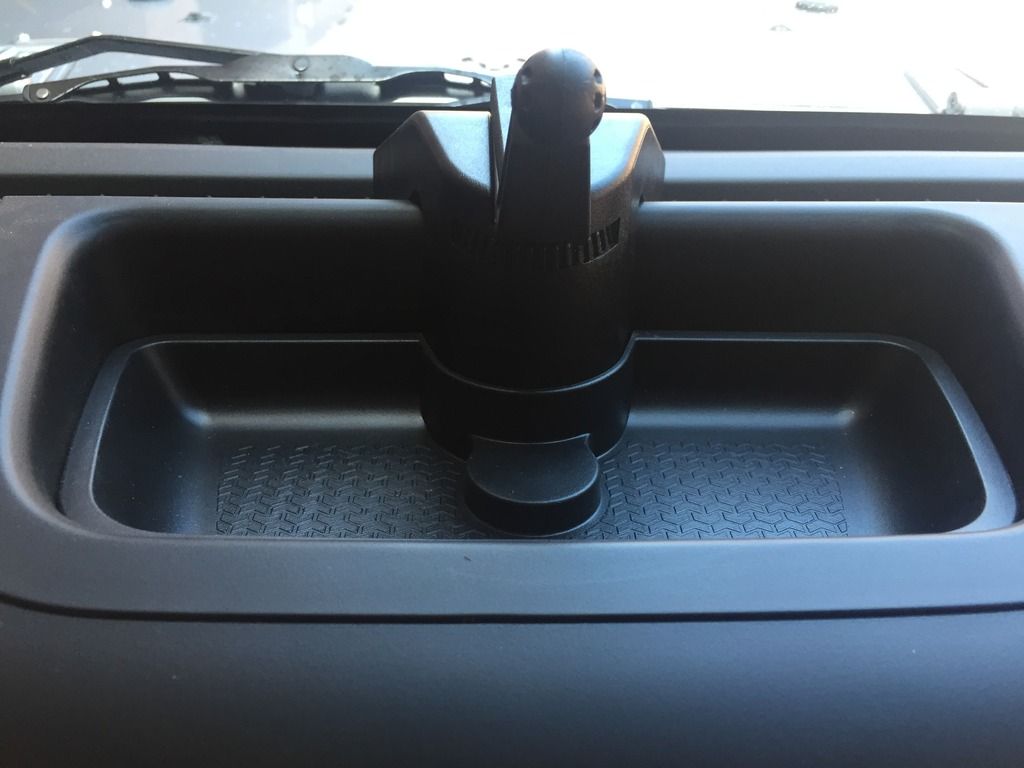 Step 4
Install phone mount to base.
• Slide plastic nut upside down over accessory mount so threads are facing you.
• Attach phone mount over accessory ball mount until it snaps into place.
• Screw plastic nut in to the cell phone mount.
Congratulations!
You've now installed your new Rugged Ridge Dash Multi-Mount Phone Kit.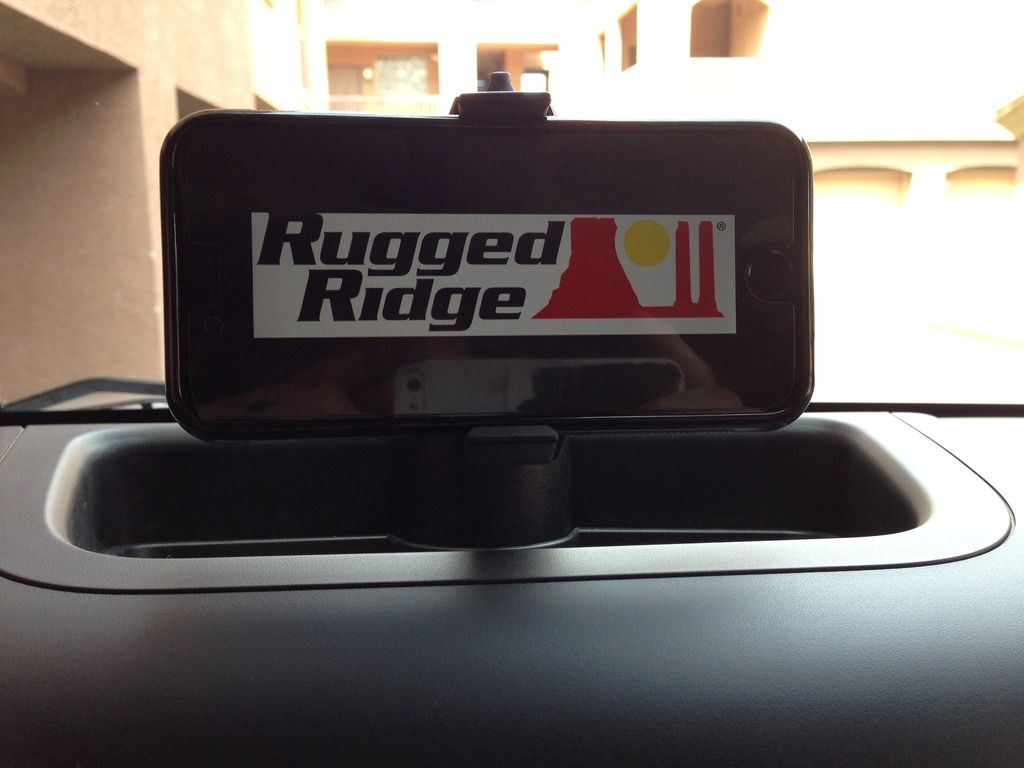 If you have any further questions for Rugged Ridge their Facebook page and website link is below.
www.facebook.com/ruggedridge
Jeep Accessories, Bumpers, Lift Kits, Seat Covers, Soft Tops, Wheels, Winches by Rugged Ridge
(Click hi-lited links)
If you have any questions for me, please PM me on forum or by email
[email protected]
Thanks for taking the time to read over my mini write-up!