Discussion Starter
•
#1
•
So I noticed this pretty good weakness in the skid plate when I installed it but just ignored it. The small catalytic converter skid only has three bolts leaving a large area easily bent. As you can see in this picture.
So instead of complaining that my expensive skids got dented while doing exactly what they were designed to do I decided to fix it. I'm certain if I had not had the skid installed I would be looking at a new cat instead of drilling a hole and bending it back a little.
I already had these bolts with tabs welded on from a bumper I bought years ago for my TJ. The problem was I had cut part of the tab off to make them work for my winch plate on the JK. So I welded a little more plate on it to make it long enough so I could insert it in the elongated hole in the frame and it would hold itself as I tightened it.
Here you can see the bolt sticking through the hole ready for the skid plate to go back on.
I didn't take a picture of the plate with the hole drilled in it but you get the idea with it all bolted together. I still need to cut the end of the bolt so I don't get hung up on it.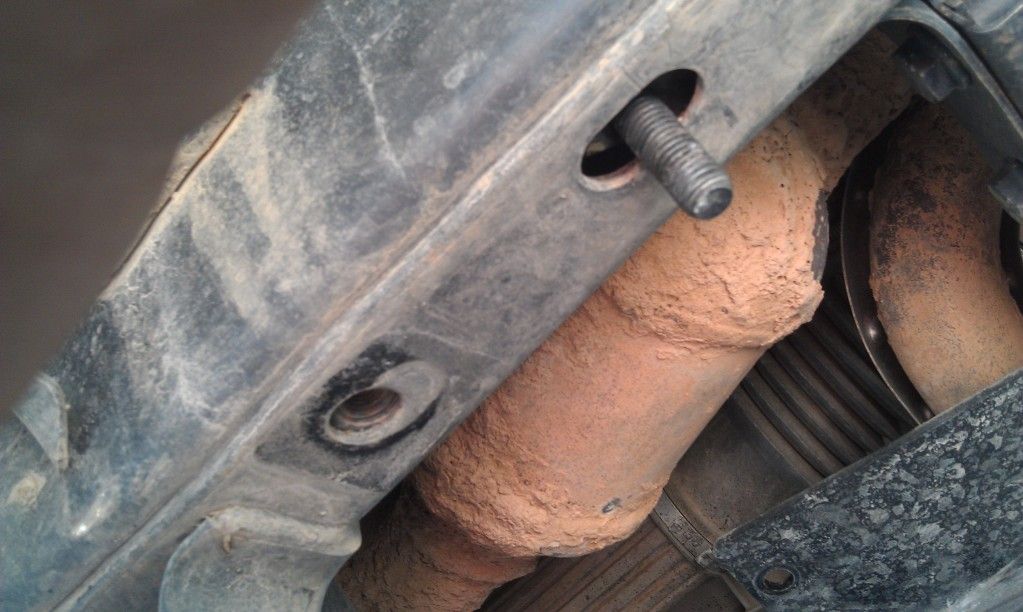 Since it was all bent a little and I didn't feel it was necessary to bend it all back I just got all the bolts started and cinched it all back together. I figure it is already bent and if I bend it back it's just going to end up back to being bent again. Instead I left it and think that not weakening the metal more by bending back straight was a good idea.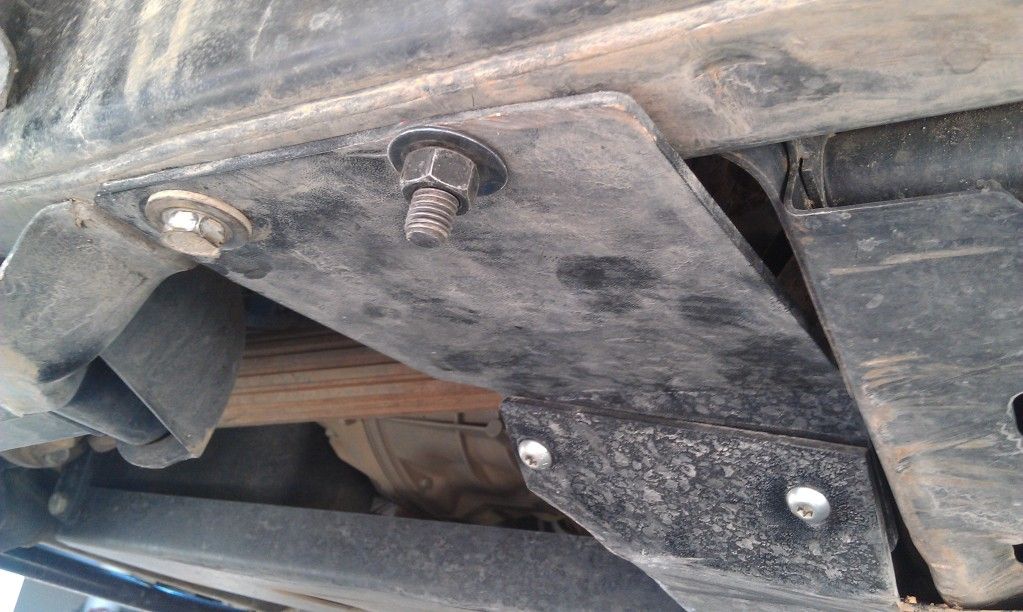 I suppose I could have started a thread about how my skid plates aren't indestructible and just complained but figured it would be more useful to show you guys an easy fix, even if it isn't perfect it's still stronger than it was. Maybe the guys over at rock hard can take a cue on this and fix the problem. It really wouldn't be hard for them to do.
I'm sure someone could come up with a better way to do this but I think it will work well in adding a little strength.