I have been running the Red Rock Fab rear bumper for a while now waiting on the tire carrier which showed up last week along with a replacement bumper as the one I was running had some minor fitment issues.
First off, I want to say that dealing with Red Rock Fab and Jason in particular has been nothing short of a perfect vendor experience. The communication was awesome, they delivered when they said they would, and any delay was communicated immediately. An experience like this from a manufacturer/vendor is very rare these days.
When I had a fitment problem with the first bumper I was told a replacement would be coming with no questions asked.
Now enough of the fanboy stuff and on to the product...
I researched long and hard before going with RRF.. it was the rear winch setup and the tire carrier latch that sold me. The latch is basicly the same kind of latch that is used to hold car doors shut.. amazing no one else has thought of this. Upon delivery, it was the workmanship, quality of materials, and design that far exceeded my expectations.
Although lacking a decent set of assembly instructions which RRF is still working on, it was a pretty straight forward install. You will need some tools not normally found in the average tool box though like some larger allen wrenches, a torx socket, a seal driver.. and maybe some others that have slipped my mind. Luckily I have a rather large collection of tools. I could have probably tapped the seals into place with a hammer and a flat piece of metal no problem but it is nice to use the right tool for the job.
Here is the hardware required to mount the tire carrier..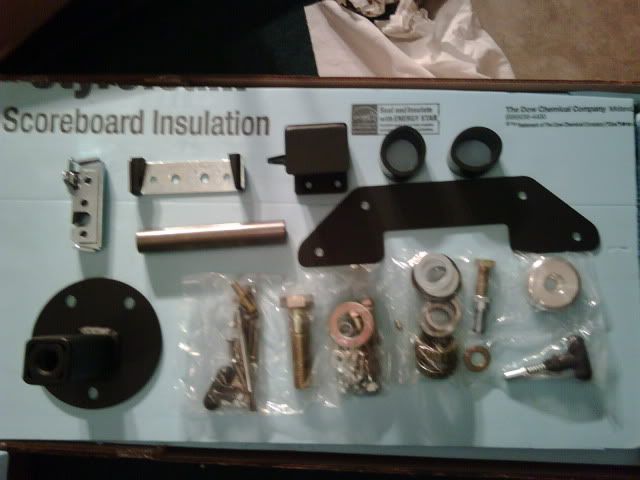 And an exploded view..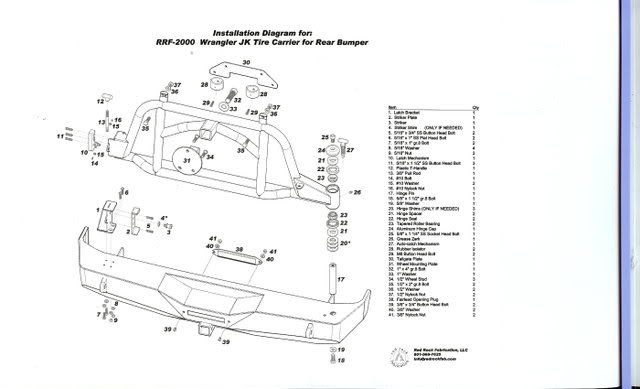 The first step is to add the Tail Gate Isolater Plate and the Isolaters to the tail gate. You use 2 supplied bolts and 2 of your factory bolts.
I then installed the Auto-Catch mechanism to the carrier. It just screws in. It is easier to do this while the carrier in on the ground than on Jeep.
You can't really make it out but in that pouch there are a set of what looks like wheel bearings. They seem to be pre greased with a light grease but I chose to clean them out and pack them with wheel bearing grease with the ole palm of your hand method. The carrier mount tube also get a Zerk fitting to keep the unit lubricated and is all sealed by a wheel bearing type grease seal.
The whole assembly fits over a solid steel axle for lack of a better description.
It is pictured above.
The fit is very tight which required me to use a bit of emory cloth and a bit of WD-40 on the top of the axle to get the assembly to slip down. You are also supplied some shims that can be used underneath the assembly but my setup did not require them. I suggest first fitting without the shims and see how the latch lines up and add them if necessary.
Now it is time to install the latch base to the bumper... my bumper had 6 holes drilled through.. Use the 4 inner most holes.
Now install the striker plate to the base using supplied bolts and then the striker itself using a torx socket/wrench. (I will get the size posted when I get home tonight)
Next install relase mechanism.. mine was a little tricky as I had to re-drill the hole at the bottom of the pull rod for the bolt to go through. The mechanism is adjusted by how far down you screw the handle.. took me a minute to get that adjusted properly.
Now you will be tempted to see how it all works and if yours is like mine, it will seem a little off...that is because you don't have the tire up on the carrier yet to weight it down some so don't worry.
Now it is time to put the wheel studs into the carrier plate. What I did was straddle the plate in between 2 pieces of 2x4 and using a dead blow hammer pound them in until seated.
Next mount the plate to your spare and then lift the spare and slid the mounting plate into the carrier's receiver. This was a little difficult for me as I was lifting a 37x13.5" Nitto up to head level... my back has been reminding me about this step of the assemble for 3 days now... don't be an idiot like me and get someone to help you. Tighten the extremely large nut on the back with a proper socket (I have no idea what size but well over an inch) or use a large adjustable wrench like I did to tighten the spare to the carrier.... but not uber tight as to impale your tire into the carrier but tight enough to keep it there. I will be getting the proper sized socket and adding it to my trail tools.
Now you are ready to operate it... At first I could only get one click from the latching mechanism as compressing the isolaters is difficult at first. Then I stopped being scared of it and closed the carrier with some authority and Whala! it closed and the safety holes lined up perfect. After a few opening and closings it became much easier to get the second click letting you know it is fully closed.
There is no way this is going to rattle.. at all.. period.
The one thing I am a little concerned about is the auto catch mechanism drags across the bumpers surface until it finds the hole. This has already left a mark in the finish of my bumper... I am not sure this can be avoided.
All in all I will give this bumper tire carrier a 10 out of 10 rating for now and will let you know how it performs on the trail but after assembling this myself and knowing how well it is built I am quite confident it will perform as good as it looks.
Here are some pics.. I will take some better ones and get them up soon.