Hey there, NOT apologizing for the non pic's anymore... MichaelW helped me out and moved some of them over for me.. Fell free to ask me any questions or clarifications you may need.. Total cost about $3200.00 (I feel the best 3 grand I ever spent!) Thanks.. well except for s*x maybe....:girly::laughing2:
Lift: 4' red Rancho Long arm kit
Install time: 12-18hr
Tools Needed:
-Metric socket set 6mm-24mm
-American socket Set 5/16-up
-3/8' socket wrench
-Metric and American Open and box wrench set
-28mm Socket
-Plasma Cutter or torch
-Disk Grinder w/ grinding wheel and cutting wheel
-1 stick of bearing grease
-Lithium grease
-Air compressor
-Air Tools (3/8 drive impact, 90* impact)
-0-250lb torque wrench
-0-150 inch pound wrench
-Black Paint
-Drill bit set
-Electric drill with handle, Something with kick, these frames are thick.
-A buddy or pull-straps to hold the steering wheel
-Copper hammer
-Rubber hammer
-medium sized Pittman arm puller
-MiG Welder (In case of bumper modifications)
-Spring compressors (if doing this on jack-stands)
-Brake bleeder (If your into vacuum bleeding, I.E mighty-vac)
-DOT approved brake fluid
-Sawzall
-Bench Grinder
-BEFORE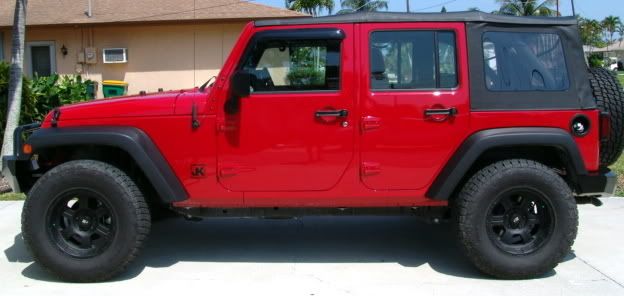 AFTER
Tips:
-Reverse the front and rear sway bar bolts so the head of the bolt is facing the frame.. This is the best way to avoid clearance issues during flex or bumps.
-I would STRONGLY recommend using a vehicle lift for this, this lift is not something I would want to attempt on jack stands, only because of the amount of moving up and down there is to fit everything.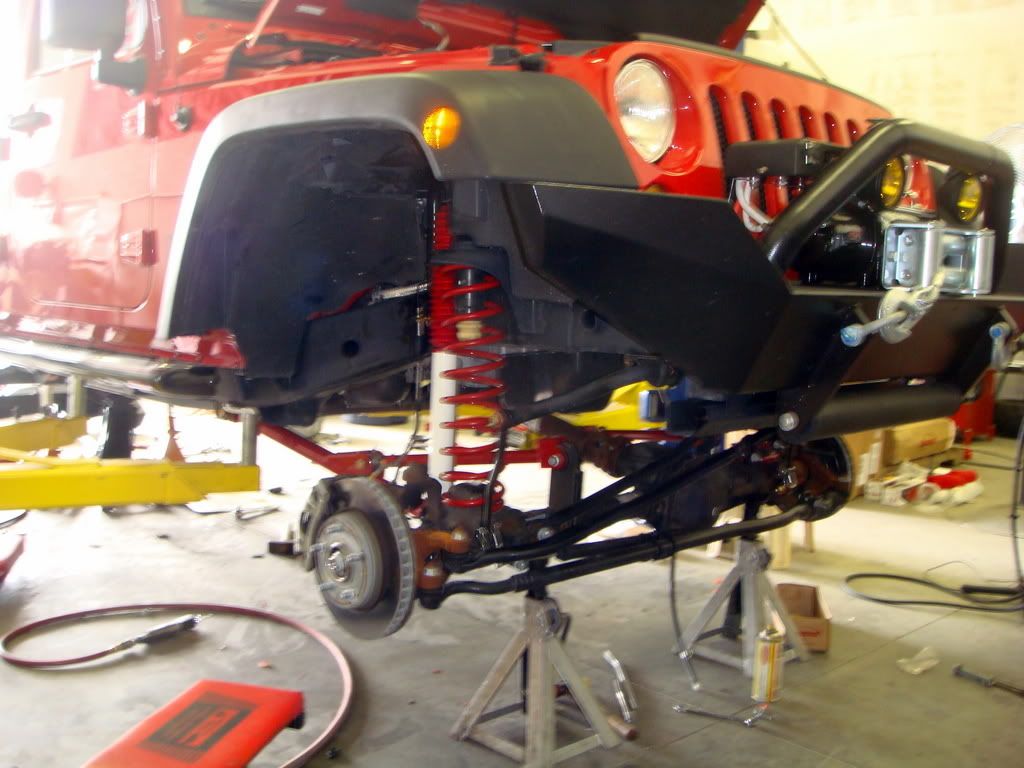 -This lift requires you to CUT a lot of OEM hardware off, so it is not really returnable to stock, make sure you want to make that plunge before attempting to put it on, there is no 'Getting around it', some OEM stuff has to come off due to clearance issues.
-I would have a plasma cutter available for this job, a torch can be very messy and uncontrollable, due to lines, and gas-tanks, I would use the plasma thus its more isolated. a sawzall or die-grinder would take you forever to cut off some of these mounts.
-when you drill your holes for the rear control arm mounts use a right angle drill on the outside of it, It will require some measuring to get where the hole is, but then you will not have to remove the body bolt, which can be a PITA.
http://i206.photobucket.com/albums/...cket.com/albums/bb267/captsam54/fftground.jpg
-When Jordan cut off the passenger side OEM control arm mount in the rear, he used a plasma cutter with about 4 sheets of sheet metal to keep the sparks away from the gas tank, I would strongly recommend only a experienced operator do this because catastrophic could happen. (especially if I did it.) You can probably get away with using a cutting wheel on this side only because you only have to cut off half of the mount.
-Make sure you follow the Rancho specs when placing the coils in the buckets, if done wrong it may sit funky when the lift is done.
-Have a buddy or a club available to hold the wheel straight while working on the steering, the ESC light will come on if this is not done, They had a guy sit in the jeep for the whole time holding the wheel and the danged light still came on.!!!.( But driving it a bit after the alignment changed that.)
-You are going to need to modify the exhaust system to work with this system, or buy Rancho's kit, I had my exhaust re-done before the install, but now will have to have the pipe moved over due to the sway bar setup. there is no way to keep your stock exhaust system.
Rear Bracket modification due to aftermarket bumper:
I have a rear aftermarket bumper, (Bestop Highlander) due to the fact that this lift was not designed for a jeep with an aftermarket bumper, Jordan and Chris Bausch had to work around this. Chris thought the best way to get around this would be to cut the upper tabs off and weld the sides, which was good plan for awhile, but then when Jordan got to inspecting the bumper he found that there was just enough clearance to clear the piece of steel that needed to be attached the the rear cross-member. The gap was not large enough to house a bolt, but It was large enough to weld the tabs onto the frame, this being a permanent fixture, since this lift is already permanent, We figured this would be best.. See pictures, both upper and lower tabs are welded to the cross-member.. The bumper fit up fine. (Note, other bumpers may fit fine without having to cut and weld.)
Now, the sway bar drop/relocation brackets are going to need longer bolts due to the larger bumper mounts, here's the good news, the bolts from the sway bars original spots are the exact same thread size as the bumper bracket bolts, and they are about 1/2' longer!! So you can re-use those, since you are not going to re-use them in the kit, and WA-la, the bumper issues are finished.
Over-all Thoughts:
Jordan's (Wicked Customs, Naples, Fla.) thoughts on installing this lift::
From a guy who installs lifts all day, this lift was no easy task, and one that was challenging. The time it took was only because I have NEVER installed one of these lifts before. Looking at instructions and calls to Chris Bausch @ Rancho suspension were necessary...
Now, the 'RED' kit is NOT entirely red, the long arms are red, and so are the coils, but everything else is black, as seen in the pics, now, Sam opted for me to paint some black parts red for him, if your going to do this, make sure you scuff the original paint with some 250-300 grit sandpaper, or it will not stick.
If I owned a jeep and wanted this kit, I would recommend that you find a good 4x4 shop who can do this for you that you trust, there are A LOT of bolts, and A LOT of cutting involved, the regular garage mechanic may not be able to do this one for lack of tools and experience.
The ride IMO was definitely improved, I couldn't believe how nice the coils/shock rates were while hitting bumps, it is very smooth, and definitely can flex, (We only took it up on a curb, lol) but if we took it on our flex ramp, this baby would be up there with the big boys.
For the money, it is a nice system, very well made, the welds are very clean, and the instructions are well thought out,