I'm running the rancho highsteer knuckles for about 5 months. Since the install I've had 3 inner axle seal leaks on the passenger side, the original I left in since replacing the knuckle and then 2 new seals I installed. I used an angle finder app on my phone and as near as I can tell my housing long tube (leaker) is perfectly straight and both driver and passenger tubes are within 1/2 a degree of each other.
Also my housing is trussed and been trussed for 4 years and I had no seal leaks before the knuckle install 5 months ago. Troubleshooting other causes today I noticed my Axle Shafts are sitting high in the housing where they exit the tubes.
Like I can fit the tip of my jeep key sideways between the axle shaft and housing under the axle shaft and wiggle it like 1/16" Up and down where the shaft exits the axle tube.
Above the axle shaft I can't even get the key sideways between the shaft and housing.
(This is the case on both sides where the axle shaft exits the housing. I know this is not normal or within spec because I would not be able to fit aftermarket front outer seals with this situation and you can normally fit those to any housing.)
I think the knuckels may be mounting too high onto my ball joints and pulling the shafts up. I was wondering if someone with these Rancho knuckles could tell me the amount of gap they are seeing here: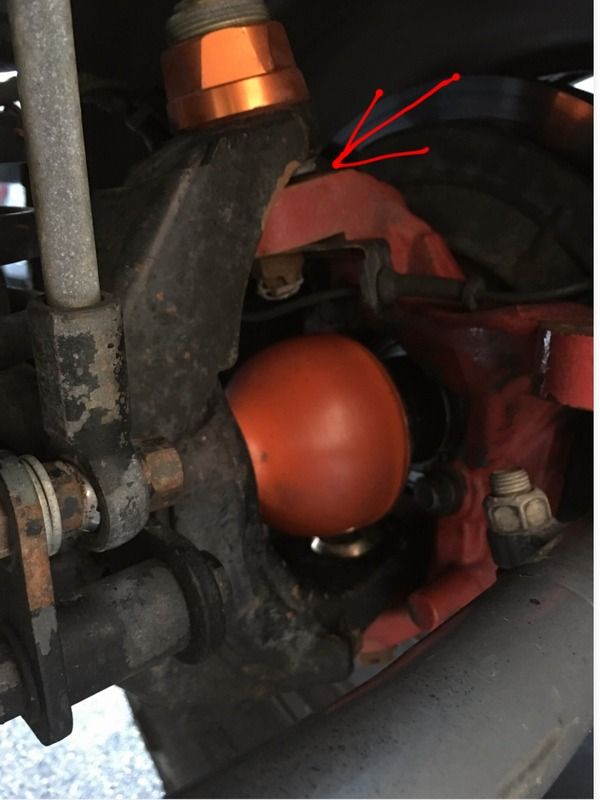 I think mine is too little gap, especially compared to the Reid knuckle pic I found online. Here they are side by side:
Also for anyone running the Rancho knuckles, are your Axle Shafts centered (within reason) where they exit the housing tube into the knuckle area? Mine are visably (to the naked eye) sitting high in the tube.