Discussion Starter
•
#1
•
Well folks, I sold my 74 CJ-5 recently and purchased a Lifetime Tent Trailer to fill it's place the garage. I've done a lot of research on them but there's not a lot of information out there. My wife really liked the idea but we knew we'd have to sell the CJ to fund it. The rest of the money is going to other JK things, but I'm really excited none the less. Here's the demo video on youtube if anyone isn't familiar with it.
*UPDATE* It arrived today, and I was able to get it completely assembled, I'll take some more pics and post them up shortly!
Lifetime Tent Trailer - YouTube
I found a thread on another forum somewhere, a guy had put used 31's, a 2.5" BS wheel, a different receiver, different trailer fenders and wheeled with it pretty well. I'm not sure what my plans will be, but I look forward to getting out camping with it!
It will help fill the void of not owning a pickup to get firewood, trips to home depot, or any other shit I need to haul around. I think this will work out perfect for us.
I'll try to post as much information I can about it for other people who may be interested.
_________________________
$2799 shipping included from Costco.com With California tax it came out to $3016.99. I was a bit taken back at the price but when compared to other trailers like the jumpin jack (about $5k+) and the expedition style (A lot$$) it was a good option for us. If I had the ability and tools I might consider building one for myself but this is the best option for us.
__________________________
I found a thread on another forum where a guy bought some steel wheels, 5x4.5 with 2.5" back spacing (I believe, apparently that's what's needed to fit the trailer), 31" tires, bolted on aftermarket fenders, and a Lock'N'Roll Trailer Hitch. Looks awesome! I'll borrow the pics. Pretty awesome looking!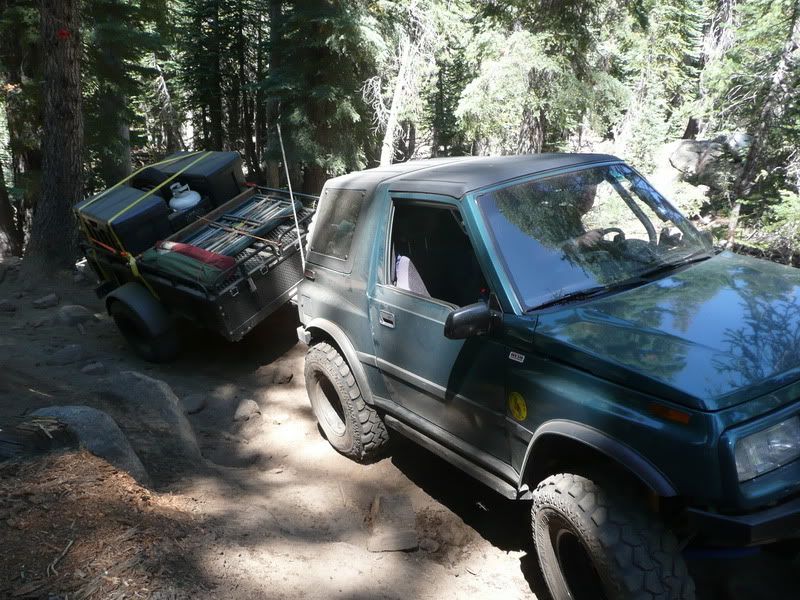 _____________________________
Here's the Jumping Jack and Lifetime differences I found on another forum from searching google. I happened to stumble across it again, thought I'd share the information here for others to have as reference.... These opinions are not my own, they are results from web wheeling the net :beer:
"Jumping Jack vs. Tent Trailer
Both have their advantages and disadvantages. Jumping Jack is a 6x8 foot trailer while the Tent Trailer is a 5x7 foot trailer. So the Jumping jack carries more but has a wider wheel base. The Jumping Jack has a single wing that folds down and the tent trailer has a double wing that folds over and out that needs wing supports. Tent trailer has more sleeping area unless you purchase the extra bed converter for the jumping jack which makes the extra floor space smaller than the tent trailer. Both are around 95-96 sq. feet of room. At this point, there are more accessories for the Jumping Jack like the cooler rack, water rack and sink rack. It looks like the Jumping jack is a little quick to set up and take down. Jumping Jack GVWR is 3000 while the Tent Trailer is 2000 however the Tent Trailer is about 350 pounds lighter.
I've been looking for a Jumping Jack trailer for about 2 years but they weren't sold in Michigan. I almost had one on Craigslist but someone purchased it about an hour before I called to say I'll take it. So when Costco started selling this new tent trailer, I reviewed both designs and figured I would go with the tent trailer. Main advantage was cost and ability to purchase (and delivered). Over the Jumping Jack, I like that the beds are bigger without the bench accessories and the trailer is lighter/small which tracks nicely behind my Tacoma. Disadvantage is the wing supports that require a bit more level ground when set up but they do adjust up and down."
________________
"One correction to the above - the Jumping Jack has two wings that open up for the beds. The wings brace against the trailer sides and do not need legs.
Both trailers are good deals, it just depends on what you plan to do with it."
________________
"Here are 10 differences I can find:
1) JJ can carry 2 full-size ATVs, LTT only one (1800 lb payload vs 900)
2) LTT smaller in width, with a much larger sleeping area stock (just two inches from a queen sized sleeping area on each side). For me, this was a huge plus... smaller trail footprint with a larger sleeping area.
3) JJ tent setup very quick. For me, meh. LTT pretty quick also, but not "pop and go" like the JJ
4) JJ has canvas tent from what I understand, LTT has "rubberized" nylon.
5) Both are constructed using the same materials and concepts. Same company makes both (Lifetime purchased JJ). My guess is this was in JJ's product development pipeline before the purchase, and Lifetime decided to brand it under their own name.
6) No brake option on the LTT.
7) LTT is leaf-sprung solid axle, JJ is torsion bar suspended. A plus to the JJ in my opinion.
8) Integrated lights on the JJ... they hang off the sides of the LTT. For what it's worth on the LTT the lights are surrounded by very heavy steel plates.
9) Currently a lot more factory accessories for the JJ, next to none for the LTT. Hopefully, that changes over time.
10) Price... When I got my LTT, it was $3k at Costco. For that price, used JJs were on craigslist in my area, but I went this route anyway. I think the LTT now lists for $3500 at Costco. Primarily, this is because JJ has been around for a while, whereas the LTT looks to be new in 2009. Eventually, the used market for the LTT will place these in an even lower price category.
Like I said, I saw some of these differences as a positive in the direction of the LTT, but you may have differing requirements and needs. I personally wanted a profile that matched the width of my JK. Those with full-size trucks may not care about the 91" width of the JJ.
In fact, having just finished reading the Expo West link in full, I would say the LTT has all of the advantages the author lists in his conclusions (sturdy construction, an amazing amount of tent room), with none of the disadvantages (too wide)."