So this is the first stage of my current build affectionately dubbed Project Dirty Diapers.
There is a bunch more stuff going on which I will start new threads for when I get them but for now I just have the suspension on.
When choosing my suspension system, I tried to choose a lift that really matched what I used my JK for. I spend a lot more time on the road then off so I wanted a long arm kit that was light weight and had a lower center of gravity. I chose the Rock Krawler 3.5" Triple Threat Pro Long Arm system with 2.5" springs. Since, I got the lower springs, I did not get the drag link flip as part of my kit.
I really can't say enough about Jeremy from Rock Krawler. He answered countless questions and even met with me in Denver on his way to the Pomona Off road Expo to deliver my kit. Jeremy you are the man :beer:
I went to Jarrett of HD Customs for the install. The man is absolutely ridiculous at what he does. His welds are perfect and his attention to detail is just insane. Just as an example, he measured the distance between the clamps on the shocks to make sure they were symmetrical on both sides. Jarrett's level of customer service is just as high. He trailered the Jeep down to the muffler shop in ~40 mph winds (no exaggeration).
Lets get to some pictures. These first ones are just some comparison shots between the stock parts and what came with my kit.
Front springs:
Rear springs:
Front upper control bars:
Front lower control bars: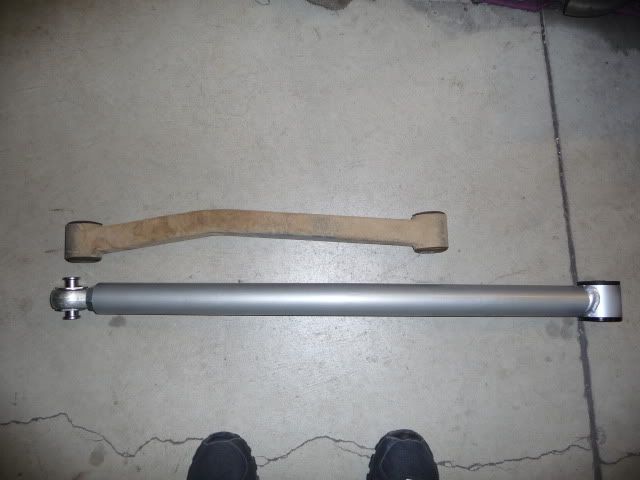 Started off looking like this: