Discussion Starter
·
#1
·
OK, here's the Powerplant in cab winch controls write up I promised.
I could find no way to get to the wires, the contactor is a sealed unit.
I even called Warn and talked to a lab guy, he didn't recommend even trying to do this (for safety)
HA, if I wanted to stay safe I wouldn't wheel!!
Anyway, I figured out how to make a mating plug so the winch sees the in cab controls as another remote.
I had thought of getting another remote to mess with, but at almost 80 bucks I passed.
I also found out from Warn that individual remote parts are not available.
So if you run over your remote head, it'll cost ya.
A quick function run down of the main parts:
The hollow rubber is for the plug body. The Garolite is to hold the pins in place.
The .070 rubber is to seal the Garolite from the elements, and to add cushion.
The brass rod is for the pins.
The 870B is to fill the upper body cavity for waterproofing
Materials needed:
From McMaster-Carr:
1 each 1520T23 Medium-strength Neoprene Rubber, Hollow, 1-1/4" Square, 5/8" Id, 6" Length
1 each 8667K112 Grade G-10/fr4 Garolite Sheet, 1/16" Thick, 6" X 6"
From my local hardware store:
.070 cloth reinforced rubber sheet (I had this left over from a previous project). Get enough to make several mistakes.
.063 brass rod, at least one foot
From my workplace:
50 gram kit of PS 870B-1/2
This is hard to come by unless you work in aerospace, it's a fuel tank sealer.
Any type of NON-CONDUCTIVE two part flexible epoxy/rubber should work.
A small syringe, less the needle.
From the 12voltguy:
Powerplant schematic
Appropriate length of 6 conductor cable
From OTRATTW:
1 each VVASCWC-100 Contura II Winch rocker, red
1 each VVANCAT-100 Contura II H/H rocker, red
1 each VVASC9A-CP1 Contura II Compressor rocker, red
2 each V1DAF66B-00000-000 V-series sealed rocker switch, SPST
1 each VLD1A60B-00000-000 V-series sealed rocker switch, DPDT (ON)OFF(ON) (momentary position)
What I made:
Dimensioned drawing of the pin pattern and inside of the body, available on request in either .dxf format or a .jpg.
Tools needed
Band saw
Scroll saw
drill press
1/16" drill
11/32" drill (or suitable size to ensure a good plug body to cable seal)
7/8" Unibit, modified to cut up to 3/4 only
Belt sander or lots of patience hand sanding
Laser-I know that not everyone has one or has access to one, but it was very handy with cutting the .070 rubber.
Unfortunately, we could not find the right setting for Garolite, so it would not cut it.
It did, however, make a nice deep scribe lines which was great for drilling and periphery shaping.
Soldering iron
solder
Side cutters
I won't go into great detail here, if you can work with your hands and have reasonable fab skills you should have no problem following along.
First, cut the square rubber stock to 1.250" then drill the 11/32" cable hole about .250 from one edge and centered on one of the flat surfaces.
Now run the modified Unibit through the existing 5/8" hole. Take your time with this operation. be sure to get the thru hole .750.
Using the scroll saw, cut two corners into the .750 hole, making a "D" shaped hole. Take your time with this as well, don't go to big or the plug won't seal to the winch receptacle.
Now you can give the part the basic shape of the stock plug with the belt sander. Again, take your time. Test fit as needed on the winch. The left side of the plug body has to clear a piece on the winch, I took just enough off so it would fit and left the rest of the body a little thicker. That's why it looks a little lop-sided.
Here's what you should end up with.
Here's the modified Unibit.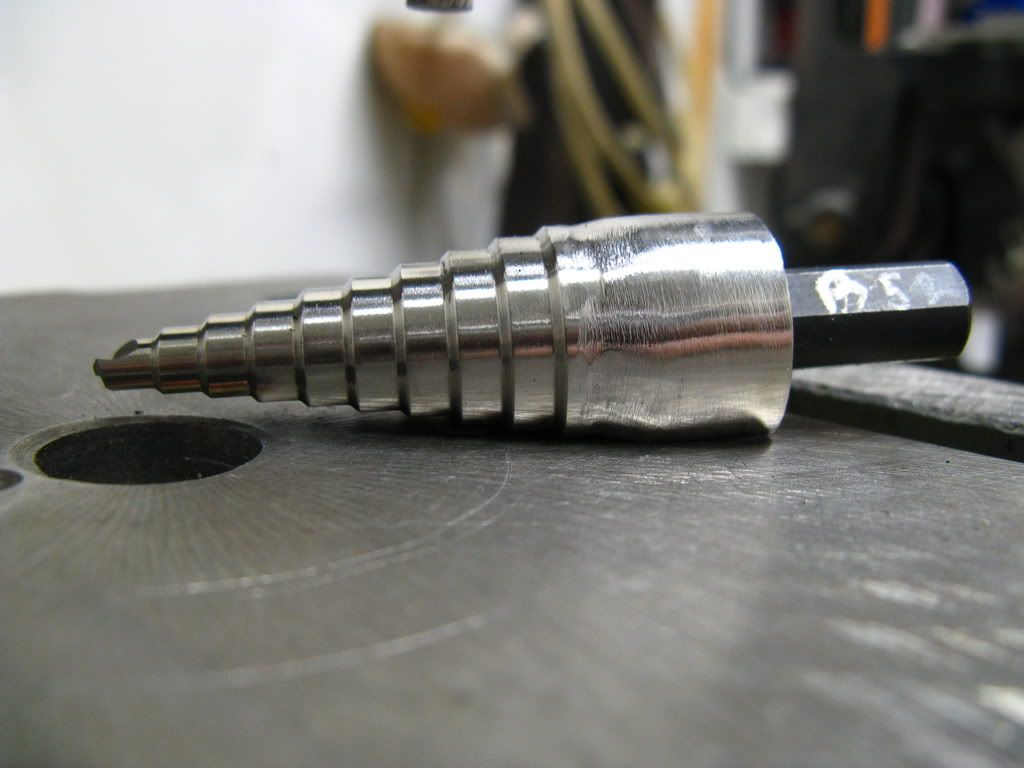 The .070 rubber after lasering. Doing it manually will be tricky, making small holes in rubber is tough. The good news is the outer shape is easy with scissors. For the holes you could probably heat up the brass rod and pierce them through.
Plug body and .070 rubber piece.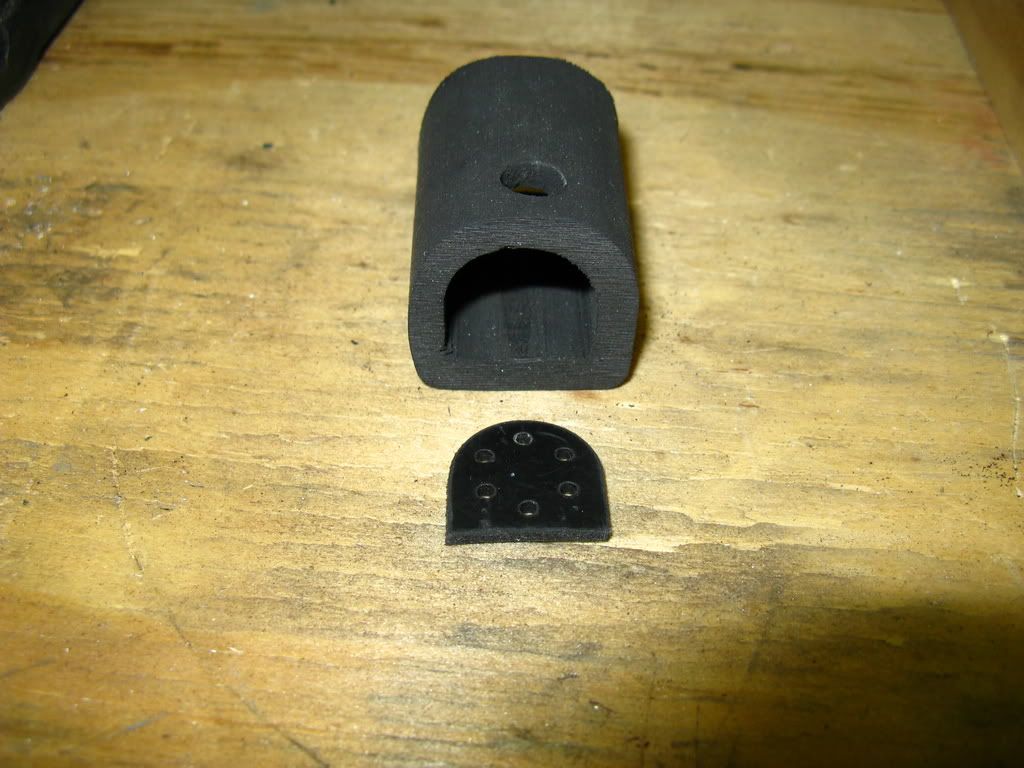 Top to bottom, what you start with, what you end up with, .070 rubber piece.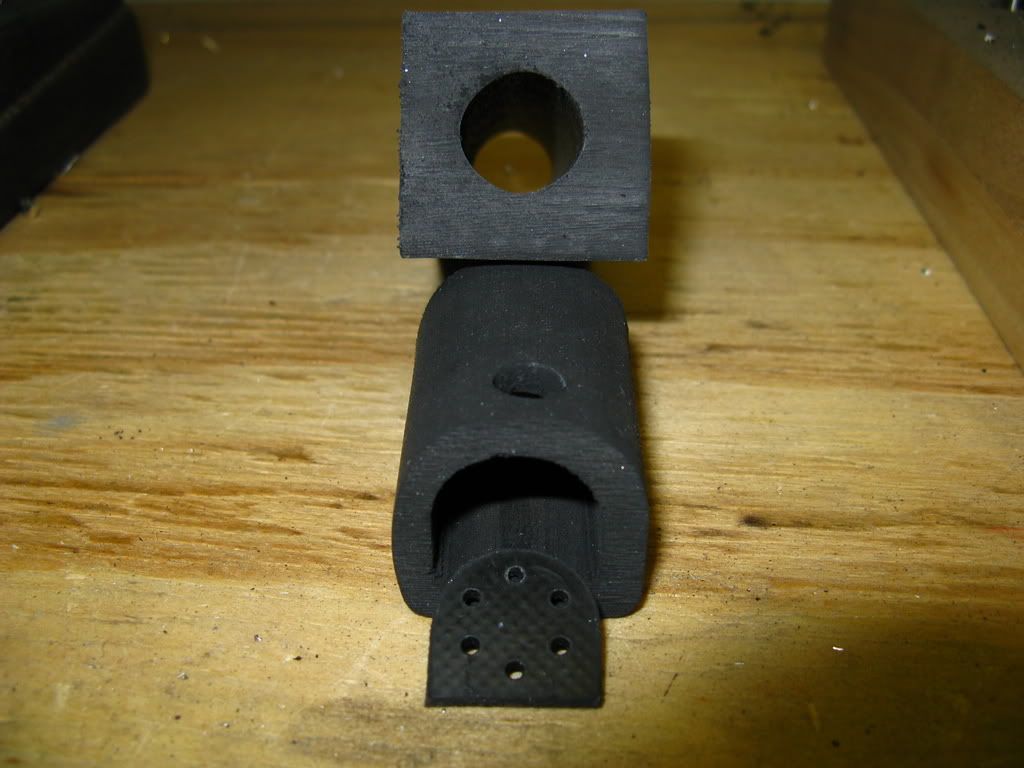 The Garolite piece is exactly like the .070 rubber piece. You can use the same drawing dimensions.
It's easy to sand and drill, just take your time. More than about .010 off the pattern and the pins will have trouble going into the winch socket. Use the 1/16" drill for the pin holes.
The pins are cut to about .850 and chamfered on one end. This will help when you tap them into the Garolite and also when plugging into the winch socket.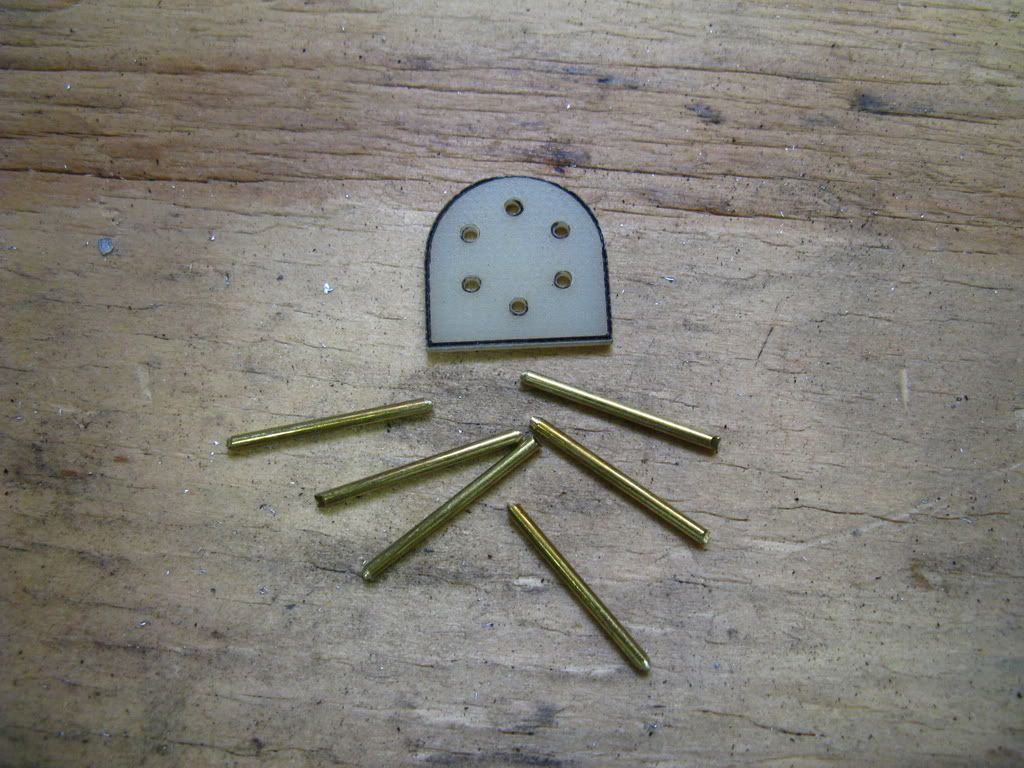 Pins started into the Garolite.
Continued next post....