Discussion Starter
·
#1
·
Just picked up a clean 1990 Starcraft Starflyer for $1400. Towing it home for an hour was a challenge as it had quite a sway above 90 hm/h due to my hitch being too high. A 5.5" drop hitch helped a bit but not much.
Now I'm going to lift it 3-4" and install taller 13" tires which should net at least 5" of lift. The body is clean but the decals are badly worn. Will remove decals and then decide if I'll paint it grey and black. My wife is painting the interior cabinets an antique white and installing dark wood-like vinyl flooring.
Pics now and hopefully what it should end up looking like.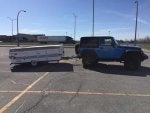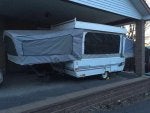 Sent from AutoGuide.com Free App