After wheeling with Co4Lo in Colorado during summer of '11 and in Moab during EJS '12, and witnessing how well his stretched 2 dr on 42s--then 44s--did with his RIPP supercharger, I decided that it was time for another upgrade for my 2 dr Rubi JK.
My 6 speed JK did great offroad--even with 40s--due to 5.38 gears in my Currie RJ 60s and 4:1 Rubi transfer case. The 3.8L at higher rpms due to the lower gearing seemed okay, but I still felt a lack of power on the highway and in the sand or deep snow. My Superchips Flashpaq and Sprintbooster together made a big difference, but not as much as I wanted.
So, I bought myself a RIPP V3 GEN-2 Supercharger with Intercooler.
However, when my wife found out, she told me she wanted one for her 4 dr Rubi automatic on 37s with 5.38s and 37s. So, I bought one for her jeep also and installed hers first. I can tell you that it made a huge difference with her rig. That 42RLE automatic used to be almost boring to drive, and now, it is quite fun.
Although there is an excellent install video on YouTube (youtube.com/watch?v=Pqs9Cxskni8) and the instructions from RIPP that come with the supercharger are absolutely excellent, I thought I'd go ahead and document my install and comment on a few things.
As it sits now, my 2 dr Rubi has a 4.5" Trailmaster Stealth long arm with Fox adjustable reservoir shocks, stretched to about a 98" wheelbase, with Currie RJ 60s (5.38s and ARBs), on ATX Slab beadlocks wrapped in 40" Xterrains. Here is my JK on the Crack at EJS '12 (pic taken by Tim Kemp's wife):
Please do not use my write-up as a substitute for RIPP's install instructions. The purpose of this thread is to give a few observations and show that the install is a relatively simple weekend project.
Being that we live at an elevation of 3500 ft above sea level and wheel at elevations up to 10,000 ft, I obtained a smaller, "high altitude" pulley from RIPP. Here is a pic of what comes in the kit--including the "high altitude" pulley and smaller belt in the middle bottom of the picture. (This was my wife's kit laid out before her install.)
Now, on my JK I'm running a 1" body lift to reduce the length of extended bumpstops needed and increase overall suspension travel. I have a Warn Powerplant winch, PSC hydro assist steering, and a steering cooler that I would need to navigate. In the end, the install on my JK was slightly easier due to the 1" body lift--even though I had to relocate the cooler.
Remove the front clip (there is my steering cooler):
Disconnect the positive battery cable.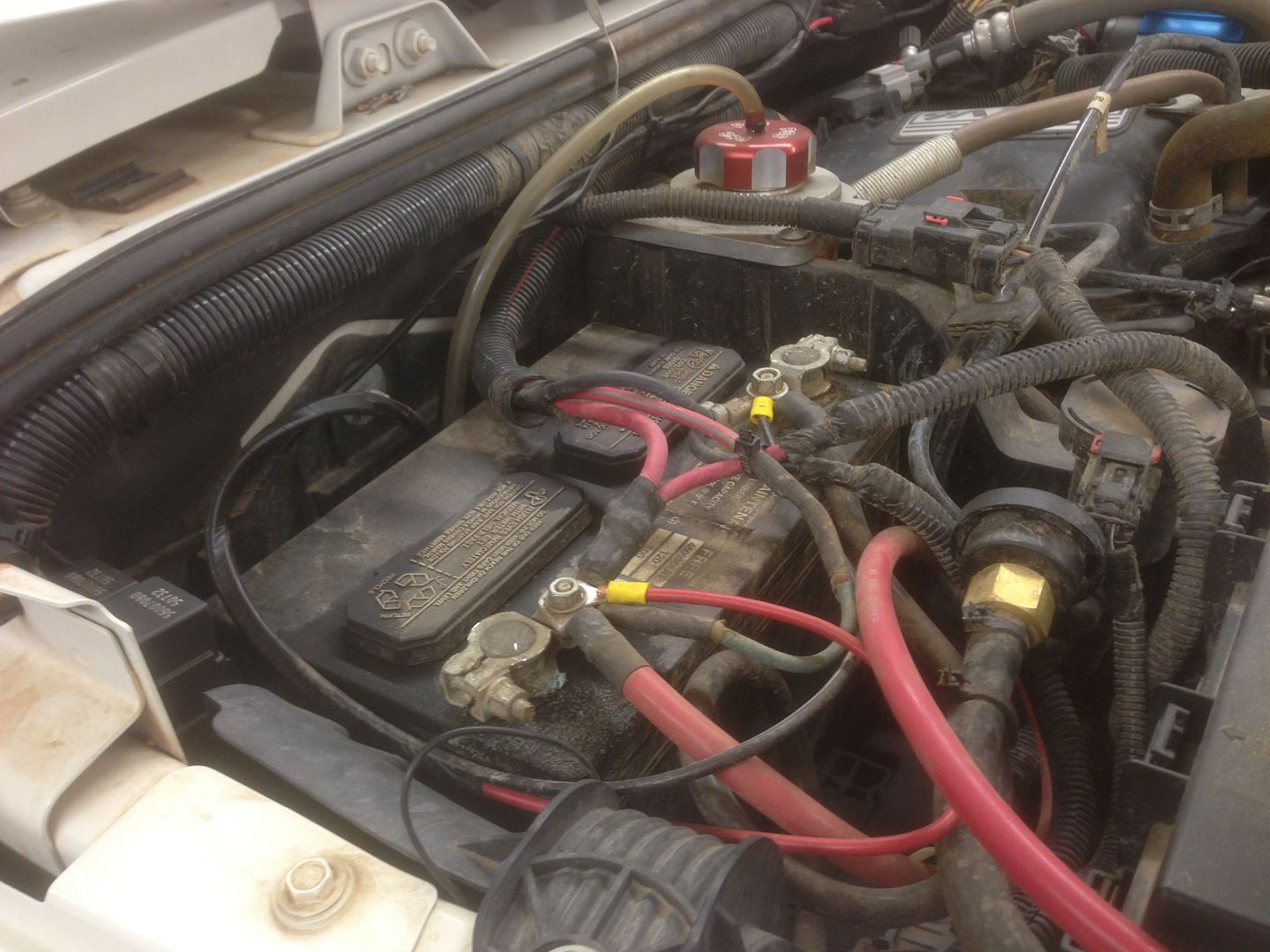 This is my PSC steering fluid reservoir that I needed to temporarily move for the install.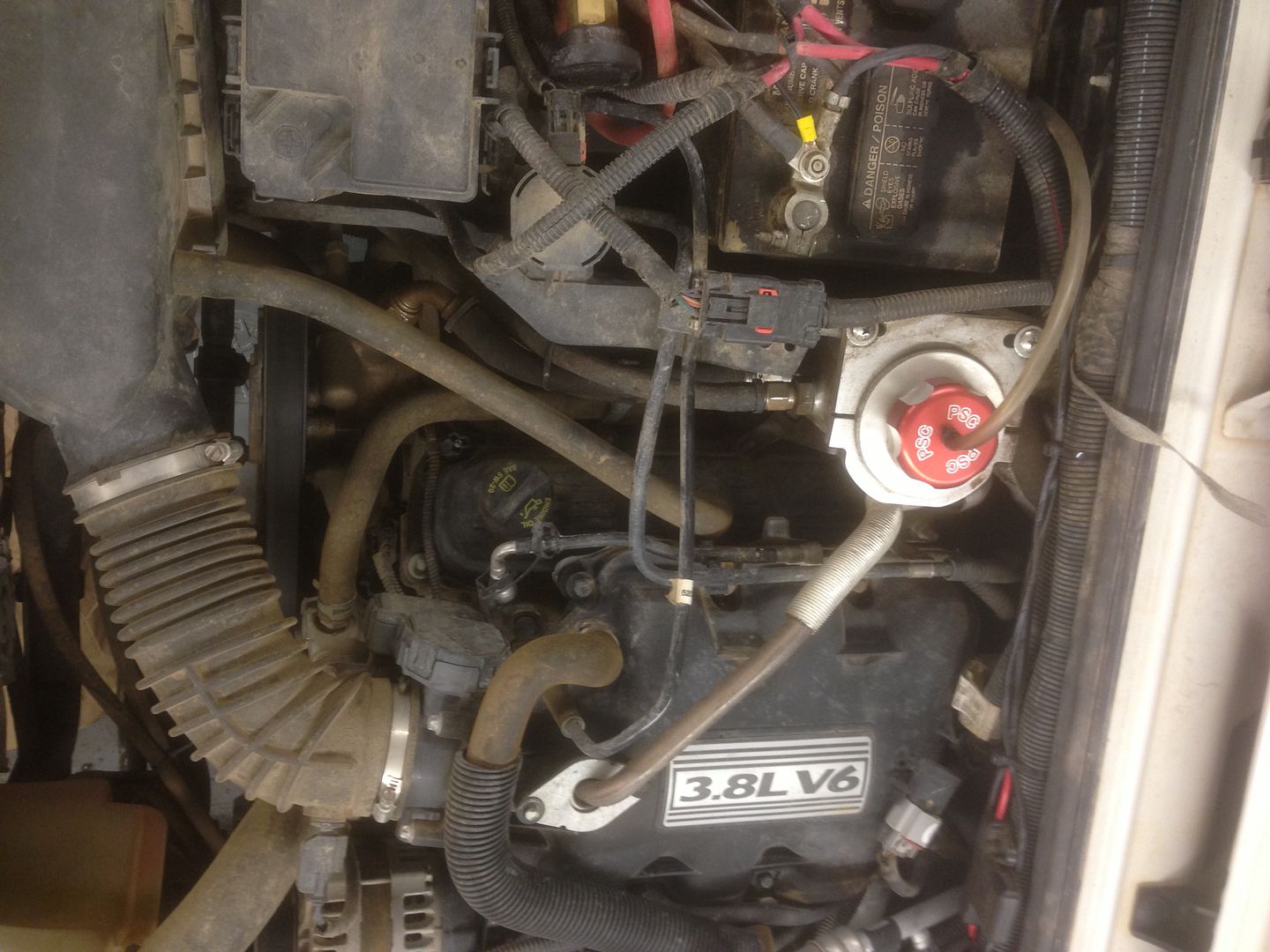 Remove the stock airbox. Also, carefully remove the stock air temp sensor from the intake hose that will be reinstalled later. (Notice how dirty my engine compartment is and that I used an air blow gun to clean/blow off debris during the install in order to keep dirt out of my engine.)
Remove the stock spark plugs (long extensions help here):
Replace them with the newly supplied spark plugs after adjusting to the suggested gap spec (apply some anti-seize):
A wobbly or u-joint extension piece like the black one in this picture really helps:
Remove or pull back the inner fender liner on the front passenger side and switch out the spark plugs (the body lift gave me a little extra room here):