Discussion Starter
•
#1
•
Okay so some of you might know my stuck story that happened last weekend. Most of you don't so for the ones that don't I'll retype the ENTIRE story. Your welcome.
There is a road near NSB called Martins Dairy Road. It is a straight dirt road that dead ends in a roundabout and comes back. This road tends to flood fairly easily and since it has been raining a lot recently me and a friend decided to go down the road.
We went two Saturdays ago. Near the end there was about 75 ft of road that had large sections washed out. At its deepest it was maybe 20 inches or so.
Well we decided to go again that Monday after it had rained really heavy that day. The washed out section had grown to about 75 yards of solid washed out road. The depth bordered on the maximum traversible depth for a JK with Rubi wheels and tires.
We go one way and stay to the right (gotta protect the airbox). We rode the lip on the shoulder and we were fine. We turned around to come back and followed the same logic. We stayed on the right.
Well we got into some really wet sand and the JK stalled. So I shifted into 1st. Now I'm in a stick and I did not use the clutch. I was in 4lo so relax. I remembered my offroading 101. I started the Jeep. It stalled. I tried again but gave it gas. Still stalled. I tried reverse. Still stalled.
We both started making phone calls. No one would answer so it was time to surrender and call home. My folks managed to get Edgewater Towing out there for $120 bucks. We were too far off the asphalt for AAA to cover it.
So the guy comes out with my Dad, who brought the camera and asks me what line did I take. I told him you don't want to take my line I got stuck. So he cautiously crawls through the river in his F350 and gets behind me. He gets out and says I'm going to hand you the winch cable so you need to get out.
So I rock climb my way around the JK and hook the cable and then rock climb my way back in. He pulls me and my friend out and we drive home.
Since then I've managed to fix all the noises except my throw-out bearing which I think the dealership will cover under warranty since it has already been replaced once. Oh and I cleaned my carpet and vacuumed the innards of the JK.
Here are the pics.
They approach my demise.
I'm trying to catch the winch cable. I lost my sandal and had to search for a brown sandal in brown water. Normally I would jump in but I didn't know how deep it was and I had my phone in my pocket. I know bad idea.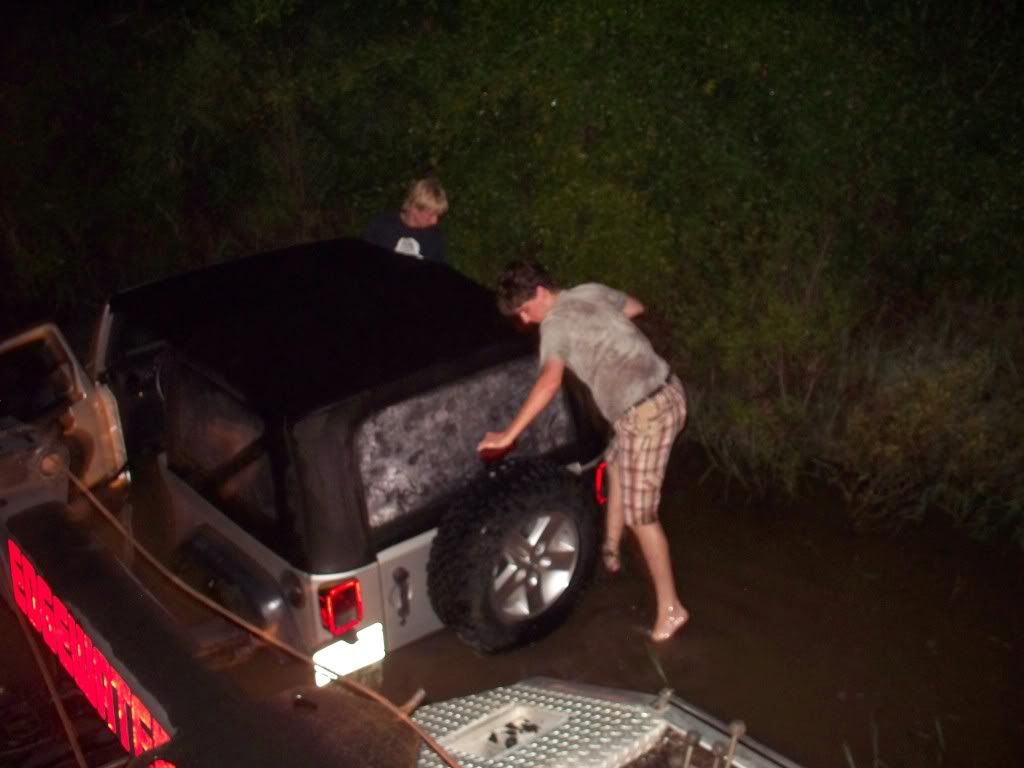 We're out and dripping.