So I've been kicking myself in the ass basically since March 31 this year when I bought a 2011 JK. I REALLY should have gone for the JKU, but never even considered it. About two months ago I was bugging my wife to "let" me do it. It's my money, but if I can make this work without her bitching about it, I'm leaps and bounds ahead.

She said no.
Fast forward to last Sunday... out of the blue, she asked what happened to me wanting a four door. By 9:00 Monday morning she had a full breakdown of which JKU I wanted, how much it would cost, their trade offer (only lost out 2.5k from purchase price), and how much the note would change. Interest rate actually dropped a full 2% so the hit wasn't quite as hard and now I rest assured that more of my monthly payments are actually going to the Jeep, not interest.
She agreed.

Then we found out the one I wanted (cosmos blue) was sold.

Then we found out the next two I selected were sold.

Then my guy went through the Chrysler system looking for one with the options I wanted. Five more were sold. :mr-t: So I drove around to a few Jeep dealers and found one that was clearly just unloaded that day and parked behind their inspection building for processing the next day. As we rounded the corner and the headlights hit it, my wife said, "Oh... my... god... I LOVE that color." No more, "Yes, you can upgrade to a four door." Now it was, "How soon can we pick this one up?" Deep Cherry JKU, all my options plus some, but only about $1k more than I was looking to spend and most of the options were things I'd happily put to use anyway. My guy pulled some strings and got it for me.
Introducing my 2012 JKU: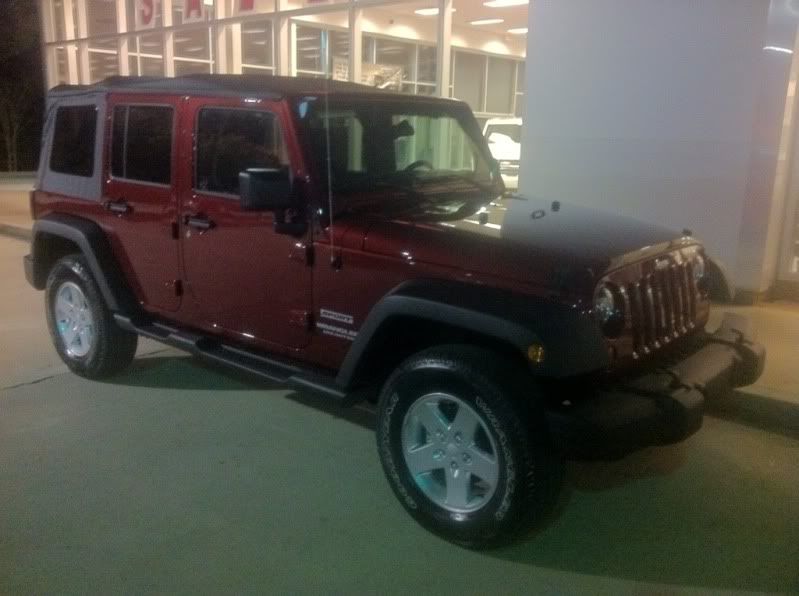 It has 24S, the new auto, max tow, trac-lok, Infinity stereo, Bluetooth, Sirius, and tubular side steps.
Drove it home at 9:00 Friday night and immediately removed the side steps and installed my 34x10.50-15 LTBs, which completely changed the look of the rig...
Woke up at 7:00 the next morning and took it out for a trail ride. As long as you know HOW to wheel, my belief is that you should get your rig out as soon as possible. That way you don't develop some "I don't want to wheel it because I like it to stay clean" bullshit. :innocent: Here is where I was starting to second guess that theory. I'd owned it for thirteen hours and I was waiting at the trail head for the group to converge into the woods. "Is this really what I want to do?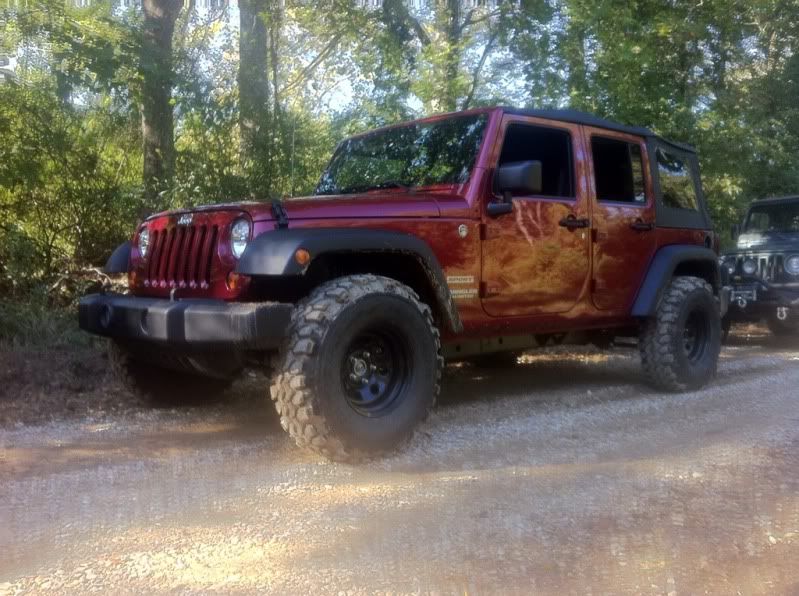 Yes. Yes, it is. It performed absolutely flawlessly. They had a stock '01 Rubicon LJ in front of me with street tires on it who was having a little trouble here and there, but ultimately, was willing to give it a little more skinny pedal to get the job done without a strap. He may or may not need a new bumper now as a result, but the dude's a trooper and was a little excited to have a battle scar. My JKU didn't hesitate at any point. The absolute worst it did was on one climb a root hung me up and my creeping pace wasn't allowing it to pull me over, so I backed up a foot and gave it just a little more gas and made it through. I even managed a poser shot at one point...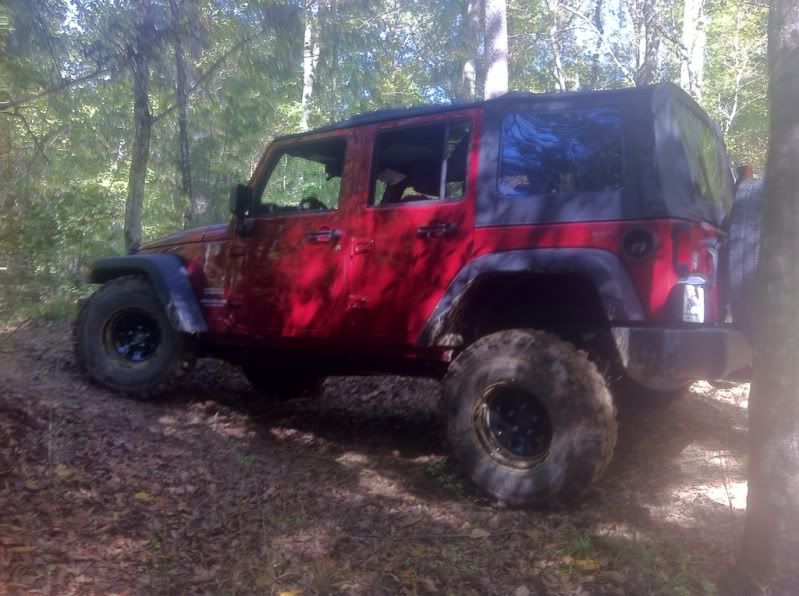 Ultimately, I'm completely floored by how well this thing performs. I hadn't had an opportunity to wheel my '11 with the LTBs so my experience with the JK was limited to what the stock tires could actually grab, but holy crap with the LTBs there was no question that it was going to go everywhere I wanted it to. I could be wrong, but I'd swear I could feel the stability control or whatever it was engaging to keep me from spinning as I was going through everything. I'm honestly really glad I didn't spring for the Rubicon because for what I'm doing, this Sport is more than capable to get me through it.