Discussion Starter
•
#1
•
Looking for input and opinions on exhaust headers.
My swap kit is an RPMExtreme kit and I used the factory 2013 Chevy 1500 manifolds. They point straight down from rear exhaust ports and were two bolt flanges. To put it bluntly they sucked. Two bolt flanges don't seal for shit. It also required a tight-ass 90* bend out of the manifold to clear the passenger upper control arm mount.
I opted for Motech engine mounts with my rebuild and it positions the engine slightly differently and those manifolds won't work anymore; zero clearance with the passenger control arm mount. Robbie said the 2008 Trailblazer (SS) manifolds are the best option and are pretty cheap. They point the exhaust outlet at a rearward angle that follows the firewall back. But, I'm looking for other options as well.
If not the trailblazer manifolds then I'm looking at some Summit headers. Basically look like a tubular trailblazer header. I'm just not sure if they locate the outlet in the same place. Price is barely more than stock manifolds and they come with collectors.
Summit Flowtech Header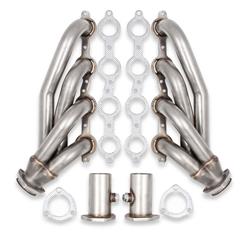 I know RPM has some swap specific headers but they are $595 :|