Due to unspecified reasons, I was unable to procure a license plate relocation bracket in time for the TeraFlex All Jeep Show this upcoming Saturday (6/4/11). So I decided to take on the challenge of building one.
Of all of the ones I have seen (not many really), the one that stood out most was HD Customs (
HD Customs License Plate Relocation Bracket w/LED and Camera Mount
). I loved that they were utilizing the factory illiumination light so I kept with that as well. I used their's as a visual template of how I wanted mine to look.
I was able to obtain some 10 gauge (.1345") sheet for the mounts and some tube, 1.25" square and 1" square. I didn't pay attention to the specific thickness of the tube, I just got the 1.25" tube as thick as possible that still allowed for the 1" tube to slide in and out freely. And the 1" tube in about the same thickness if not the same.
I spent a few minutes drawing up the plates in AutoCad and then printed out some full size templates that a friend (y-jake on
RME
)was gonna cut out by hand with his plasma cutter. His exact words were, "As long as you don't mind grinding, I'll cut it out. And there will be plenty."
So that prompted me to do a little further digging and ended up hooking up with Carl (some of you may have met or talked to him since he used to work for TeraFlex). Anyways, turns out he has his own CNC table up and running. So I created dxf files out of the Acad files and emailed them over to him. Dropped by a little while later with the 10 gauge sheet and cut out the pieces:
Here is the link if that embed did not work:
http://youtu.be/aLdcgiePDU0
Oh, and Carl has a press brake so he bent them for me as well. Thanks Carl.
Took the pieces back over to y-jake's place and we proceeded to weld on the tubes and do any clean up that may have been needed which wasn't much. That CNC cuts really nice and clean. I wasn't able to find a cool little LED lite like HD Customs has but picked up a genereic LED clearance light that should work fine. Its not yet complete but here is where I am at: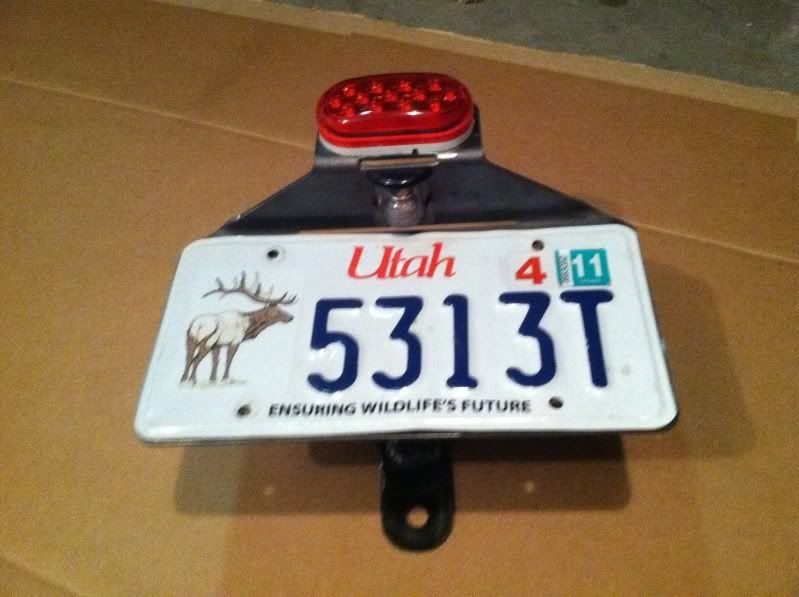 I plan to hide as much of the wiring as possible in the swing out tire carrier and into the tubes of the bracket itself. Once I get it all wired up, final holes drilled and a setting screw in place I will paint it plack and mount it up.
If any of y'all have any hints, suggestions or comments please feel free to post them. Thanks for looking.