Discussion Starter
•
#1
•
Before we get started, here's the disclaimer. I am in no way an experienced veteran on this. This, in fact, was my first drive shaft replacement. I had some help with torque values and techniques along the way and thought I would share them.
Also, excuse the mud caked up on the Jeep. We're on a water ban in GA and I didn't want to drive it to the car wash in front wheel drive.
Step 1. (Optional) Dent your stock drive shaft on a rock.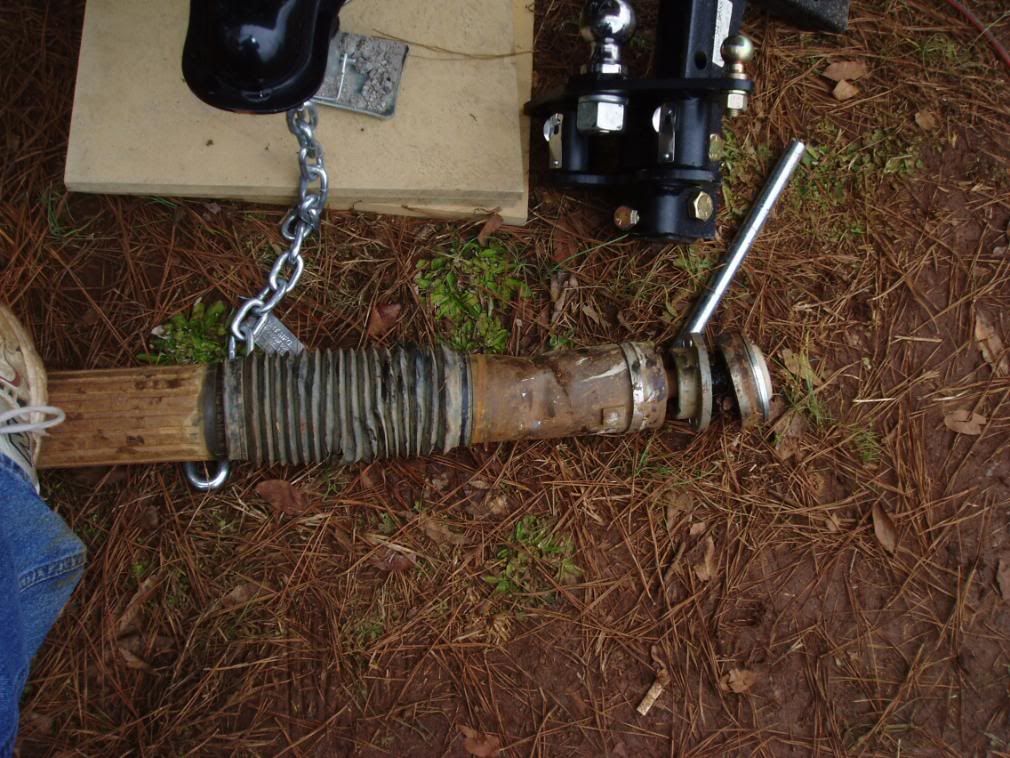 Step 2. Place rear axle on jack stands and remove wheels.
Step 3. Remove (8) retaining bolts connecting the drive shaft to the rear axle output flange.
Step 4. Remove (8) retaining bolts connecting the drive shaft to the transfer case output flange.
Step 5. Separate the drive shaft from the transfer case flange using a flat tip screw driver or pry bar. This is the easy end. You can rest the drive shaft on the transfer case skid.
Step 6. Separate the drive shaft from the axle flange. Look on the back of the flange. There are some holes that aren't threaded. Use a round dull punch or screwdriver and a hammer through the holes to tap the drive shaft out. Work your way around as you go so it will come out even.
Sorry I don't have pictures for the steps above. This was done in the field.
Step 7. Check your front porch to see if your new drive shaft has arrived from Northridge 4X4.
Step 8. Next you must determine your rotational torque or pre-load on the pinion bearing before you remove the pinion nut.
Put in neutral, spread brake pads so they don't drag on disc, using a inch pound torque wrench(needle indicator type) that can measure as low as 2 1/2 inch pounds of torque (kd tools p/n 2955) and a 1 1/4" or 35 mm socket on the nut, rotate the pinion flange and record how much torque it takes to move it (mine took 20 inch lbs to turn the flange). Do this several times so you can get an average.