How to run 37s with flat flares, a 1" body lift, and 2.5"-3" suspension lift
I've received a few questions about how to do this.
This information has been repeated several times in other threads via copy and paste.
I thought it would be easier for people to find if it was a stand alone thread.
Wheels with more backspacing require slightly more bumpstopping.
The pics below show 17" wheels with 4.5" backspacing and 15" wheels with 4" backspacing. The 4.5" backspaced wheels required more steering stop washers and slightly more front extended bumpstopping.
With flat flares and a 1" body lift, to run 37s you want 0"-1" front and 2.5" rear extended bumpstops.
If you want to do 37s with flat flares and no body lift, you want 1.5"-2" front and 3.5" rear extended bumpstops.
As a preface, lift height alone does not give you the ability to run larger tires.
What matters is flare/body clearance and the length of your bumpstops.
So, here is an explanation:
In the pictures below, I have my winter wheels on...with a OME LT kit (3") from Northridge4x4.
(I haven't reinstalled my wide Xenons for winter yet.)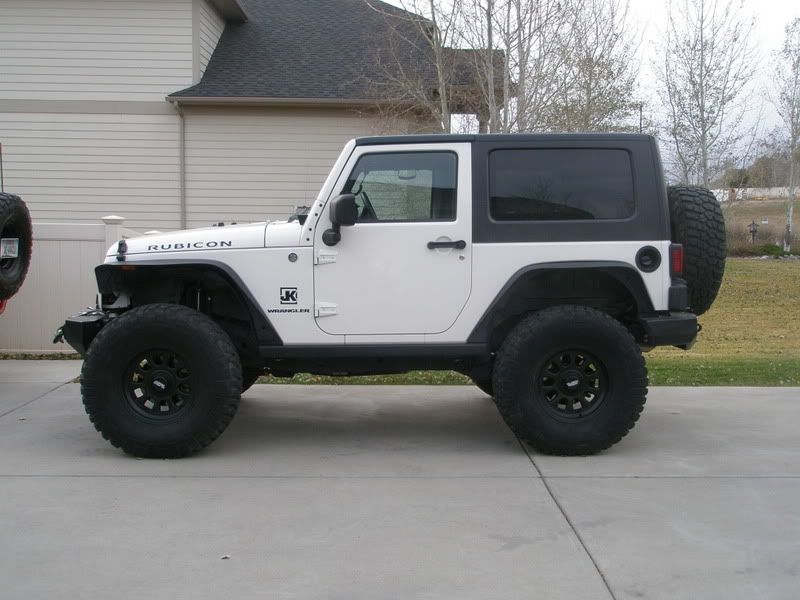 Okay, the details on how to do it:
37s, OME HD springs (3"), 1" body lift, and:
Cut 2" off stock Rubi rocker guards
Drill holes to replicate stock rocker guard ends so you can move the caps (here is what a stock end looks like):
Fold over pinch seam with BFH (big
friendly
hammer), sand underneath cut or flat flares, paint flat black, also sand rear most pinch seam and paint it flat black so the 1" body lift is less obvious. Sand inner rear fender well and paint with Duplicolor bedliner (looks better than trimmed stock inner liner):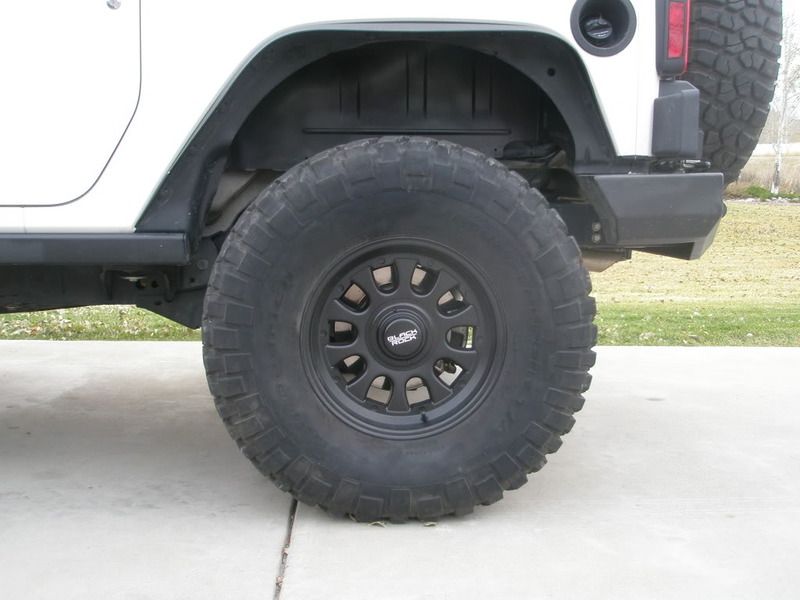 Sand and paint flat black under the front trimmed flares, and drill a couple small holes through the bottom part of the front inner fender liner so you can zip tie it to the body mount to hold it in place:
You will need 2.5" extended rear bumpstops. Here are mine from my original 2.5" TF BB when I had my Xenons installed:
You can run stock front bumpstops without rubbing, but your springs will fully compress. I later added 1" extended front bumpstops from JKS (the kind that you bolt to the bottom of the front spring perch). Here is a full stuff on stock front bumpstops and 37s (pre-OME LT shocks and extended brakelines):