Discussion Starter
·
#1
·
Ok so I didnt take a lot of picutres... it takes all of maybe 5 minutes to do.
Steps:
1. Purchase a fire extiguisher that comes with a plastic mounting bracket (got mine from Home Depot)
2. Look at the mount, there should be atleast 2 holes for screws to go through. Go find 2 small bolts and nuts that will fit through it (dont have to be very long)
3. Go to your driver seat and use the height adjust lever to jack the seat all the way up. Look at the side of the bracket that the seats mounts on. There should be one hole about center of the bracket. Hold the Extinguisher mount up and line up one hole on the mount with the hole on the backet.
4. Mark on the seat bracket where you need to drill the other hole for the mount.
5. Using a simple batter drill, drill your hole. Make sure its big enough for the bolts you bought to fit through.
6. Now bolts on the mount
In this picture, the bolt nearest goes into the exisiting hole on the seat bracket and i had to drill a small hole for the bolt at the top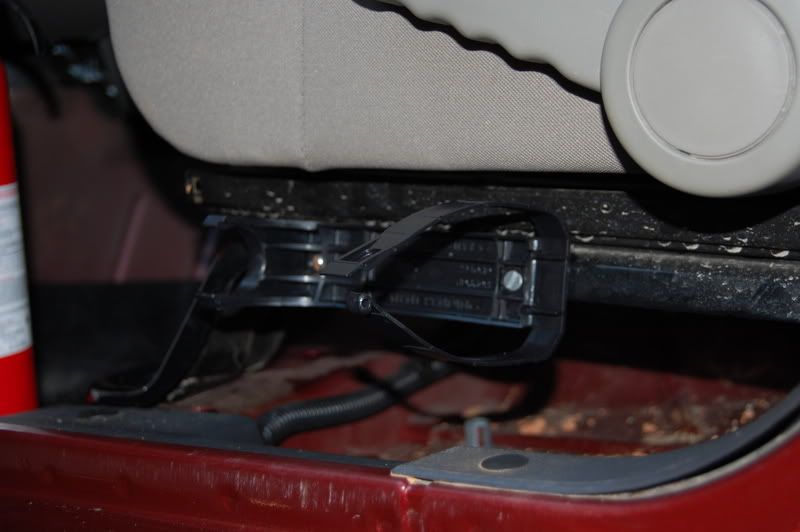 7. Now just put the fire extinguisher on and your good to go. You might have to pull the lever up once or twice if you sit with the seat all the way down to adjust the seat height so it sits better.
Word to the wise. Put an extra velcro strap on the extinguisher to make sure if some brakes it wont come tumbling out on a trail