Discussion Starter
•
#1
•
Currie Enterprises® JK Antirock® Rear Sway Bar Kit W/Aluminum Arms Write-Up
2 DOOR MODEL
Part # CE-9900JKRA
$529.95-Aluminum
4 DOOR MODEL
Part # CE-9900JKR4A
$529.95-Aluminum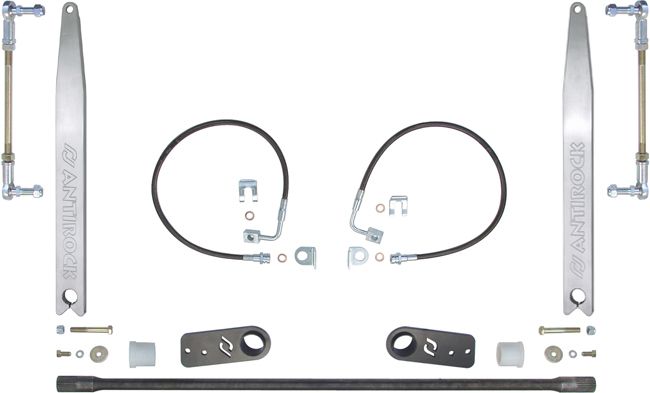 Description
For all 2 door models of the '07 and up Jeep JK Wranglers. The Currie Antirock® rear sway bar kit, when used in conjunction with a front Antirock® sway bar kit, provides balanced performance of front and rear suspension for rugged off-road conditions. It gives the driver increased traction by balancing and distributing the weight and traction over all four tires. The Antirock® off road sway bar is designed to directly replace the stock Jeep sway bar. This bar is made of SAE 4130 heat treated steel for ultimate strength, which is the same quality used in professional off-road competition sway bars. This kit includes all components for installation including, the sway bar, semi-gloss black powder coated bolt-on steel frame brackets, delron bushings, billet aluminum arms, adjustable length heim jointed sway bar links, long travel stainless braided brake lines that relocate the brake line inboard of the frame for sway bar arm clearance, necessary hardware, and step-by-step instructions. Unit bolts into existing holes in the bottom of the frame rail and attaches to the stock mounts on the vehicle's axle housing. The Currie Antirock® sway bar does not need to be disconnected for off-road use.
CAUTION
Jeeps will have more body roll than stock. This sway bar may be used on the street, however, it will not provide the same handling characteristics as the stock setup.


My thoughts
I have been running aftermarket extended rear sway links now for about 2 years. The links have worked perfect this entire time but I decided to finally upgrade to the Currie Enterprises® Rear Antirocks®. After reading multiple reviews online and having their front setup, I decided it was time to have their complete set of front and rear Antirocks®. I chose the aluminum arms not only because of the weight difference, but because the aluminum will match my front Antirocks® and some of the accent pieces on my Jeep. After receiving the new rear Antirocks®, I was curious how the Jeep would handle from stock to completely disconnected. I removed the factory anti-sway setup prior to install and drove the Jeep a full day, and I actually prefer how the Jeep felt completely disconnected compared to being connected. Once the installation was completed, I test drove the Jeep and the rear felt very similar to disconnected, but more secure and stable. I am very pleased with Currie Enterprises® front and rear Antirocks® and I am glad I decided to go with their setup. I would highly recommend their Antirocks® to anyone that is looking to upgrade their front or rear setup for the ultimate balance and traction off road.
Install Rating
The install was pretty easy, but I did have help from Jason at Absolute Offroad® here in Phoenix. If this was your first time installing and all you had was Currie Enterprises® instructions I would lean more towards moderate. Hopefully with this write-up it will be easy for you as well
Install Time
2-4 hours
The Currie Enterprises® Rear Antirock® Kit Includes
(1) 50" Antirock® Bar (2 door) CE-9900JR2-BAR
(1) Rear Mounting Bracket (R) CE-9900JKR-BR
(1) Rear Mounting Bracket (L) CE-9900JKR-BL
(1) Brake Line Kit (R/L) CE-9807RBLK
(2) Antirock® Aluminum Arms (R/L) CE-9900-JKRA
(2) Antirock® Bushings (R/L) CE-9901D
(2) 5/16"-24 x ¾"Bolt (R/L) EE-3212CH8
(2) 5/16" Washers (R/L) EE-3120WFZY
(2) 5/16" Lock Washers (R/L) EE-62WS
(2) 3/8"-24 X 2½" Bolts (R/L) EE-3840CH8
(2) 3/8"-24 Nylock Nuts (R/L) EE-38NS
(2) Sway Bar End Link Rod EE-991050
(2) Sway Bar End Link Rod End Heim Joint (RH) CE-99006
(2) Sway Bar End Link Rod End Heim Joint (LH) CE-99006L
(4) ½"-20 Nylock Nuts EE-51NS
(2) ½"-20 Jam Nuts (RH Thread) EE-51NF
(2) ½"-20 Jam Nuts (LH Thread) EE-51NFLHP
Tools Needed
Protective Eyewear
Work Gloves
Ratchet
Torque Wrench
12mm-19mm Sockets
12mm-19mm Wrenches
3/4 Wrench
Rubber Mallet
Dead Blow
Floor Jack
Jack Stands
Wheel Blocks
Snips
Brake Line Forming Tool
Drill
Drill Bits 1/8" to 5/8"
Cut Off Tool
Marker
Black Spray Paint
Angle Finder
Vacuum Plug ¼"
Fluid Catch
Brake Fluid
Frosty Beverages
Installation Options
Removing rear wheels and shocks will help with the ease of install, but is not a must. I also removed the rear factory anti-sway setup the day before the actual install, but you will normally remove in Step 6. The ¼" vacuum plugs I put in "Tools Needed" will stop the brake fluid from constantly running. The brake line forming tool also under "Tools Needed" isn't a must just a helping tool. Both vacuum plug and forming tool can be found at Harbor Freight® for under and around $10.00 and I HIGHLY RECOMMEND them before starting with this install!
Install Guide
Step 1
Park Jeep on level ground.
Step 2
Lightly loosen all wheel lugs.
• Use 3/4 or 19mm socket.
Step 3
Block rear part of front tires
.
Step 4
Raise rear end of Jeep with floor jack and slide two jack stands underneath axle.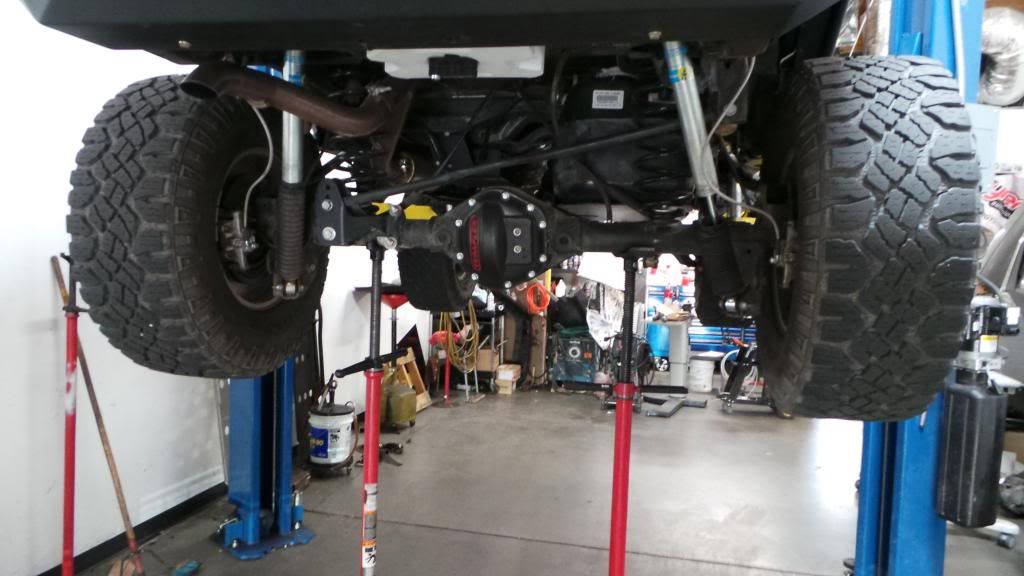 Step 5
Remove all lugs and both rear wheels/tires and put to the side.
Step 6
Remove the lower factory or aftermarket sway links.
(Driver/Passenger)
• Uses both 18mm and 19mm wrenches/sockets at same time to remove nuts and bolts from links.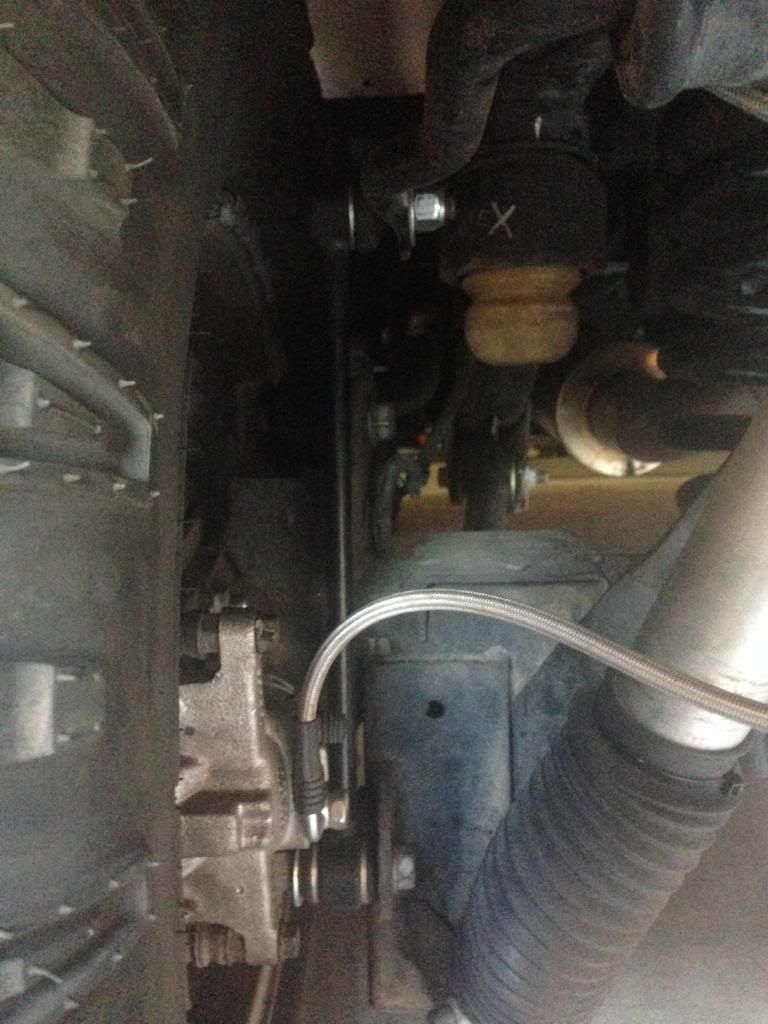 Step 7
Remove the factory anti-sway arm bracket mounts on both driver/passenger side.
• Use 16mm socket.
• Remove 1 bolt per bracket and only loosen the other two
• Remove the loosened bolt one at a time holding up anti-sway bar so it doesn't fall to ground or on top of you.
• Keep bolts for Step 14.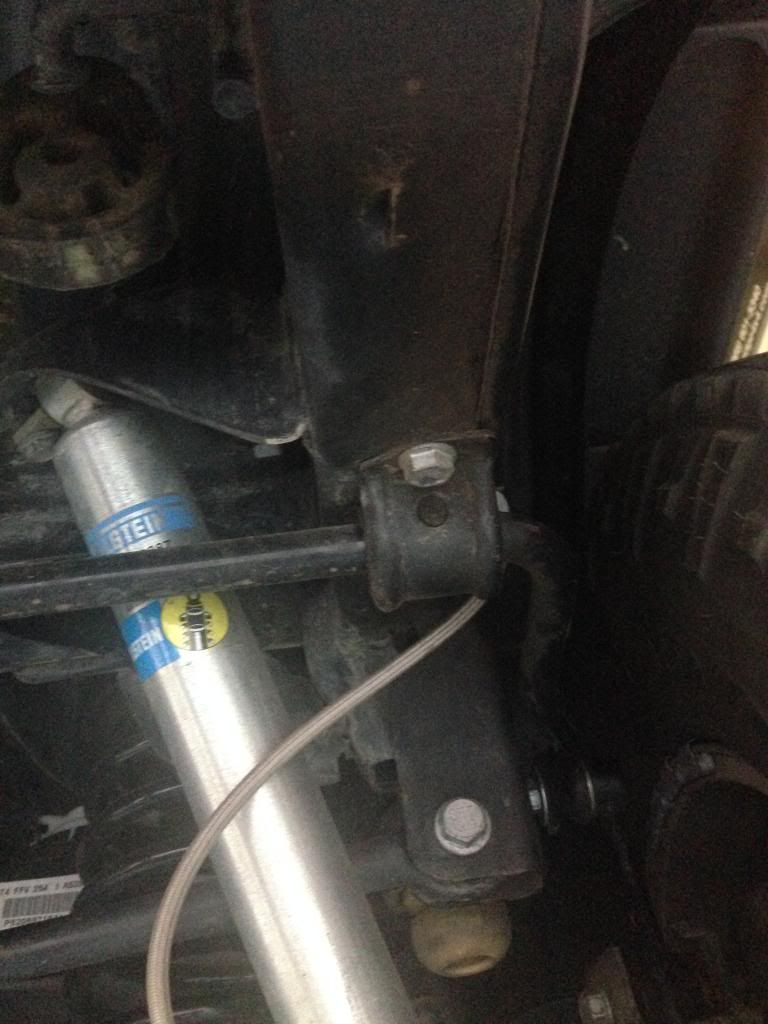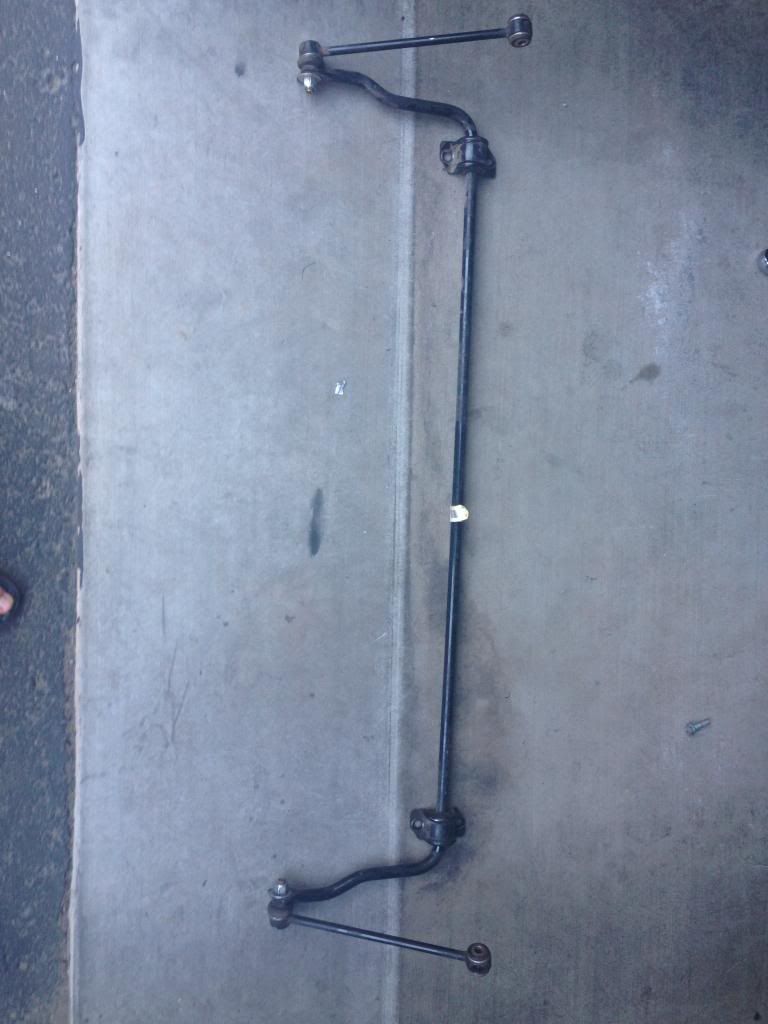 Step 8
Remove Shocks. (Driver/Passenger)
• Use 16mm socket for upper.
• Use 18mm socket/wrench for lower.