Discussion Starter
•
#1
•
Currie Enterprises Jeep JK Antirock Write-Up
JK ANTIROCK FRONT SWAY BAR KIT W/ ALUMINUM FRAME BRACKETS & ARMS
Part # CE-9900JKFAA
$519.95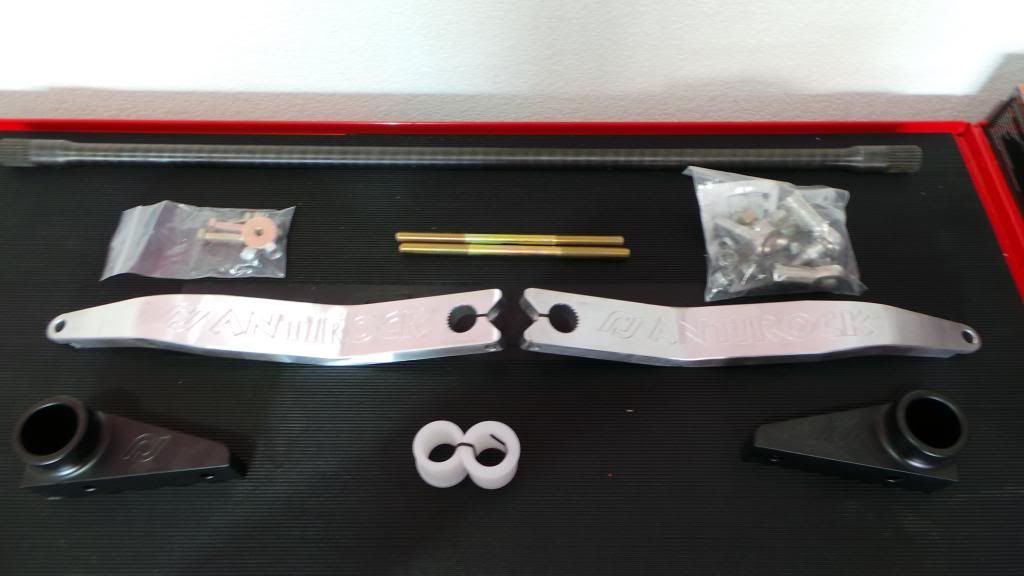 Description:
For all models of the '07 and up Jeep JK Wranglers - 2 or 4 door. The Currie Antirock sway bar kit provides balanced performance of front and rear suspension for rugged off-road conditions. It gives the driver increased traction by balancing and distributing the weight and traction over all four tires. The Antirock off road sway bar is designed to directly replace the stock Jeep sway bar. This bar is made of SAE 4130 heat treated steel for ultimate strength, which is the same quality used in professional off-road competition sway bars. This kit includes all components for installation including, the sway bar, bolt-on billet aluminum frame brackets which feature the RJ logo milled into the sides of them and semi-gloss black powder coat finish, delron bushings, billet aluminum arms that are bent to spec., adjustable length heim jointed sway bar links, necessary hardware, and step-by-step instructions. Unit bolts into existing holes in the bottom of the frame rail and attaches to the stock mounts on the vehicle's axle housing. The Currie Antirock sway bar does not need to be disconnected for off-road use.
CAUTION:
Jeeps will have more body roll than stock. This sway bar may be used on the street, however, it will not provide the same handling characteristics as the stock setup
NOTE:
Due to all the manufactures currently making front bumpers for the Jeep JK, you may have to modify your front bumper to make this system fit properly.
My thoughts
I have been running the TeraFlex Suspension quick disconnect kit now for about 2 years and always dreaded getting underneath Jeep to disconnect or find level ground. Their kit has worked perfect this entire time but I decided to finally put a stop to getting in and out of Jeep to disconnect or connect. That's when I decided to look in to the Currie Enterprises JK Antirock kit. After reading multiple reviews online and talking to local Jeepers with the kit, I finally decided to bite the bullet. I chose the aluminum frame brackets and arms not only because of the weight difference, but because the aluminum will match some of the accent pieces on my Jeep. The install was pretty easy minus a few little bumps in the road due to a very limited install guide. When I first mounted up the frame brackets I actually put in backwards, and slid through the sway bar before I even noticed that I had them in wrong. The other little bump in road was trying to figure out the angle I wanted to set the arms at. Now that I have installed the kit which took about an hour and a half (including taking photos), I believe that I could install another in about thirty minutes or so. After the install, I drove down multiple city streets and highway at speeds ranging from 5-80 mph, and at no time did I feel unsafe. The Jeep handled great on turns and low and high speeds. Since my Jeep is not a Rubicon, when I disconnected I was fully disconnected so my body roll was drastically worse than the Currie Antirock setup, so any light body roll that I have now isn't really noticed or bothersome. I would HIGHLY recommend the Currie Antirocks to any Jeep owners that deal with manually disconnecting at trailheads, or Jeep owners that have Rubicon's were their sway bar motors have failed. Currie Enterprises has made one heck of a setup and the quality of everything is top notch!
Kit Includes
1) CE-99001B- 36" Antirock Bar
1) CE-9900JK-MSK- Mounting Brackets (Steel) or CE-9900JK-MAK- Mounting Brackets (Aluminum)
2) CE-99003-JK- Antirock Steel Arms or CE-99003-JKA- Antirock Aluminum Arms
2) CE-9901D- Antirock Bushings
2) EE-3212CH8- 5/16"-24 x ¾" Bolts
2) EE-3120WFZY- 5/16" Washer
2) EE-62WS- 5/16" Lock Washer
2) EE-3840CH8- 3/8"-24 X 2 ½" Bolt
2) EE-38NS- 3/8"-24 Nylock Nut
2) EE-991050- Sway Bar End Link Rod
2) CE-99006- Sway Bar End Link Rod End (RH)
2) CE-99006L- Sway Bar End Link Rod End (LH)
4) EE-51NS- ½"-20 Nyock Nut
2) EE-51NF- ½"-20 Jam Nuts (RH Thread)
2) EE-51NFLHP- ½"-20 Jam Nuts (LH Thread)

Tools Needed
Dead blow or rubber mallet
Ratchet
Ratchet extension
18mm socket
18mm wrench
19mm wrench
19mm socket
16mm socket
14mm wrench
14mm socket
13mm wrench
5/8 wrench