OK we were talking about this in this thread and there wasnt a real write up on it - so here goes
http://www.jkowners.com/forum/showthread.php?t=25391
First off, huge thanks to Rob4607 for the pics and walking me though it .
Seems like a major pain but really its not bad at all if you cheat like I did - me and cjb321 did 2 jeeps in about 10 min.
what you're doing is basically fooling the jeep into running the ac compressor just a little longer than usual by adding a small amount of resistance across its thermistor, making it "think" its a few degrees warmer than it really is so it cools a little farther.
Downside, possibly freezing the coils if you go too far see below
Anyway, on to the how-to.
we used:
http://www.radioshack.com/product/index.jsp?productId=2062348
22K Ohm 1/4-Watt Carbon Film Resistor (5-Pack)
Model: 271-1339 | Catalog #: 271-1339
$1.19
so the parts are cheap, and you can experiment with different values if you want, 18k, 19k, 20k, 21k, etc
it helps to have a smallish and or flexible friend on this one (lucky you huh Chris?) - my 6'5" 330lb ass does NOT contort up under the dash too well anymore.
drivers side, pop the rubber panel out below the steering wheel and look up/in towards the center stack and you will see a little plastic plug with a grey jacketed wire coming off of it - its easy to spot, its the only gray jacketed small wire in there - DO NOT PULL THIS PLUG OUT OF THE AC PLENUM. Its a one time use plug and wont be happy about things, instead if you follow the gray jacket wires up, about 8" above where it comes out of the plenum theres a white plug in the wires clipped to the dash.
Use a flat screwdriver and pop the plug loose from its clip and it will reach down to where you can work on it. - reaching the plug to unclip it is where the small/flexible friend comes into play - thanks Chris!
This is the general area you'll be working in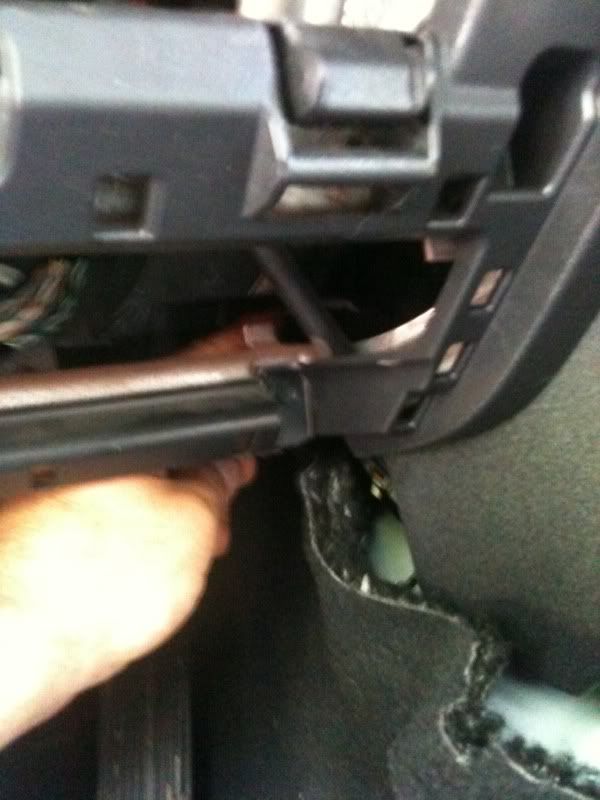 this is what you're looking for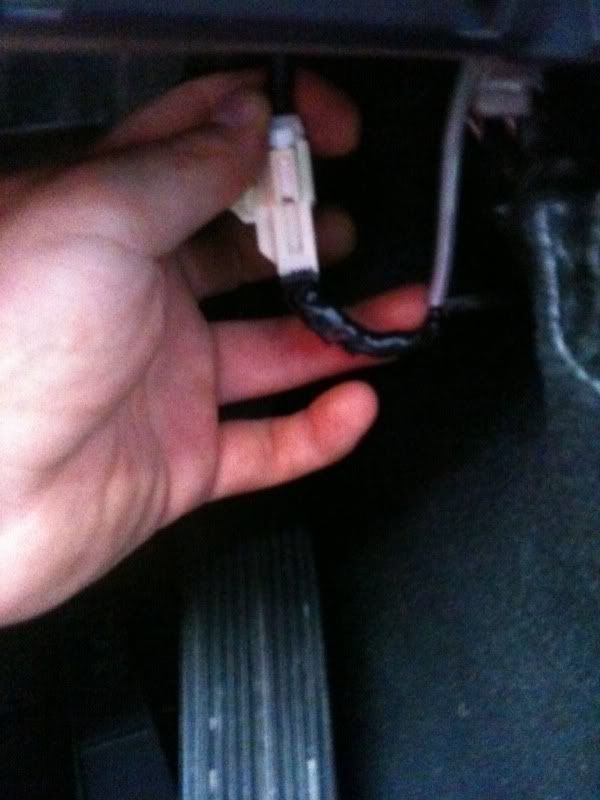 you want to attach a resistor across the 2 wires in that plug.
here's the cheat: the easy way, bend the resistor leads into a tight U shape around the resistor, jam them into the back side of the plug and wrap it with electrical tape. This is a good temporary method if you are trying different resistor values, etc.
a Better way, once you are happy with your resistor values/ac temps - strip back some insulation on the 2 wires, solder the resistor in, heat shrink/electrical tape it.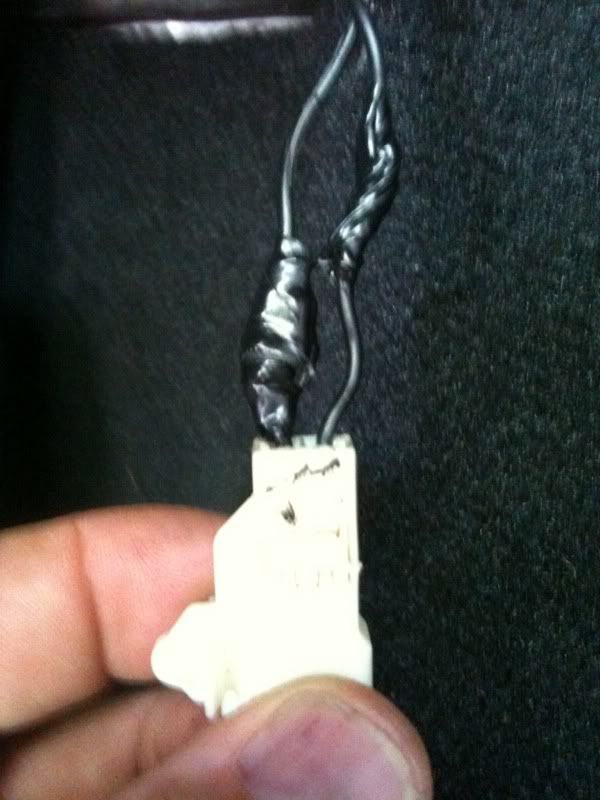 anyway, thats it!
contort, pop the plug from its holder, install resistor across the wires, tape, tuck it back up into the dash, enjoy colder AC.
Thanks again for walking me through it Rob!
here's some additional info...
http://www.jkowners.com/forum/showpost.php?p=511411&postcount=16
its pretty easy though.. if you crawl in the driver side and look up under the dash there are 2 wires going into the side of the A/C plenum in the center stack.. those 2 wires go up to a connector that you can dislodge from its mount... you can then backprobe a resistor into the connector across the 2 wires.. this fools the computer into thinking that the coil temperature is warmer than it really is.. letting the compressor stay on a little longer...

too small of a resistor (lower number) and it stays on too long and will ice up (causing loss of airflow)..

too large of a resistor and it wont make much difference..

because the sensors are very different by nature.. thermistors vary a lot.. some people's Jeeps get ice cold.. others notice a warm / cold cycling feel from the vents...

it also means the resistor you need will vary.. somewhere between 18K ohm and 25 Kohm.. start with 22Kohm and work from there using a digital thermometer in the vent with the fan on 3rd speed... drive the jeep over 40 MPH and monitor the vent temperature..

if the vent temp drops below 40 very much you will freeze the coil.. (a rule is the coil is usually 8-10 degrees colder than the air at the vents)...

II run mine right at the edge.. in fact occasionally I notice excessive amounts of water draining after al ong drive which means I probably had a little ice on the coil... ive got a 22K ohm resistor on mine...
-Christopher