Discussion Starter
•
#1
•
Shipmates!
This is your Captain speaking.....
I've been looking at a variety of Bumpers, mostly through Quadratec and 4WD. I'm wanting to Upgrade my Bumpers to something better than the Factory POS's currently on there. I'd something solid, that will absorb any incoming damage, rather than the occupants or the Jeep.
I told my wife I would cut holes into the tops of the off-going Stock Plastic Bumpers, paint them if necessary, place them on our deck in the back yard, and she could use them as Flower Planters! That's about the extent of their use, IMHO!
Anyway..... the setup I currently have, is Factory Foglights in the bumper, a Pre-Runner Light Bar with Twin 6" KC-127 Slim Lite Fogs attached to the Pre-Runner Light Bar, shown here: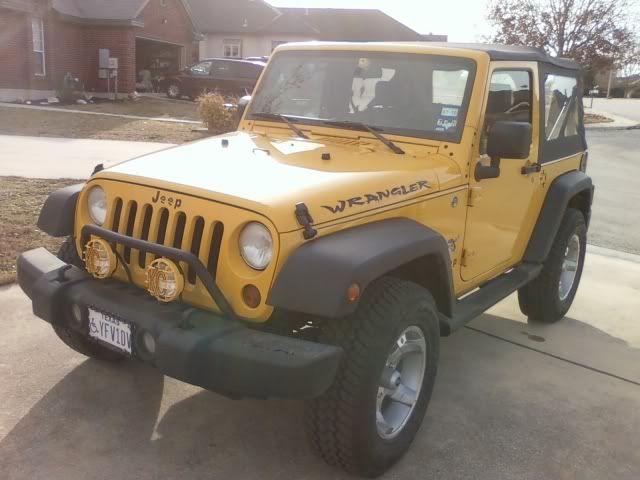 Now, this is the criteria I need:
New bumpers must:
- Have Factory Fog cut-outs to fit Stock Fogs in there.
- Have a Hoop or Pre-Runner Light Bar to re-attach my KC's to.
- Must be Trail-Friendly to be able to attach a Tow Strap, to Pull/Be Pulled out if required.
- Be reasonably priced to fit my budget!
BTW, a Winch Capable Bumper is
NOT
going to be a criteria, as I don't intend to do any hardcore Krawlin', just some good off-road dirt and beach action.
The ones I'm focusing on right now, and that seem to fit my needs, are the Rugged Ridge Tube Bumpers in Textured Black. Here are their links:
Front Tube Bumper (Link)
Rear Tube Bumper (Link)
Side Step Bars (Link)
If you'll notice the prices listed in the above links, that's about the Price-Range I'm looking at, maybe a bit more.
I really liked the Smittybilt Bumpers, but the Front Bumper didn't have the Fog Cut-Outs. Bummer!
If
ANYONE
, has a bumper mounted like I'm looking for above, please show me some pics, and let me know your Pros/Cons of the bumper.
Any and all help is greatly appreciated!
Thanks!
Cheers!
BB