Big Bend National Park 2016! PICS AND VID
Had a blast! Will definitely be going back. Everyone is right that you wont see much of the park on your first trip! Pretty much every activity is either half a day or all day! I was terrified of running out of gas, but turns out there are 2 gas stations inside the park. Do carry plenty of water though, it's dry in there and it sucks the moisture right out of you! It's like a whole other planet out there, inside the park is surreal with how open and vast that it is! You can literally drive almost an entire day on dirt roads and never see a building (except abandoned ones from the early 1900's). Lots of people told us to stay in Alpine (1 hour 20 minutes away) and I'm glad we didn't, we stayed in Terlingua it's 5 minutes from the park entrance!
Pics:
Just outside of Fort Stockton on our way:
When we got to the Big Bend Resort hotel... Pretty nice place to stay, I would stay there again. It's centrally located, has a nice gas station/ café 100 yards away.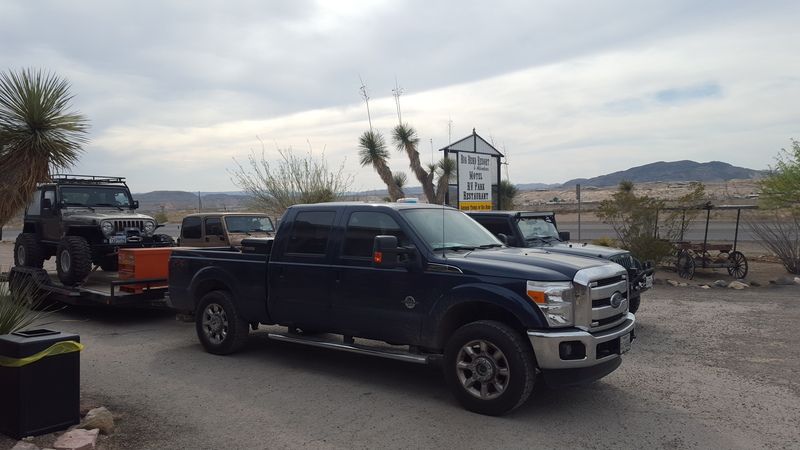 The night we got there we drove to the Terlingua Ghost town and checked out town and the above ground cemetery. I wasn't all to in to the ghost town, because it isn't a ghost town anymore. Hippies have moved into all the abandoned buildings, so you feel kind of awkward when your easing through a neighborhood checking out 100 year old buildings with hippies hoolahooping in the front yard! However, like my wife said, would you rather have hippies or bandito's from mexico.... The hippies are super nice and actually quite helpful on telling you places to go!
This was in the parking lot of a hotel that is surrounded by canyons on 3 sides behind the starlight theater.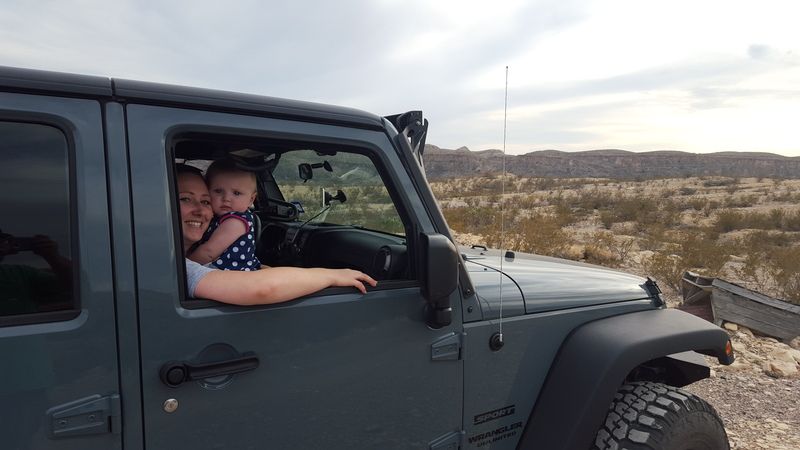 Behind the cemetery, I'm not one on cemeteries so I took the baby and walked around the canyons while everyone explored the cemetery.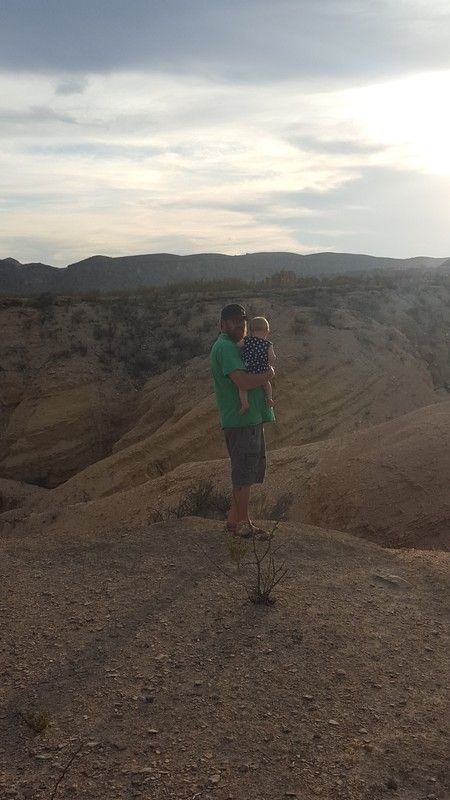 We ate at the starlight theater and when we were leaving my wife snapped this pic....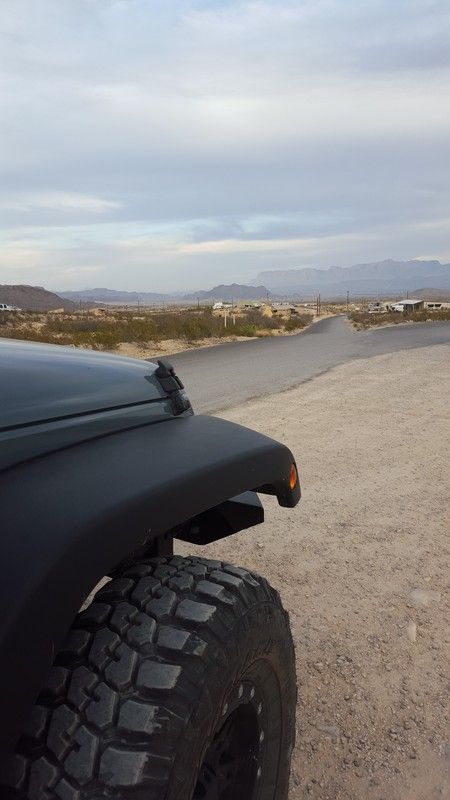 My buddies kid, my step daughter, my nephew holding my baby girl.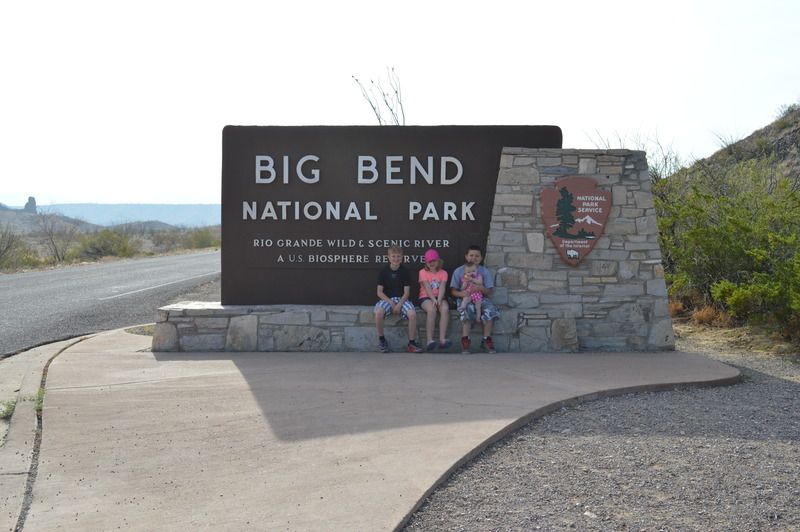 On old Maverick Road:
Cruising:
My dad's jeep broke down on the way to the Chisos Basin near the very top by the "Old Mine hiking trail". Turned out the camshaft position censor was failing. We let it sit for a bit, purged the fuel and got him back to the hotel. He was bummed, he drove his truck most of the rest of the trip. Except on black gap road, he road with my buddy.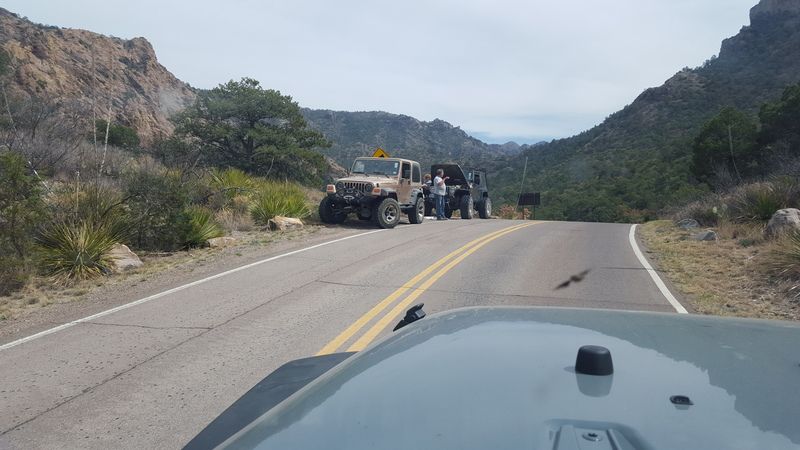 The kids had fun, but you spend a lot of time driving. So if your kid doesn't like spending hours in the vehicle, this maybe a duzy of a trip. The kids really enjoyed getting to climb on the big hills...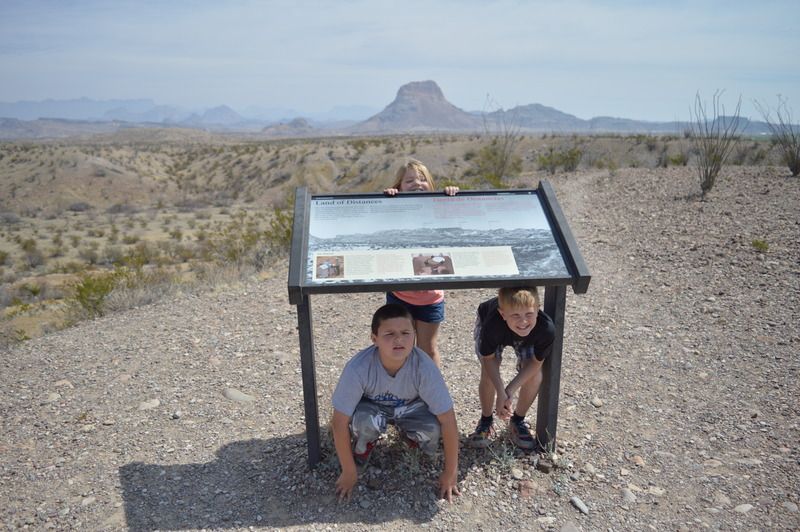 On the way to Mariscal Mine!
We did black gap road on the way to Mariscal Mine, it was a blast! Nothing a stock JK couldn't do. It does have one hair raising spot where you drop into a canyon, where you start about 100-150' up and drop into the canyon on a very narrow and unlevel road with washouts and all...
This is the most technical part of the trail and on a scale of 1 to 5 it's a 2. But it was fun and a good opportunity for pictures!