Discussion Starter
•
#1
•
So I received a set of take-off OEM LED headlights from a 2017 Rubicon. I had started a previous thread about these lights in person located here: 2017 LED Headlights/fogs in person
UPS just delivered my set yesterday! For the record, I have a 2015 Sport S that had previously had a Cibie H4 conversion. While that was a vast upgrade from the stock H13 housings and bulbs, I always knew I wanted more.
To me, having a very well lit road is a matter of safety for everyone in the vehicle which is why it is important to me.
First, I unboxed the lights and they were brand spanking new. The previous owner had the dealer swap in JW Speakers before it left the lot.
They have a nice weight to them, everything was super clean and I remembered reading somewhere that they were marked RH and LH for install purposes.
Then began the install. As you can see in the above picture, this is not simply a housing swap like my Cibie H4 conversion (with bulbs and adapter). The OEM LEDs include the black plastic mounting as well, meaning I would need to take out my existing ones which are held in by the vertical adjustment screw and 2 pop/off mounts (sorry I don't know the technical name if there is one).
Before I removed anything, I backed my Jeep up about 25 feet on my flat driveway, closed the garage door and marked the beam with painters tape so I knew where to reaim the new lights. All in all it took maybe 20 minutes to remove grille, remove the trim ring, remove the Cibie housings and adapters and the plastic mounting ring. It would have taken less but I couldn't find my torx drill bit so I had to use a wobbly multi-tool and hand crank everything out. The trim rings have 4 torx screws each and the plastic housing you only have to back out the adjustment screw all the way and then pop off the other 2 mounts holding it together.
Next it was simply plug and play. I first made sure I had the lights on the correct side as per the bottom rear of the lights listing RH or LH for right hand or left hand side. I plugged in the stock H13 wiring into the back of the new LEDs, turned on the headlights to make sure they worked and they fired right up. No issues what-so-ever. No flickering. Here is a picture of my Jeep looking drunk with the new headlights hanging down.
Next all it took was putting everything back in place except the grille and backing the Jeep up again to 25 feet, closing the door and re-aiming the lights.
Here are the lights installed and on.
Then of course, the next step HAD to be a test drive! Not far from my house I found some unlit/dimly lit roads. Photos are from my cell phone so don't mind the quality. The first thing my buddy noticed (he has JW Speakers) is that these lights seemed to have no artifacts, a super clean cutoff (much like other aftermarket offerings) and a little better color beam when compared.
The lights do put off some head. No, not halogen or HID heat and no they are not heated but they put off some heat. I will keep updating this thread with new experiences, especially come winter here in Michigan.
The first picture is the low beam only (no halogen fogs or light bar)
As you can see, it throws far and clean light and surprisingly illuminates the sides more than I expected.
Here is the high beam.
The low beam stays on when the high beam is initiated. Man is it bright! The cell phone camera picks up more than desired feedback from the signs (they do not blind you in reality) but they continue the brilliant illumination of the road to a higher degree.
I have heard of other offerings having a slight delay when switching from high to low and this is true with my experience as well. It is maybe a 0.5 second delay from high beams turning on and off. I did not experience anyone flashing me when I encountered oncoming traffic, I did not experience any flickering so in my knowledge I do not need a dealer flash for these to work properly in my 2015.
Here is another picture of the driveway I returned to with only low beams.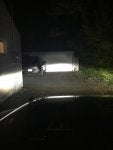 This is displaying the clean cutoff and the throw the lights have to the side as well as forward and I believe the "dark space" usually needed to be filled with fogs is lessened by these new lights.
It hasn't been 24 hours yet but I plan on updating this thread continuously with helpful feedback in different driving conditions, rain, sleet, snow, whiteout, with traffic, off-road and anything and everything I can think of. Don't hesitate to ask questions, I hope I can answer them and this will be a helpful resource for JK owners.
Most recent update is I AM experiencing flickering. I have called over 10 dealers now and none can help and Mopar, Jeep Chat and Quadratec have been of no help as well.