1st Jeep 2015 JKU Sport, had it a few months now. Factory headlights are some of the worst I've had the misfortune of owning. Suffered through summer researching various options, and was going to do a non-dot dual HID set up. Saw the 2017 OEM LEDs and liked what I saw, but the price is ridiculous. Did some digging and managed to pick up a set for $525, which is in line with the JWS. The decision point was the perceived lack of high beam functionality on the JWS. I do not plan on adding additional lights, unless absolutely necessary. (I though light bars were a bad fad, until I drove my Jeep at night!)
I think I've had the hood up on the Jeep once since I bought it. So this was the first time removing the grill for me. Complete install time was about 20 min.
Tools
Standard screwdriver
T15 Torx
I followed one of the many youtube videos on grill removal and the Quadratec video on installing the 2017 OEM LEDs.
NOTE: The factory buckets took a considerable amount of force to remove.
I used a shop rag as a pad for my delicate lady hands. A pair of gloves would work as well. :wink2: I escalated the force from rocking the Jeep, up to a "screw it, it's getting replaced anyway" break stuff amount. Shockingly none of the locking tabs broke despite my best effort.
Stuff went a little sideways here.
NOTE: The upper locking tab on the headlight aiming screw broke off during install. (insert colorful cursing)
It was aligned properly, and I don't feel I used any excessive force to get it to seat. Cold may be a factor, but I don't think so. (Mid teens). Annoying to say the least. The security or operation does not seem to be affected, but time will tell. The second installed cleanly.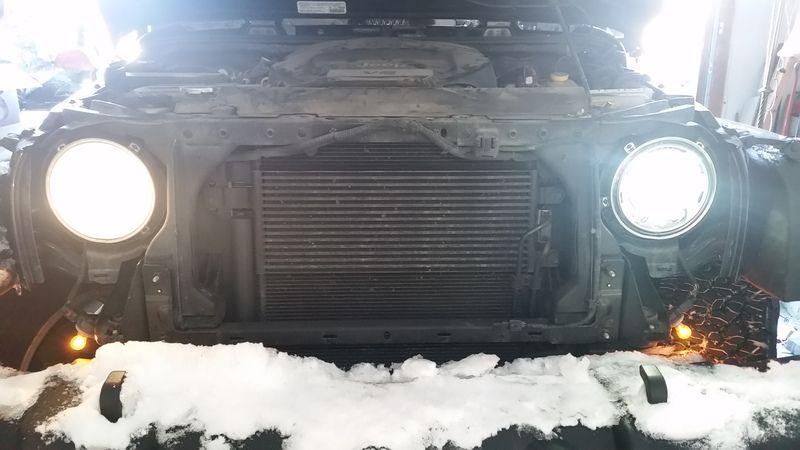 Crappy pic, but no comparison in brightness. At 10' the LED showed clearly on the back wall of my garage, and the dirty factory bulb was not visible at all.
At first glance the aiming of the passenger (second) seems to off quite a bit towards center. I will go back and ensure all three attachment points are fully locked in place before I attempt to aim it.

Follow up with correction:
These lights DO NOT FLICKER. No harness, or flash required.
I tested these originally with the engine off, and they do flicker. It's not a constant flicker, it's possible it did with the original lights as well.
Note: I purchased the lights through Quadratec using their price matching feature. Google will turn up these lights for close to the dealer cost (my educated guess) of about $250ea. Stock is very hit or miss right now.
Hope this helps.
Cheers
Vince
Driving impression: Outstanding! Throw is excellent, pattern is great. My favorite feature has to be the spill on the right side. It illuminates the shoulder extremely well. A great feature in a area dense with wildlife.