Discussion Starter
•
#1
•
SOLD!!!
I have for sale a 2008 2 door JK. New Maxxis Buckshot tires (still have nubs all over them) zero miles on tires. I buy a lot of rigs fix them up and sell them. I put a new top on this one, a new front bumper (stock one was ugly). What it needs. I have a new mirror for the drivers side. It needs to be installed. The glass is broken out of the drivers window door that will need replaced. Jeep is an auto and has an Infinity sterio system, cd player, ac, power windows and power locks, cc, ac blows ice cold. 64,000 miles on it. I bought this for my wife but she never drives her other jeep so I'm going to sell them both. This jeep is VERY clean. I will need a week or 2 to get down and get it tagged. I deal with a lot of the same guys that I get rigs from and it took them 3 mo. to send me the title. I just got it in the mail yesterday.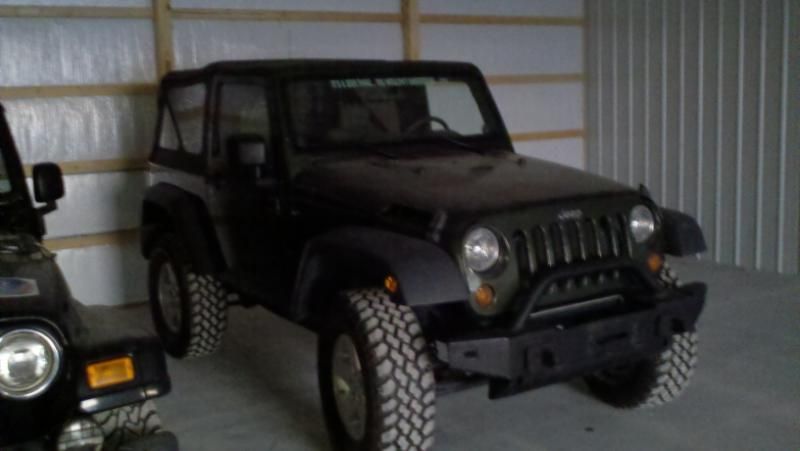 they had a snorkle on it. there is a hole in spot in the hood for someone to put another one on there. ( I have a new hood that I would let go for $100 to the buyer if you wanted it, not for sale unless you buy the jeep)
There is a small dent in the tub above the rear tire and a scratch on the windshield frame.
The price will make up for it. First $13,500 ownes it This was a rebuilt jeep. So the title will reflect that. Of all the rigs I have ever worked on this one had the smallest amount of damage. It didn't go on its side but it did tip in a ditch. Most of the damage was done to the drivers mirror which broke it off. It has a locker and elec. disconnect however the elec disconnet light is on, on the dash. That might need some attention, not sure. I don't have any more time. While this is a GREAT deal this is not in PERFECT shape. It needs a little to be perfect but you can't find one in this shape for close to the same money. If you could I would have bought it. I'm in the red on this one but I am in the process of moving rigs that I don't use and I'm not working on.