| | |
| --- | --- |
| OR Fab Tire Carrier / Thule Bike Carrier Mod | |
---
As anyone here with an oversized jeep and a bike knows, I was limited on how I could transport bikes with my Jeep due to the mods I have made to the Jeep.
Roof Mount would work if I was 8 feet tal so I could reach to put my bike up there and frankly i don't like roof mount since I know I would screw up some time or another and ram the bike into a garage or something.
Over the tire kinda worked and that is what I used for a while, but since I have 35" tires the carrier didn't fit right and was rigged wihich made me real uncomfortable.
Hitch mount is possible, but it would have to stick out real far based on the tire carrier I have and the oversized tire on the carrier.
So I bought a thule prologue system on craigslist for $50 and asked Joe to give me a hand figuring out how to make it work and we (he) figured out how. Little bit of a wierd way to do it, but so far its working ok. As time goes by I'll update this post with any problems or issues that arise.
Started with this:
Tabs welded to tire carrier.
The thule carrier hass an integral track in the back that 3/8" carriage bolts will slide into. So we slid the heads of the bolts into the tracks, and then they go through the tabs. Add washers and nuts and tighten.
We also had to add a stick of tubing to the top of the rack using the existing mounts. This stabilizes the carriers from twisting and made them much more stable.
Carrier mounted to tabs and the bike mounted. As you can see, I also addded a strap (doesn't hurt to have a little extra insurance even though the forks are locked in and the rear tire is secured). I also have a cable and lock around the bike that wraps through the tire carrier.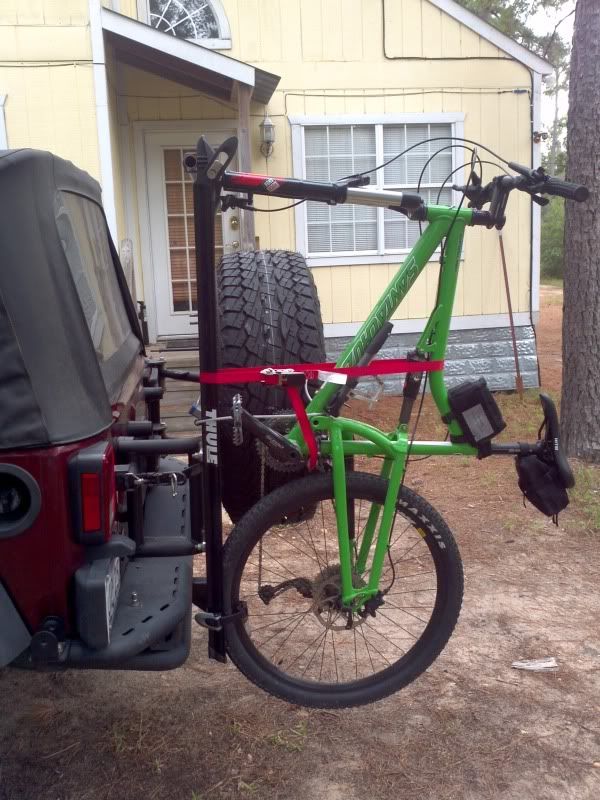 Pic with the carrier opened and the bike on it.
I was a little concerned about vehicles coming up on me from behind. The way the bike is situated, it is hard to get a perspective of how far it might be sticking out, so I stopped by tractor supply and rigged up a reflector that straps around the seat, should help more in dark conditions.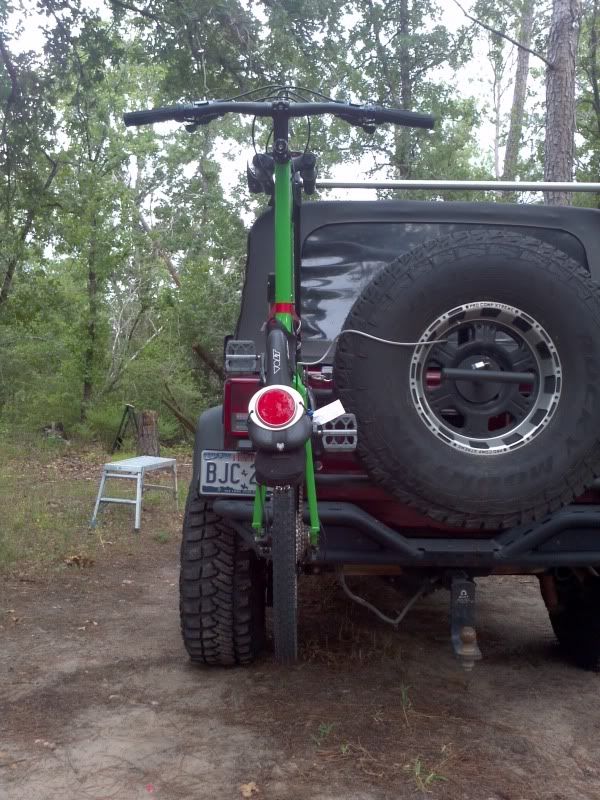 ---
ジープ
@CigarsNJeeps