Rock God
Join Date: Oct 2009
Location: Des Moines
Age: 39
Posts: 539
Feedback: 1 reviews
| | |
| --- | --- |
| AEV Bumper Maintenance / Rust Repair | |
---
While I wrote this about an AEV bumper, many of the techniques can be applied to any bumper out there. I am not a professional body person, so some of this probably isn't the best or most professional way, but it should last for a few years.
I recently decided to do some rust repair on my AEV front bumper, and while I was at it I decided to cut the light mounts off my AEV front bumper to be able to mount the LED bar a bit lower. I also had an AEV skid to install that was new, and I originally didnít get the skid holes aligned properly, so this meant the bumper had to get loosed up or come off. Here is where the LED bar was originally mounted.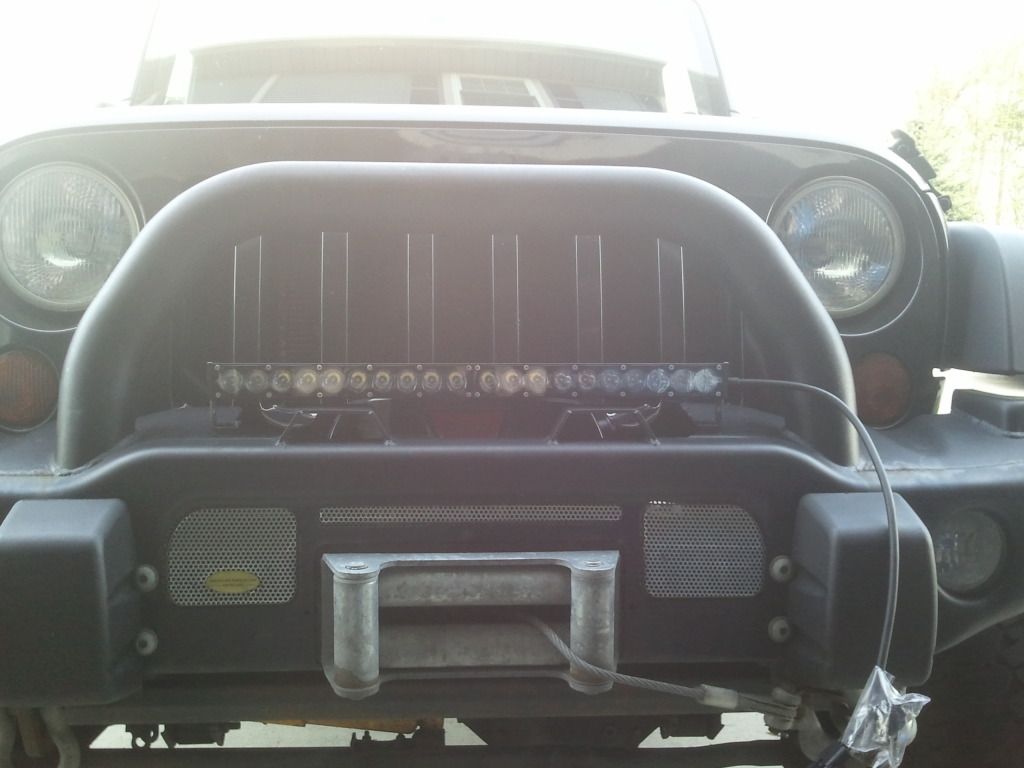 I used the Baja Designs long brackets on the light, and there was about a 1.25Ē gap between the top edge of the bumper and the bottom of the light.
I am not going to go into the details of installing / removing the AEV bumper since it is pretty well documented. Some things I noticed though were the stainless steel face bolts were all galled. I ended up using a cutoff wheel to remove the bumper. I had the same issue on the winch bolts. I snapped two heads off the bolts, and I needed to drill them out. I didnít use anti-seize originally, but I did use it for reassembly.
To remove the light tabs I took a cutoff wheel and cut through the weld just above the face of the bumper. I then ground down and used a flap wheel to get this flush with the face. After this stage the bumper look like the following.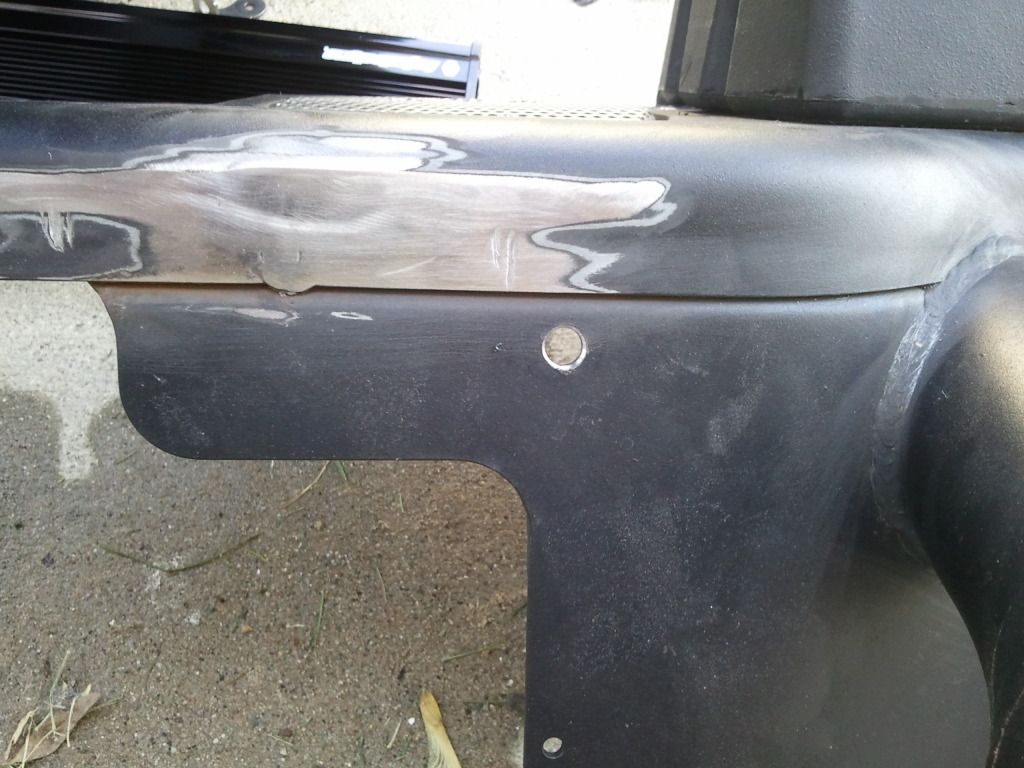 Then I tackled the rust repair. I used Eastwood Rust Encapsulator on the rust I had on the bumper, and also on the winch mount / frame rails. Everything was just surface rust, and not too bad yet, however if you donít take care of it is can get out of hand quickly.
To use it I just followed the instructions and used a wire brush to get all of the loose stuff off. I went a bit further though and tried to scrape up the powder coating on the bumper everywhere I saw it bubbling up. After this I ended up with a bumper that looked like this.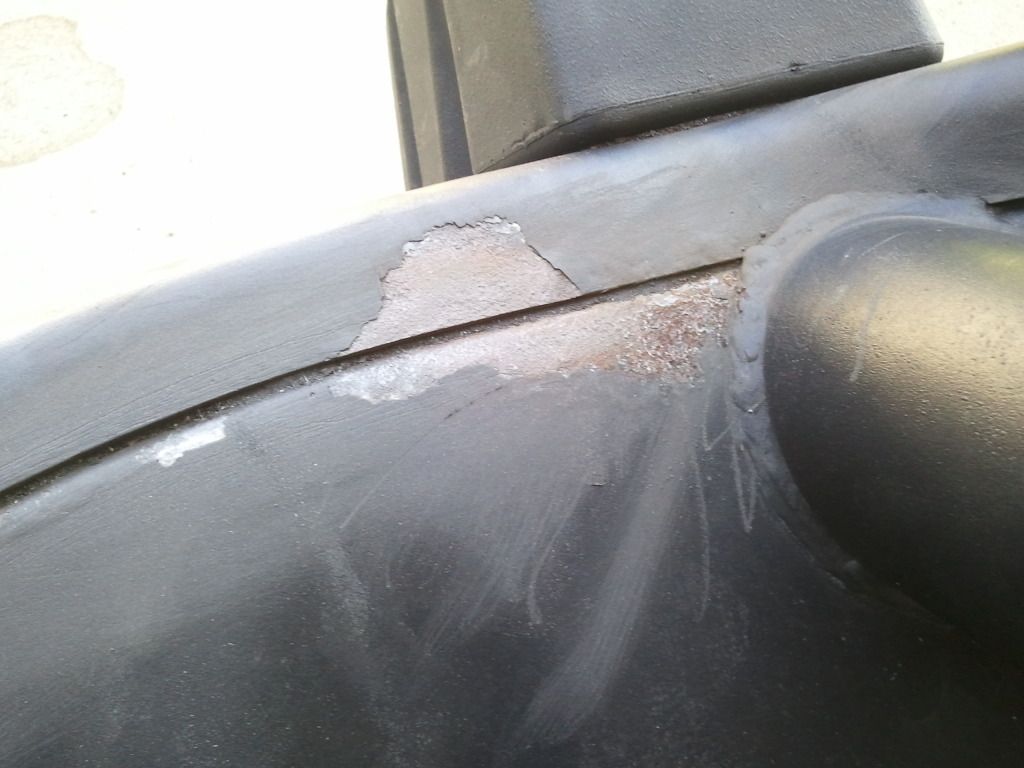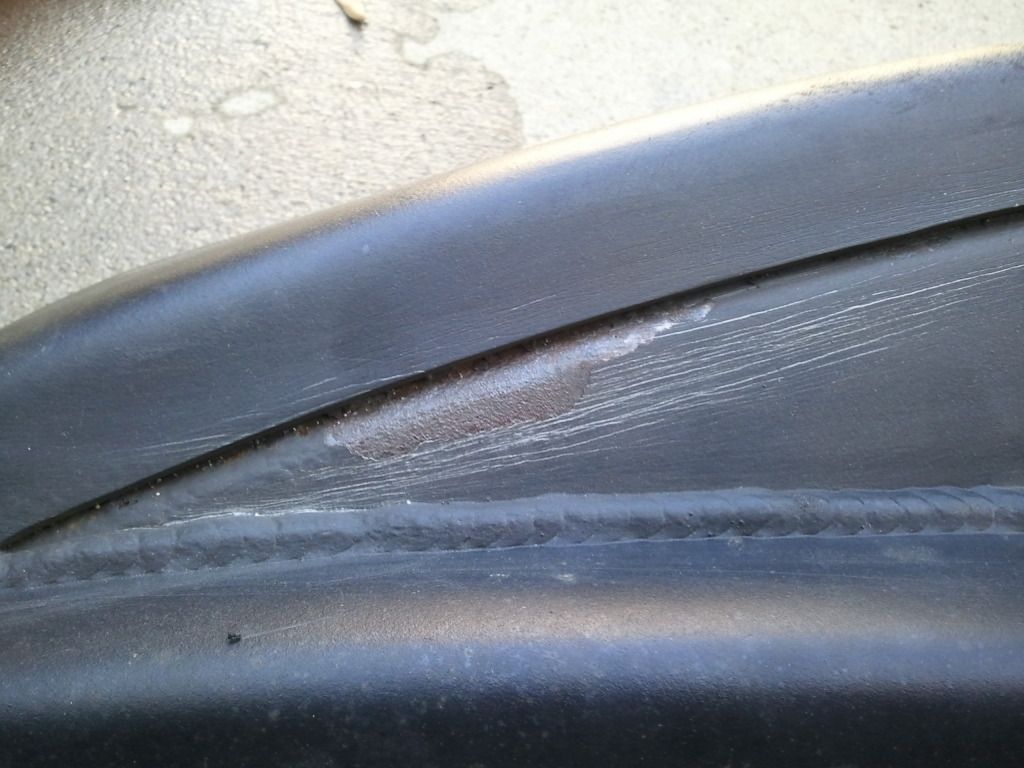 Once I was at this stage washed everything with Dawn dish soap to clean it all, let it dry, and then I was ready to spray. I didnít take any pictures of the bumper at this point, but I got some of the winch mount / frame. You can still see some marks where the rust was forming since I didnít go out of my way to make this pretty.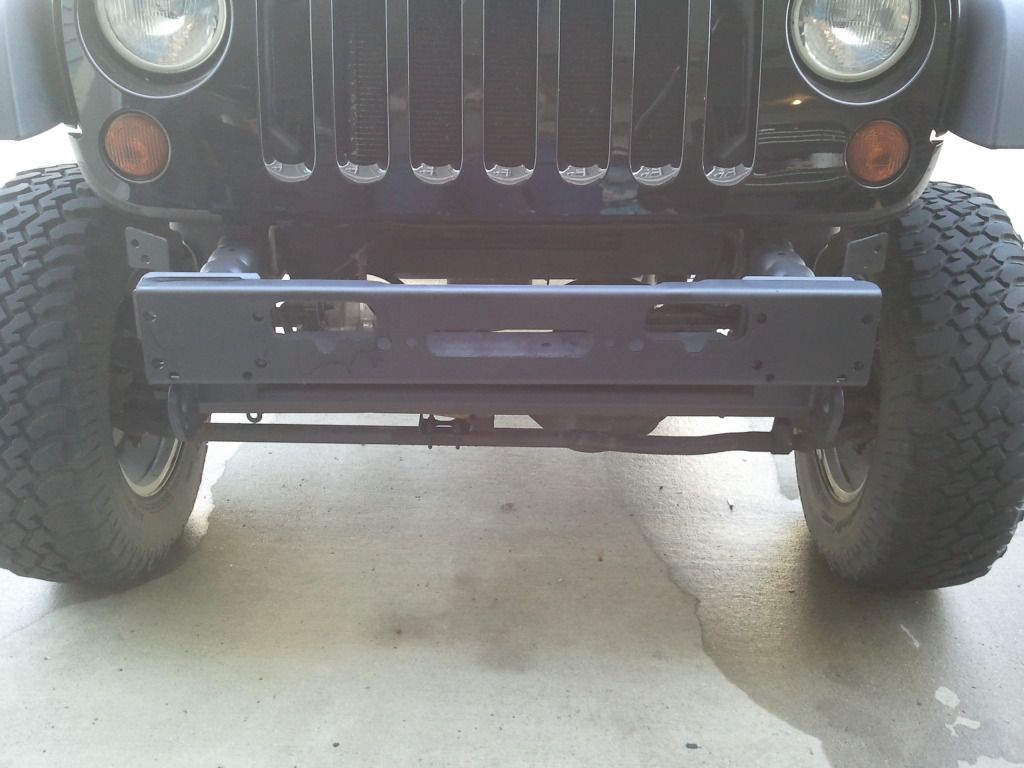 The rust encapsulator is not a UV stable product so I followed it up with some Eastwood Chassis Black in the satin finish. It seems to match the stock color and finish quite well.
From here I didnít take many more pictures of the work, but I added about three to four coats of filler primer to the rust on the bumper to try to bring the surface back level with the powder coat. I am still a little low, so I will probably go back through and do another couple of coats. After each coat I sanded to try to level and smooth everything out again. Once this was done I followed up with the AEV touchup paint. I did three coats just to make sure everything was well covered.
Another thing I did was I painted the face bolts black after I have seen this on the newer bumpers and liked it. The other thing I did was I painted the stainless mesh to match the Argent Savegre wheels I am hoping to order someday. I was told that the Dupli-Color graphite wheel paint was a close match, so I used that. I ended up doing two coats of adhesion promoter, three coats of primer, three coats of color, and three coats of clear. Here is a look at the finished product.
Another thing I did was I waited until my bumper was on to put the grille on to be able to make sure I can get it on and off with the bumper. I removed the three metal clips on the back of the grille and trimmed the plastic down. I also had to trim around the body mounts to get it back on. It is a tight fit, but it comes on and off.
Some things I still have to do is call and try to get another yellow decal for the bumper. I also need to spool in my winch line and install the roller fairlead, along with the license plate bracket I picked up for it. I also want to paint my grille in the argent color I used for the stainless steel when I have a free weekend.
---
Jon

08 Rubicon
Rock God
Join Date: Apr 2012
Location: Cape Fear, N.C.
Posts: 763
Feedback: 2 reviews
---
Nice write-up. Thanks for the information. Just put the AEV front skid on mine yesterday.

Well done.
---

To view links or images in signatures your post count must be 10 or greater. You currently have 0 posts.

Disabled & Mental
U.S. Army Veteran

To view links or images in signatures your post count must be 10 or greater. You currently have 0 posts.
~
To view links or images in signatures your post count must be 10 or greater. You currently have 0 posts.
~
To view links or images in signatures your post count must be 10 or greater. You currently have 0 posts.