Newbie
Join Date: Dec 2009
Location: Vancouver, Washington
Posts: 3
Feedback: 0 reviews
| | |
| --- | --- |
| Anyone in Portland/Vancouver with: | |
---
Does anyone in the Portland/Vancouver area have a 2-door with a lift of 3-4 inches and either 33 or 35 tires that would be willing to let me take a look?
I have a 2010 with only about 600 miles and I just finished installing a Rusty's Offroad 3.25" lift. I just can't make a final decision on tire size. I know the lift will handle 35s easy but I like a little extra space in the wheel wells and worry that 35s will fill them up completely.
I'm going to replace my stock 17" wheels with 16" and go with either 285/75R16 (33.1) or 315/75R16 (34.8).
Here is a picture after the lift... and a link to the entire photo album before, during, and after the lift if anyone is interested.
http://s796.photobucket.com/albums/y...FFROAD%20LIFT/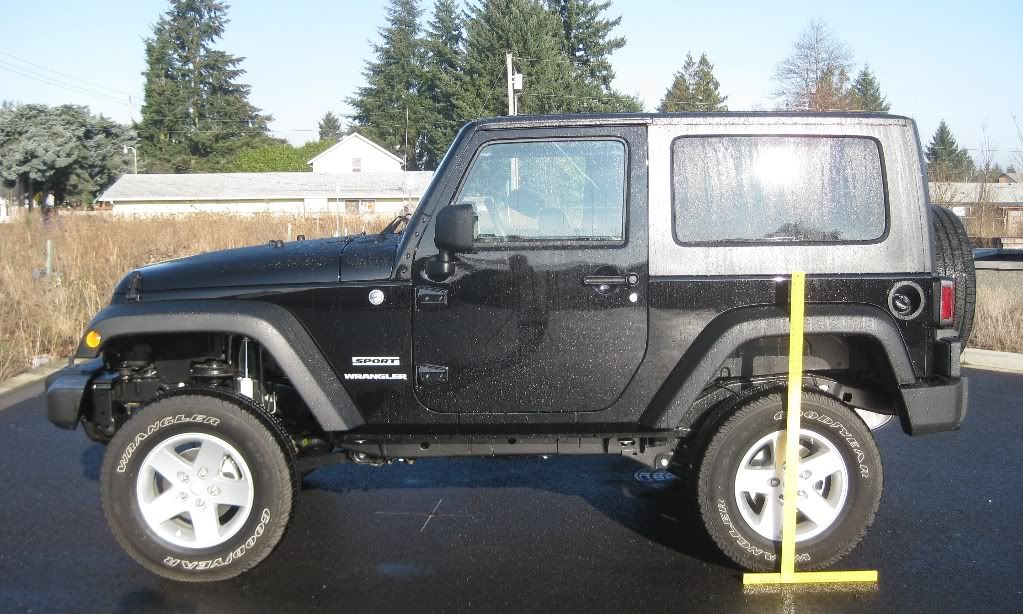 ---
Traded in the POS
---
Looks good, 35's will fit with no problem with what you have there. Can't help you with the look, I'm running 35's with 2.5 on a Unlimited. If you can't find anybody maybe run up to a tire store and run some out up next to it and take a look.