---
I am now a resident of the peoples republic of California.
I am going to get rid of my AK.
I would like to get a 30-06 hunting riffle so if any one would like to trade please let me know. It is pretty much new I have put maybe 1500 rounds thru it and clean it after every outing. It has one 30 round mag.
MOD: NDS-3
CAL: 7.62X39
DC INDUSTRIES INC.
ST. PAUL MN. USA
SN: LAN00005
LANCASTER
GOODYEAR AZ
[IMG]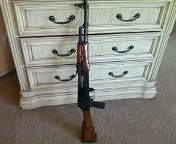 [/IMG]
---
jk-forum, jk forum, jkforum, jeep jk wrangler
Join Date: Oct 2007
Posts: 138
Feedback: 0 reviews