Granite Guru
Join Date: Aug 2011
Location: Panama City Beach Florida
Age: 51
Posts: 275
Feedback: 0 reviews
---
We are doing it again!
Last year we raised over $4000 to benefit the families of the two officers, Kocab and Curtis, who were slain in Tampa earlier in the summer. This year, we are donating 100% of our proceeds to Officer Stacy Lee Booth of the Auburndale Police Department.
Officer Booth was shot multiple times while responding to a domestic disturbance call. She survived the shooting (thank god!) and is recovering from her wounds. 100% of the proceeds from our Tshirt sales, entry fees, and raffle prize money will go help her in her recovery.
If you cannot attend - I ask only one thing: help us spread the word. Copy and paste this entire post on EVERY forum you frequent. It does not have to be an automotive forum (I am posting it on several airsoft forums - for example).
The flyer is attached below. If you need additional information - call me @ 863.412.9530 or call Jake (he actually answers his phone and usually has answers) @ 863.412.2239.
You are reading this because others put themselves in harm's way for your benefit. Never forget that and God Bless.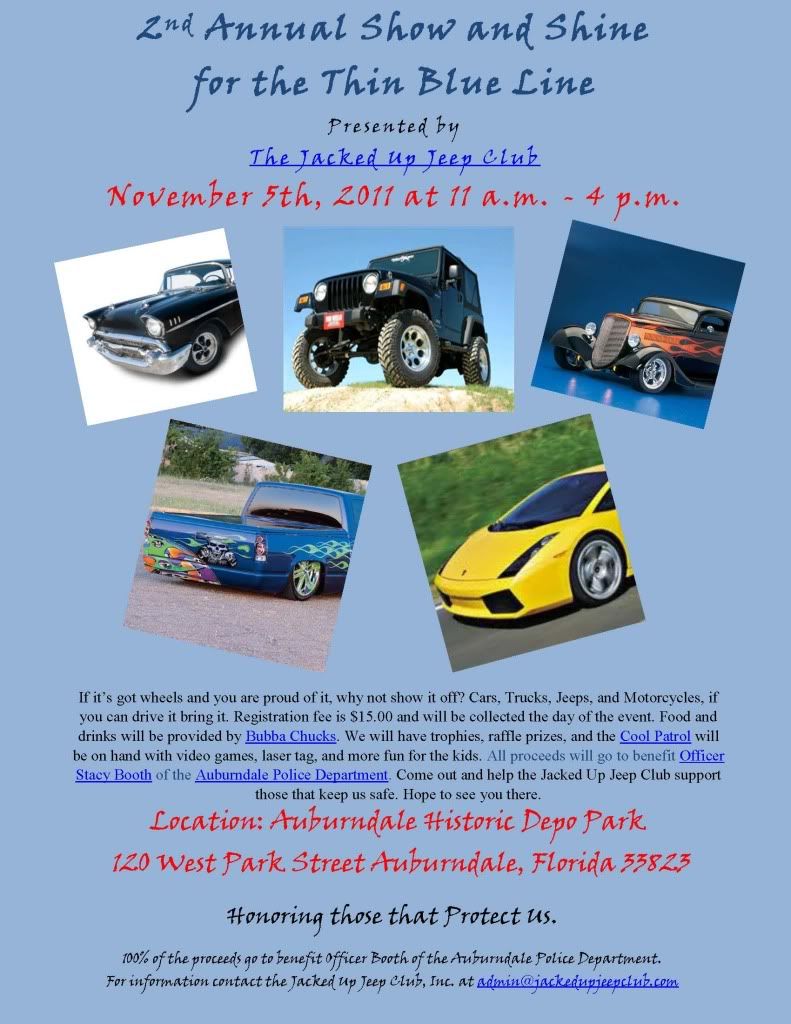 ---
Shawn
Banned
Join Date: Aug 2008
Location: Winter Haven, FL
Age: 47
Posts: 10,249
Feedback: 0 reviews
---
You can never have enough threads about this I supposed
.