| | |
| --- | --- |
| Nova Jeepers Tech Skills and Swap Meet, 6/13, Manassas Jeep, Manassas, VA | |
---
June 13 is the annual technical driving skills day and swap meet at Manassas Chrysler Jeep in Manassas, VA.
Come on out to learn or practice driving skills on the obstacle course. The course is suitable, safe and challenging for everything from stock 4 door JK's to dedicated rock crawlers. The course emphasizes precision low speed maneuverability, tire placement, brake and throttle control. Learn how to work with a spotter or run unspotted if your that good. The skills that you learn and hone on the course will pay off every time you go off road.
Here is a link that shows the course obstacles, including the optional large ones. Note we will check clearance before you try the big ones so you dont get stuck.
http://www.novajeepers.com/index.php...cal+Skills+Day
Here is a link with a large gallery of pictures from the event last year.
http://picasaweb.google.com/virgilio...vingSkillsDay#
There will also be short seminars with demonstrations on useful topics such as use of the Hi-Lift Jack, Common Trail Repairs, Recovery Techniques (winches & straps), Tread Lighly (protect the environment/preserve access), First Aid (pending) and Spotting Skills (use them on the course).
Shop the dozens of vendor and individuals who will have plenty of Jeep parts both new and used to fix, lift, modify and repair your rig. Some years folks even bring entire rigs to sell from classics to rock crawlers. If you need a Jeep part is likely you will find it here.
The day after the event there will be a trail ride to Flag Pole Nob. A beautiful spot in the George Washington National Forest where we will pic-nic. The trail ride, our annual New To Jeeping Run, is suitable for stock rigs and up. Run the obstacle course and then put your new skills and your Jeep to work the way Jeep intended, in the great outdoors of Virginia's back country.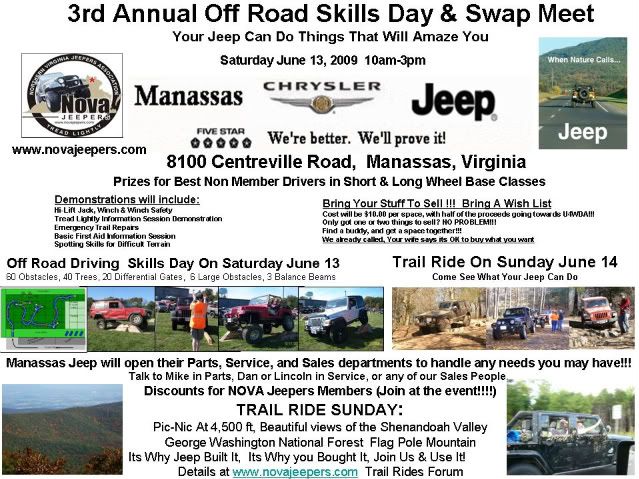 ---
2012 JKU Sahara
Mostly Stock