Banned
Join Date: Aug 2008
Location: Winter Haven, FL
Age: 44
Posts: 10,250
Feedback: 0 reviews
| | |
| --- | --- |
| HUGE MUSIC FESTIVAL/PARTY - DADE CITY - WHEELING OPPORTUNITIES | |
---
I forgot to post this about a month ago when someone might have been able to actually make plans and attend this event. Anyways, if you wann go, here it is (from jacked-up-jeepclub.com):
Every year my buddy does a party that turned into a festival. It's 2 days of free keg beer and about 20-30 bands. It's in dade city. It's called:

The Antemesarias Rock N Roll People's Party aka Peacefest.

www.rnrparty.com

They've been doing it for coming up on 20 years now. I work the front gate on Friday. If any of you want to come check it out - let me know (863.412.9530) and I'll get you in for free. It's a camping festival. It's in Dade City @ the Sertoma Youth Ranch. The ranch is about 10 miles from the Croom Tract (I usually go riding there on Saturday morning w/ my wife) and about 15 miles from Richloam Tract.

On Saturday evening they do a free bbq dinner. Usually ribs or pork chops, beans, potato salad. I think the cost to camp is $60, but like I said, I can put anyone's name on the list I want.

I geuss I should have posted this on the forum. But a word to the wise: this is a PARTY. Not for kids and there's pot smoking gonig on everywhere. Just letting ya know.

I'm selling Jello Shots at the front gate this year for a charity known as "party supplies for the gate guys." Arlen and I run the gate all day Friday. That's our party shift. By the time we're done "working" we are freaking useless drunk. Amazing that we have thousands of dollars worth of responsibility.

We shake down every car that comes through - hitting them up for free beers. We make them go put them in our cooler telling them we are out. When they open the cooler there's like 50 different kinds of beers in there.

It's ridiculous - but fun.

Music ranges from rockabilly to death metal to bluegrass to country. My friends are freaks.
The party is THIS weekend - the 26th-28th. I'll get you guys in for free if you let me know you're coming in advance (PM or call me). Doubt anyone can pull it off that quick - but you're welcome to come if you can.
This is a REAL good time. If you're like me and can make plans in a hurry and go do something insane - this event will NOT disappoint. Usually a few good ass kicking fights, chicks making out, someone cheating on someone, sex in the shower house, rampant intoxication - you know: fun.
Dont say I never invited you to anything....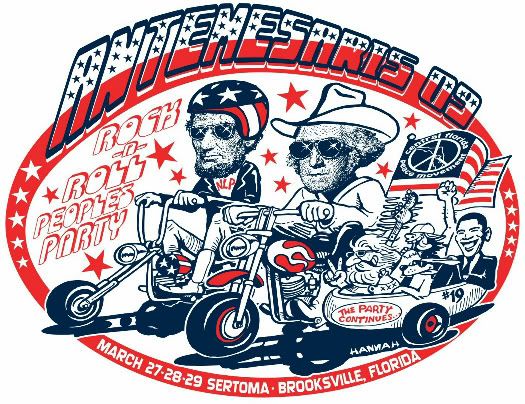 ---
Last edited by karnuvore; 03-22-2009 at

10:03 PM

.
---
I'm not going, but i want to see pics.... LOTS OF PICS!
Banned
Join Date: Aug 2008
Location: Winter Haven, FL
Age: 44
Posts: 10,250
Feedback: 0 reviews
Banned
Join Date: Aug 2008
Location: Winter Haven, FL
Age: 44
Posts: 10,250
Feedback: 0 reviews
---
didnt take many pics....Did go wheeling in a lake (private property). Super Swampers were AMAZING. Then we went wheeling in Croom Tract. Lots of sugar sand and a few hills to climb. Lotta wildlife.
Saw titties. Lots of titties (no shots - but my buddy is supposed to be editing down some video). Almost got in what would have been a hilarious fight (we were running the gate and thought we found the guys who snuck in. If we had beat them up it would be have been a mistake - they were w/ the sound guys running the show lol - alcohol and testosterone = bad mix).
There was a girl there who was SO SKANKY. (How skany was she). She was dancing topless right in front of the center stage and not only would NO drunk guys there (remember: free kegs) dance w/ her, but the guy singing got the roadie to make her move lol. It was a train wreck.
Did have the obligatory two chicks dirty dancing that wound becoming what is considered in most repressed southern states: public lesbian sex. That was awesome - very hot women.
What else? I was grand champion in Horse Shoes. Well except for these guys from arkansas - those hillbillies spanked everyone: "We aint got lots to do in Arkansas."
Met a few new Jeepers including a guy who has a cabin in ocala. He welcomed us to come up anytime and was going to contact me via Jacked-up-jeepclub.com. I drank myself sober - 3 times.
We ran the front gate all day Friday and let women in for discounted rates if we got tit shots. That paid off a few times. We shook down everyone coming in for free beers, cigarettes, food, rolling papers, and anything else we could get out of them. Told everyone "welcome to the tammy wynette show", which F'd up quite a few of them.
That's my trip report. You guys should hit this show next year. $35 - free beer - free bbq - and everything I mentioned above. Next year is the 20th anniversary show. Oh and, of course, I'd put you on the geust list so you'd get in free.
Red Sunrise=Not Pretty
---
Awesome report...

Sounds like a blast.. I will start planting the seeds and see what the wife things about next year.
---
Proud to be an American
Shamed of our government

Native Floridian = MUD
To view links or images in signatures your post count must be 10 or greater. You currently have 0 posts.

Banned
Join Date: Aug 2008
Location: Winter Haven, FL
Age: 44
Posts: 10,250
Feedback: 0 reviews
---
Did manage to find 3 pics...
This one made me laugh
We got bored stamping hands at the front gate..
This is what people saw when they came into the festival....