Newbie
Join Date: Feb 2010
Posts: 5
Feedback: 0 reviews
---
[IMG]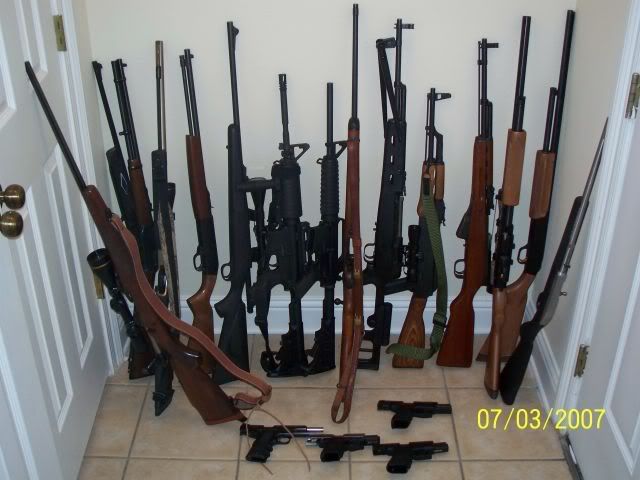 [/IMG]
---
I like your friends
JKO Addict!
Join Date: Feb 2009
Location: Houston
Age: 46
Posts: 9,140
Feedback: 6 reviews
JKO Addict!
Join Date: Oct 2008
Location: Gateway to the Sierra's
Posts: 5,678
Feedback: 3 reviews
---
Sweet!
---
2014 Rubicon on the build!
JKO Addict!
Join Date: Jan 2010
Location: Guntersville
Age: 26
Posts: 2,907
Feedback: 1 reviews
---
makes me wish i hadnt lost all mine in that boat wreck.

look like some good friends you got there
---
2008 steel blue sahara
with some doo-dads
Newbie
Join Date: Feb 2010
Posts: 5
Feedback: 0 reviews
---
Thanks! There's actually a .22 Sears & Roebuck in that pic that I bought off a sailor that worked for me in the Navy. I buy guns because they never lose their value. And if there's a assault gun ban then the price goes up.....
---
I need to show this to Good Wife. She thinks we have too many.
---
"Old age and treachery will overcome youth and skill", Bob Arnett
Newbie
Join Date: Feb 2010
Posts: 5
Feedback: 0 reviews